Insights into Receptor Function and New Drug Development Targets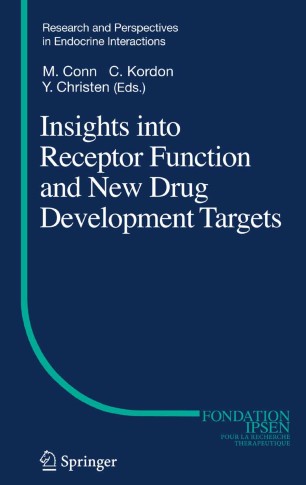 About these proceedings
Introduction
G-Protein Coupled receptors (GPCRs) and other receptors are significant targets for drug discovery, due to their roles in fundamental physiological processes. Among these roles are: regulation of growth, food intake, reproduction, water balance, sensory perception, blood pressure and heart rate. GPCR-directed drugs account for approximately $40 billion in sales and, of drugs at market, approximately 70% target GPCR function.
The availability of combinatorial chemistry coupled with high throughput screening techniques have facilitated discovery of peptidic and non-peptidic ligands of membrane receptors. Mutant receptor models have revealed their role in health and disease and provided insight to new therapeutic approaches, based on control of protein trafficking. Understanding receptor-receptor interactions has provided one mechanism for receptor cross-talk and revealed unexpected interactions.
The completion of the human genome has identified a new source of therapeutic targets: "orphan receptors" with unknown functions and yet-to-be discovered ligands. Some orphans have now been identified as ghrelin, nociceptin, apelin, and urocortin. This finding, along with important technologies to develop ligands with desirable characteristics, including peptidomimetics is likely to further accelerate interest in this area.
Keywords
Cannabinoid
G protein-coupled receptors
G proteins
RGS proteins
TRPC channels
endogenous cannabinoid system
glycoprotein hormone receptors
hormone receptors
ion channels
lipolysis
melanocortin receptors
metabotropic glutamate receptors
receptor tyrosine kinases
Bibliographic information
DOI

https://doi.org/10.1007/3-540-34447-0

Copyright Information

Springer-Verlag Berlin Heidelberg 2006

Publisher Name

Springer, Berlin, Heidelberg

eBook Packages

Biomedical and Life Sciences

Print ISBN

978-3-540-34446-9

Online ISBN

978-3-540-34447-6