© 2006
Networked Neighbourhoods
The Connected Community in Context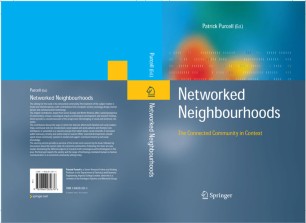 Table of contents
About this book
Introduction
The setting for this book is the networked community. The treatment of the subject matter is broad and interdisciplinary, with contributions from computer science, sociology, design, human factors and communication technology.
The chapter contributors, drawn from across Europe and North America, offer a varied prospectus of commentary, critique, sociological enquiry, technological development and research findings, which provides a rounded account of the progressive intermingling of social and electronic networks.
The contributors discuss the ways in which the Internet affects both familial and social relationships, communal and civic involvement, social capital and work patterns and lifestyle. Civic intelligence is presented as a nascent concept from which future social networks of increased public advocacy, scrutiny and action may be sourced. Other reported developments include agent-based community systems to model and support communal memory and social knowledge.
The opening section provides a purview of the broad scene covered by the book, followed by discussions about the current state of connected communities. Following this there are case studies illustrating the different aspects of research, both sociological and technological, in this area. The final part reports the variety and the scope of technology-mediated human-to-human communication in a connected community setting today.
Patrick Purcell is a Senior Research Fellow and Visiting Professor in the Department of Electrical and Electronic Engineering, Imperial College London, where he is a member of the Intelligent Systems and Networks Group.
Keywords
Communities
Community
Internet
Social Net
Social Network
Social Networks
ambient intelligence
communication
computer
digital
technology
Bibliographic information
Reviews
From the reviews:
"This book will interest our readers who are working in the fields of sociocybernetics as well as those with a bias towards online interactions. … In many ways this text has been opened up new ground and is the fore-runner of many more that will consider the issues of people and their connection to the new technology. … it provides an instructive read with the relevant collected, articles well matched and presented by the editor." (D. M. Hutton, Kybernetes, Vol. 37 (2), 2008)