WIDENING ACCESS TO EDUCATION AS SOCIAL JUSTICE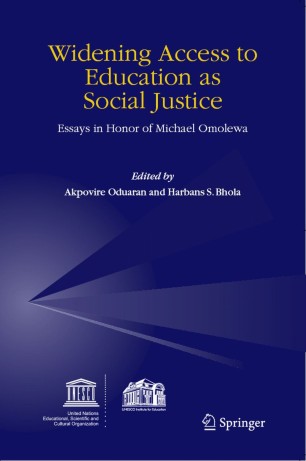 Table of contents
About this book
Introduction
Access to education for all, everywhere, is among the priorities advanced by the International Panel on Democracy and Development. It would be illusory to seek to promote development or to claim to strengthen democracy without focusing, at the same time, on eradicating the scourge of illiteracy, which still, today, affects one adult in five in the world.
Universal access to education, a gage of social justice, is much more than a right—it is an open door to freedom: the freedom to initiate, to act and to take one's own destiny in hand. True, access to education has progressed considerably in recent years, notably to the benefit of women who, nonetheless, still represent two-thirds of illiterate adults. But the strides made conceal widening disparities, with some countries still suffering from a combination of backwardness and inequality. This means that we must step up our efforts.
This book, issued in honor of the President of the General Conference of UNESCO, Michael Abiola Omolewa, who has devoted his life to the cause of education, is a major contribution to helping women and men of goodwill, who must more than ever fight to secure for the have-nots of this world the right to education.
Boutros Boutros-Ghali
Chairperson of the International Panel on Democracy and Development, UNESCO
Former Secretary-General of the United Nations
Keywords
Bibliographic information