© 2004
Multicriteria Environmental Assessment
A Practical Guide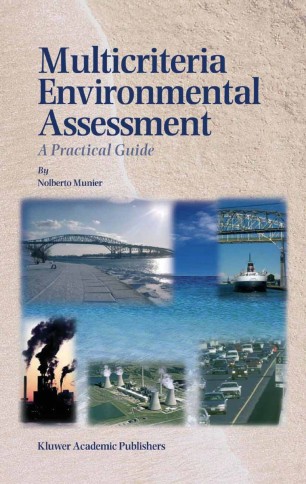 Table of contents
About this book
Introduction
The purpose of this book is to analyze, with actual examples, different techniques that have been developed to tackle the complex task of making an Environmental Impact Assessment (EIA) of a project. A project may influence the lives of many people, can change the physical environment temporarily or forever, and creates benefits or losses, not only for the people who promoted it, but also for those not related whatsoever with the project. Thus, its assessment is not only a commercial evaluation of gains and losses, but it goes far beyond that, for it also has to appraise:
-how people's way of life will be affected;
-how significant the alteration produced in the social fabric will be;
-what the result will be of using certain renewable and non-renewable resources;
-how much the expected economic development will cost in terms of loss of resources sustainability;
-how to measure what is not easily measurable: enjoying a sunset, a stroll in a tropical forest, climbing a mountain, etc.; and
-how to integrate the technical and environmental aspects of projects with the desires, wishes and needs of the population.
Keywords
GIS
Geoinformationssysteme
development
life-cycle assessment (LCA)
sustainability
sustainable development
ecotoxicology
Bibliographic information