Low-Cost Approaches to Promote Physical and Mental Health
Theory, Research, and Practice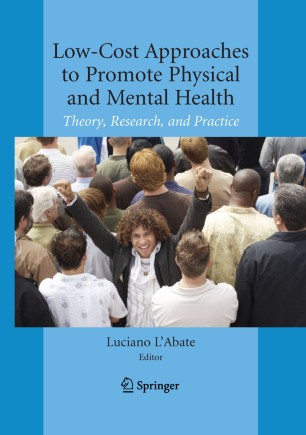 Table of contents
About this book
Introduction
Most physical and mental health professionals will agree that their time, space, and funds are generally in short supply, even under optimal conditions. Their participants (clients or patients), too, will admit to similar deficits of time and patience, even with optimal motivation. Overburdened mental health facilities are trying to cope with limited budgets and overworked and underpaid personnel.
Low-Cost Approaches to Promote Physical and Mental Health addresses both sides of this shortfall by offering either self-administered or easily administered verbal and non-verbal interventions designed to promote positive health behaviors while requiring little or no outside funding. Editor Luciano L'Abate continues his long tradition of prolific innovations by identifying major changes in today's health care systems and explaining how targeted, prescriptive promotion/prevention strategies can enhance traditional primary, secondary, and tertiary interventions in key behavioral and relational areas:
-Nutrition: weight/obesity control, diets, meal planning, vitamins and minerals, herbal supplements.
-Exercise, expressive movement, relaxation, meditation, and mindfulness.
-Writing for mental health promotion, from structured protocols/workbooks to less structured focused, expressive, and guided writing, including diaries and autobiographies.
-Sex, sexuality, affection, intimacy and fear of intimacy.
-Mother/child bonding as well as couple and family togetherness.
-Spirituality and forgiveness in dealing with inevitable life hurts and disappointments.
-Friendships and support groups
-Plus leading-edge interventions, including emotional intelligence, animal companionship, and computer technology
Reviews of each promotional approach are engaging, effective, and consistent with standard psychological practice for lasting results, either away from or in addition to non-clinical and clinical settings (schools, hospitals, senior citizen centers, etc.). L'Abate and his fifty colleagues have designed a future-oriented sourcebook for mental and public health professionals who want to maximize their resources—and those of their participants.
Keywords
Health care approaches
Health promotion
Low-cost health care
Public Health
prevention
prevention strategies
Bibliographic information
DOI

https://doi.org/10.1007/0-387-36899-X

Copyright Information

Springer 2007

Publisher Name

Springer, New York, NY

eBook Packages

Behavioral Science

Print ISBN

978-0-387-36898-6

Online ISBN

978-0-387-36899-3