Micro- and Opto-Electronic Materials and Structures: Physics, Mechanics, Design, Reliability, Packaging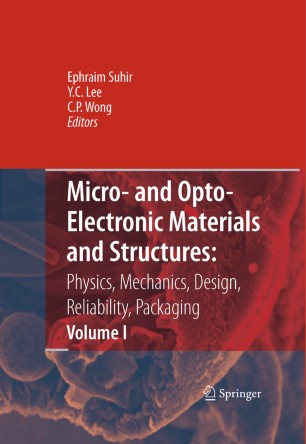 Table of contents
About this book
Introduction
Micro- and Opto-Electronic Materials and Structures: Physics, Mechanics, Design, Reliability, Packaging is the first comprehensive reference to collect and present the most, up-to-date, in-depth, practical and easy-to-use information on the physics, mechanics, reliability and packaging of micro- and opto-electronic materials, assemblies, structures and systems. The chapters in these two volumes contain summaries of the state-of-the-art and present new information on recently developed important methods or devices. Furthermore, practical recommendations are offered on how to successfully apply current knowledge and recently developed technology to design, manufacture and operate viable, reliable and cost-effective electronic components or photonic devices. The emphasis is on the science and engineering of electronic and photonic packaging, on physical design problems, challenges and solutions.
Volume I focuses on physics and mechanics of micro- and opto-electronic structures and systems, i.e., on the science underpinnings of engineering methods and approaches used in microelectronics and photonics. Volume II deals with various practical aspects of reliability and packaging of micro- and opto-electronic systems. Internationally recognized experts and world leaders in particular areas of this branch of applied science and engineering contributed to the book.
Topics addressed in the book include, but are not limited to, the following:
physics and mechanics of polymer materials;
underfills;
electrically conductive adhesives;
plastic packages of IC devices;
flip-chip packages;
wirebond interconnects and metallurgical interconnections for harsh environments;
reliability and stress testing and accelerated life testing;
solder joint materials and technologies as well as lead-free solder materials and joints;
reliability of mobile electronic products, photonic materials, optical fibers and active and passive optical components;
thermal phenomena in micro- and opto-electronic systems and thermal stresses;
adhesion problems and solutions;
thin film materials, physics and mechanics;
photorefractive materials and devices;
nanomaterials and nanotechnology;
multiphysics modeling and optimization technologies;
experimental methods and techniques;
testing methods and techniques, subjected to thermal loading, stress analyses of processed silicon wafers, and many others.
The book is intended as a reference source and as a manual for electrical, materials, mechanical, and reliability engineers, as well as applied physicists and materials scientists. The book will be an essential tool for all those who are involved or interested in state-of-the-art in the analysis, design and manufacturing of micro- and opto-electronic systems.
Keywords
Helium-Atom-Streuung
coating
electronics
integrated circuit
interconnect
laser
metal
microelectromechanical system (MEMS)
microsystems
optics
optoelectronics
packaging
photonics
production
thin film
Bibliographic information
DOI

https://doi.org/10.1007/0-387-32989-7

Copyright Information

Springer Science+Business Media, LLC 2007

Publisher Name

Springer, Boston, MA

eBook Packages

Engineering

Print ISBN

978-0-387-27974-9

Online ISBN

978-0-387-32989-5