Handbook of Intellectual and Developmental Disabilities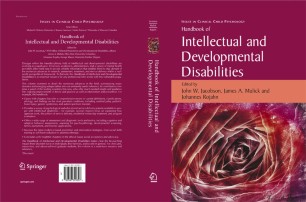 Table of contents
About this book
Introduction
Changes within the interdisciplinary field of intellectual and developmental disabilities are evolving at a rapid pace. Clinicians, academics, administrators, and a variety of mental health providers alike need easy-to-access, reliable information that enables them to stay abreast of the numerous advances in research, assessment, treatment, and service delivery within a real-world sociopolitical framework. To that end, the Handbook of Intellectual and Developmental Disabilities is an essential resource for any professional who works with this vulnerable population.
This volume examines in detail the numerous advances in the field, summarizing major domains and emerging subspecialties into one eminently useful reference. Its contributors comprise a panel of the leading scientist-clinicians, who offer much-needed insight and guidance into ongoing improvements in theory and practice as well as intervention and prevention. For example, the handbook:
Opens with chapters that offer a comprehensive review of current definitions, classifications, etiology, and findings on the most prevalent conditions, including cerebral palsy, pediatric brain injury, genetic syndromes, and autism spectrum disorder.
Provides a survey of psychological and educational service delivery systems available to people with intellectual disabilities – for example, several chapters focus on explaining how agencies work, the politics of service delivery, residential versus day treatment, and program evaluation.
Offers a wide range of assessment and diagnostic tools and tactics, including cognitive and adaptive behavior assessments, assessing for psychopathology, developmental screening, family assessment, and forensic applications.
Reviews the latest evidence-based prevention and intervention strategies, from social skills training to self-harm reduction to pharmacotherapy.
Concludes with insightful chapters on the ethical issues social acceptance and advocacy.
The Handbook of Intellectual and Developmental Disabilities makes clear the far-reaching impact these disorders have on individuals, their families, and society in general. For clinicians, researchers, and advanced-level graduate students, this volume is a must-have resource and reference.
Keywords
Adaptive Behavior
Advocacy
Assessment
Autism spectrum disorder
Cerebral palsy
Developmental disabilities
Genetic disorders
Learning disabilities
Litigation
Mental disabilities
Mental health services
Mental retardation
autism
behavior
Bibliographic information