Abstract
Accuracy in estimating knowledge with multiple-choice quizzes largely depends on the distractor discrepancy. The order and duration of distractor views provide significant information to itemize knowledge estimates and detect cheating. To date, a precise and accurate method for segmenting time spent for a single quiz item has not been developed. This work proposes process mining tools for test-taking strategy classification by extracting informative trajectories of interaction with quiz elements. The efficiency of the method was verified in the real learning environment where the difficult knowledge test items were mixed with simple control items. The proposed method can be used for segmenting the quiz-related thinking process for detailed knowledge examination.
Graphical abstract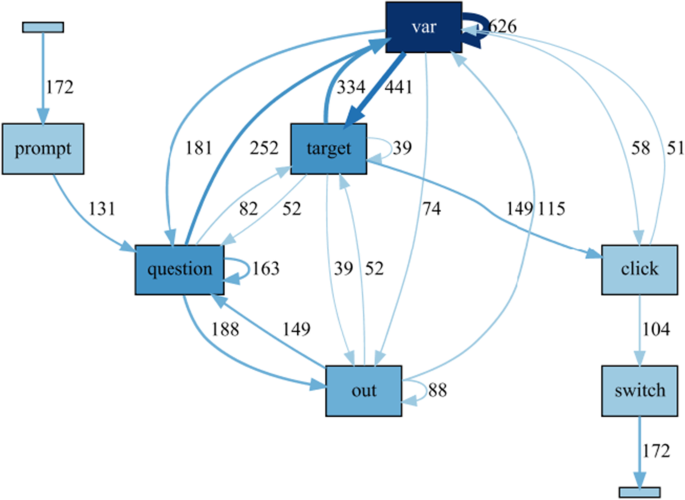 Data availability
The data analyzed during the current study are available at https://osf.io/37tk8/ . The repository includes code examples to deploy the test extension to register granular behavior data.
References
Bannert, M., Reimann, P., Sonnenberg, C., 2014. Process mining techniques for analysing patterns and strategies in students' self-regulated learning. Metacognition and learning 9, 161–185.

Ben Khedher, A., Jraidi, I., Frasson, C., 2017. Assessing Learners' Reasoning Using Eye Tracking and a Sequence Alignment Method, in: Huang, D.-S., Jo, K.-H., Figueroa-García, J.C. (Eds.), Intelligent Computing Theories and Application, Lecture Notes in Computer Science. Springer International Publishing, Cham, pp. 47–57. https://doi.org/10.1007/978-3-319-63312-1_5

Ben-Simon, A., Budescu, D.V., Nevo, B., 1997. A Comparative Study of Measures of Partial Knowledge in Multiple-Choice Tests. Applied Psychological Measurement 21, 65–88. https://doi.org/10.1177/0146621697211006

Berinsky, A.J., Margolis, M.F., Sances, M.W., 2014. Separating the Shirkers from the Workers? Making Sure Respondents Pay Attention on Self-Administered Surveys. American Journal of Political Science 58, 739–753. https://doi.org/10.1111/ajps.12081

Celiktutan, O., Demiris, Y., 2018. Inferring Human Knowledgeability from Eye Gaze in Mobile Learning Environments. Presented at the Proceedings of the European Conference on Computer Vision (ECCV) Workshops, pp. 0–0.

Chang, S.-H., Lin, P.-C., Lin, Z.-C., 2007. Measures of partial knowledge and unexpected responses in multiple-choice tests. Journal of Educational Technology & Society 10, 95–109.

der Aalst, W.V., Weijters, T., Maruster, L., 2004. Workflow mining: Discovering process models from event logs. IEEE Transactions on Knowledge and Data Engineering 16, 1128–1142.

Espinosa, M.P., Gardeazabal, J., 2010. Optimal correction for guessing in multiple-choice tests. Journal of Mathematical Psychology 54, 415–425. https://doi.org/10.1016/j.jmp.2010.06.001

Gierl, M.J., Lai, H., Pugh, D., Touchie, C., Boulais, A.-P., Champlain, A.D., 2016. Evaluating the Psychometric Characteristics of Generated Multiple-Choice Test Items. Applied Measurement in Education 29, 196–210. https://doi.org/10.1080/08957347.2016.1171768

Goegebeur, Y., De Boeck, P., Wollack, J.A., Cohen, A.S., 2008. A Speeded Item Response Model with Gradual Process Change. Psychometrika 73, 65–87. https://doi.org/10.1007/s11336-007-9031-2

Haladyna, T.M., Rodriguez, M.C., 2013. Developing and validating test items. Routledge.

Heitz, R.P., 2014. The speed-accuracy tradeoff: history, physiology, methodology, and behavior. Front Neuroscience 8. https://doi.org/10.3389/fnins.2014.00150

Hutt, S., Krasich, K. R., J.K. Brockmole, D'Mello, S., 2021. Breaking out of the Lab: Mitigating Mind Wandering with Gaze-Based Attention-Aware Technology in Classrooms, in: Proceedings of the 2021 CHI Conference on Human Factors in Computing Systems, CHI '21. Association for Computing Machinery, New York, NY, USA, pp. 1–14. https://doi.org/10.1145/3411764.3445269

Lau, P.N., Lau, S.H., Hong, K.S., Usop, H., 2011. Guessing, Partial Knowledge, and Misconceptions in Multiple-Choice Tests. Journal of Educational Technology & Society 14, 99–110.

Linacre, J.M., 2010. Predicting responses from Rasch measures. Journal of Applied Measurement 11, 1.

Liu, O.L., Bridgeman, B., Adler, R.M., 2012. Measuring Learning Outcomes in Higher Education: Motivation Matters. Educational Researcher 41, 352–362. https://doi.org/10.3102/0013189X12459679

Lu, Y., Sireci, S.G., 2007. Validity Issues in Test Speededness. Educational Measurement: Issues and Practice 26, 29–37. https://doi.org/10.1111/j.1745-3992.2007.00106.x

McCoubrie, P., 2004. Improving the fairness of multiple-choice questions: a literature review. Medical Teacher 26, 709–712. https://doi.org/10.1080/01421590400013495

Meng, X.-B., Tao, J., Chang, H.-H., 2015. A Conditional Joint Modeling Approach for Locally Dependent Item Responses and Response Times. Journal of Educational Measurement 52, 1–27. https://doi.org/10.1111/jedm.12060

Mislevy, R.J., Haertel, G., Riconscente, M., Rutstein, D.W., Ziker, C., 2017. Evidence-Centered Assessment Design, in: Mislevy, R.J., Haertel, G., Riconscente, M., Wise Rutstein, D., Ziker, C. (Eds.), Assessing Model-Based Reasoning Using Evidence- Centered Design: A Suite of Research-Based Design Patterns, SpringerBriefs in Statistics. Springer International Publishing, Cham, pp. 19–24. https://doi.org/10.1007/978-3-319-52246-3_3

Oppenheimer, D.M., Meyvis, T., Davidenko, N., 2009. Instructional manipulation checks: Detecting satisficing to increase statistical power. Journal of Experimental Social Psychology 45, 867–872. https://doi.org/10.1016/j.jesp.2009.03.009

Pedregosa, F., Varoquaux, G., Gramfort, A., Michel, V., Thirion, B., Grisel, O., Blondel, M., Prettenhofer, P., Weiss, R., Dubourg, V., Vanderplas, J., Passos, A., Cournapeau, D., Brucher, M., Perrot, M., Duchesnay, E., 2011. Scikit-learn: Machine Learning in Python. Journal of Machine Learning Research 12, 2825–2830.

Schnipke, D.L., Scrams, D.J., 2002. Exploring issues of examinee behavior: Insights gained from response-time analyses. Computer-based testing: Building the foundation for future assessments 237–266.

Sherbina D.N., 2015. Strategies for passing the knowledge tests, identified by the distractor view chronometry // Valeology. 2015. № 4. P. 112–121. (in Russian)

Sherbina D.N., 2016. Improving the effectiveness of knowledge control on the basis of analysis of test tasks solution sequence // Educational Technology & Society. Vol. 19. No. 4. P. 346–363. (in Russian).

Spiller, M., Liu, Y.-H., Hossain, M.Z., Gedeon, T., Geissler, J., Nürnberger, A., 2021. Predicting Visual Search Task Success from Eye Gaze Data as a Basis for User-Adaptive Information Visualization Systems. ACM Translation Interaction Intell. System 11, 14:1-14:25. https://doi.org/10.1145/3446638

Thompson, A.R., O'Loughlin, V.D., 2015. The Blooming Anatomy Tool (BAT): A discipline-specific rubric for utilizing Bloom's taxonomy in the design and evaluation of assessments in the anatomical sciences. Anatomical Sciences Education 8, 493–501.

Tversky, B., Zacks, J.M., Hard, B.M., 2008. 17. The Structure of Experience. Understanding Events 436–465.

van der Aalst, W.M.P., 2016. Process Mining: Data Science in Action. Springer.

van der Linden, W.J., 2007. A hierarchical framework for modeling speed and accuracy on test items. Psychometrika 72, 287.

Wang, C., Xu, G., 2015. A mixture hierarchical model for response times and response accuracy. British Journal Math Statistic Psychology 68, 456–477. https://doi.org/10.1111/bmsp.12054

Watson, P., Ma, T., Tejwani, R., Chang, M., Ahn, J., Sundararajan, S., 2018. Human-level Multiple Choice Question Guessing Without Domain Knowledge: Machine-Learning of Framing Effects, in: Companion Proceedings of the Web Conference 2018, WWW '18. International World Wide Web Conferences Steering Committee, Lyon, France, pp. 299–303. https://doi.org/10.1145/3184558.3186340

Wind, S.A., Alemdar, M., Lingle, J.A., Moore, R., Asilkalkan, A., 2019. Exploring student understanding of the engineering design process using distractor analysis. International Journal STEM Education 6. https://doi.org/10.1186/s40594-018-0156-x

Wise, S.L., DeMars, C.E., 2006. An Application of Item Response Time: The Effort-Moderated IRT Model. Journal of Educational Measurement 43, 19–38. https://doi.org/10.1111/j.1745-3984.2006.00002.x

Wu, Q., Laet, T.D., Janssen, R., 2019. Modeling Partial Knowledge on Multiple-Choice Items Using Elimination Testing. Journal of Educational Measurement 56, 391–414. https://doi.org/10.1111/jedm.12213

Zimmerman, M.E., 2011. Speed–Accuracy Tradeoff, in: Kreutzer, J.S., DeLuca, J., Caplan, B. (Eds.), Encyclopedia of Clinical Neuropsychology. Springer, , pp. 2344–2344. https://doi.org/10.1007/978-0-387-79948-3_1247
Acknowledgements
The author expresses gratitude for the support from the Strategic Academic Leadership Program of the Southern Federal University ("Priority 2030").
Funding
The project is supported by the Russian Ministry of Science and Higher Education in the framework of Decree No. 218, project No. 2019-218-11-8185 "Creating a software complex for human capital management based on neurotechnologies for enterprises of the high-tech sector of the Russian Federation" (Internal number HD/19-22-NY).
Additional information
Publisher's note
Springer Nature remains neutral with regard to jurisdictional claims in published maps and institutional affiliations.
Highlights
• Decision rules that allow predicting subjective task difficulty.
• Trace analysis with process mining techniques revealed behavior patterns.
• Item response theory model in Python to determine the level of task difficulty.
Appendices
Appendix A
2PL IRT analysis was conducted with the pymc3 package. The resulting variable  moda contains an object with the inferenced data. The full code including the construction of the picture with resulting logistic curves per question is available at the repository https://osf.io/37tk8/ .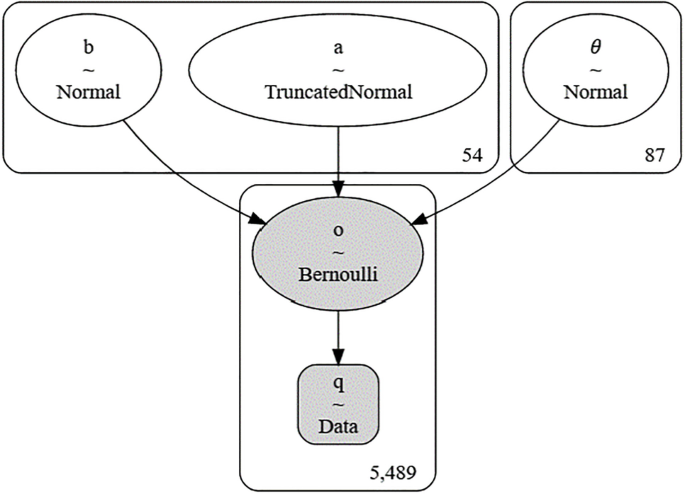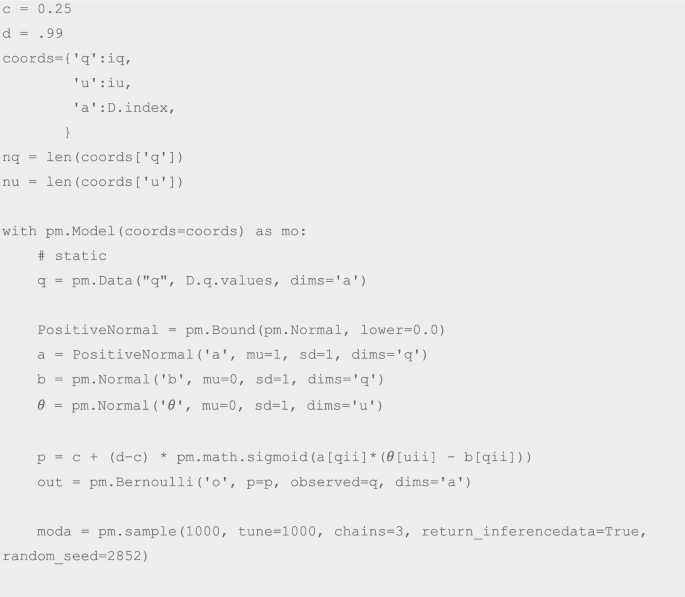 Appendix B
Informative features. Figures 6 and 7
Appendix C
Decision tree analysis to predict the difficulty of task solutions (Fig. 8).
Decision rules correspond to the path from the top of the tree to the leaves, except for criteria with duplicate metrics. The rules are listed in ascending order of predicted task difficulty. Logarithmic scaled features converted to original scale.

When we increased the tree depth to four levels, we got the following set of rules (for clusters larger than 10 leaves).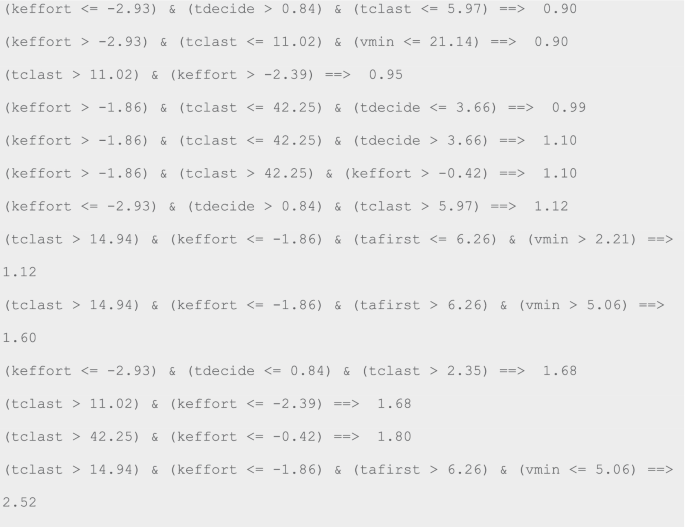 About this article
Cite this article
Sherbina, D.N. Chronometry of distractor views to discover the thinking process of students during a computer knowledge test. Behav Res 54, 2463–2478 (2022). https://doi.org/10.3758/s13428-021-01743-x
Accepted:

Published:

Issue Date:

DOI: https://doi.org/10.3758/s13428-021-01743-x
Keywords
Multiple-choice quiz

Time measurements

Elementary cognitive operations

Process mining

Computer-administered tests