Investigating measurement equivalence of visual analogue scales and Likert-type scales in Internet-based personality questionnaires
Abstract
Visual analogue scales (VASs) have shown superior measurement qualities in comparison to traditional Likert-type response scales in previous studies. The present study expands the comparison of response scales to properties of Internet-based personality scales in a within-subjects design. A sample of 879 participants filled out an online questionnaire measuring Conscientiousness, Excitement Seeking, and Narcissism. The questionnaire contained all instruments in both answer scale versions in a counterbalanced design. Results show comparable reliabilities, means, and SDs for the VAS versions of the original scales, in comparison to Likert-type scales. To assess the validity of the measurements, age and gender were used as criteria, because all three constructs have shown non-zero correlations with age and gender in previous research. Both response scales showed a high overlap and the proposed relationships with age and gender. The associations were largely identical, with the exception of an increase in explained variance when predicting age from the VAS version of Excitement Seeking (B10 =1318.95, ΔR 2 =.025). VASs showed similar properties to Likert-type response scales in most cases.
Keywords
Visual analogue scale 
VAS 
Likert scale 
Internet science 
Measurement 
Internet research 
Online questionnaire 
Response scale 
Conducting research via the Internet is considered a second revolution in behavioral research after the computer revolution in the late 1960s and early 1970s that brought about many advantages over widely used paper-and-pencil procedures (e.g., automated measurement, better precision). Internet-based questionnaires and tests are becoming more and more common in psychology and other social sciences (e.g., Reips, 2008; Reips & Birnbaum, 2011). When designing an online survey, the question of how to design items and which response options to present depends on a different set of rules than in offline surveys (e.g., Callegaro, Lozar Manfreda, & Vehovar, 2015; Hewson, Vogel, & Laurent, 2015). In measuring the degree of agreement with a statement, the response options are often presented in a Likert-type scale with a certain number of ordinal answer options. An alternative to Likert-type scales are visual analogue scales (VASs). These scales offer a number of advantages over Likert-type scales with regard to psychometric properties and are easy to implement online (Reips & Funke, 2008).
VASs are rating scales in a continuous graphical format. They were first described by Hayes and Paterson (
1921
). Instead of providing a discrete number of response options, the VAS provides participants with a straight line extending from one end of the scale (e.g., "Strongly Agree") to the other (e.g., "Strongly Disagree"). Participants mark any point on this continuous line that corresponds to their subjective agreement. In computer- and Internet-based assessments, each pixel in length of a VAS corresponds to a possible value (Reips & Funke,
2008
). Examples of Likert and VAS response scale formats used in the present study are shown in Fig. 
1
. VASs are widely implemented in the medical sciences, especially when measuring changes in pain levels (e.g., Bijur, Silver, & Gallagher,
2001
; Myles et al.,
1999
)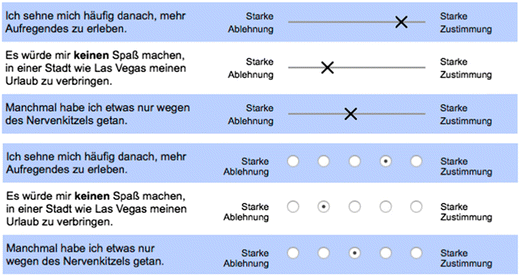 VASs allow respondents to communicate subjective values more exactly than radio button scales. Moreover, the format of VASs suggests to participants that their answer should be precise, because the number of response categories communicates how elaborated the expected answer should be. Correspondingly, a small number of response options implicitly conveys the message that roughly estimated answers are sufficient (Schwarz, 1999). Mean ratings tend to be equal in VASs and other response scales in paper-based studies (Cork et al., 2004) as well as in Internet-based studies (Funke & Reips, 2012; Kuhlmann, Reips, Wienert, & Lippke, 2016).
Visual analogue scales and data quality
A theoretical advantage over discrete scales like radio button scales often used on the Internet is that answers are not restricted to a certain number of response options but very fine gradations can be measured. They avoid the systematic bias of values resulting from scale coarseness, a problem present when using items with distinct response categories that are meant to measure a continuous latent variable (Aguinis, Pierce, & Culpepper, 2009). In case the true value of the respondent is located between response options, Likert-type responses are potentially systematically biased upwards or downwards. This theoretical bias is reduced as the number of response categories is increased, though the psychological effect of presenting distinct response categories may still persist (Schwarz, 1999). In practice, most questionnaires using Likert-type scales implement between four and seven response categories (Wakita, Ueshima, & Noguchi, 2012).
In paper-based studies on pain, Myles and colleagues (1999) and Myles and Urquhart (2005) found that data from VASs form a linear scale. Furthermore, participants were instructed to give a rating for feeling half or twice the amount of pain than their previous rating on a VAS that did not show the original score. Results from the comparison of these scores with the original ratings indicated equal intervals for these judgments. The authors conclude that "VAS scores can be treated as ratio data" (Myles et al., 1999). Reips and Funke (2008) also found that in Web questionnaire items, VASs fulfill the requirements of measurement on the level of an interval scale. Therefore, differences between ratings on VASs can be interpreted in a meaningful way and the prerequisites for many statistical procedures are met. Hayes, Allen, and Bennet (2013) describe the possibility of a general VAS to maximize the discrimination between neighboring categories and possibly produce less compressed answers at the extremes depending on the anchors used.
Given the cumulative evidence of better distributional properties and indications for a higher scale of measurement, the question remains whether VASs also offer more information about the assessed construct, i.e. whether responses gathered via VASs offer more valid information than those gathered via other response scales. This question was positively answered by Reips and Funke (2008) for percentages and further investigated by Funke and Reips (2012) for the construct sense of style. They compared the correlations between respondents' style regarding furnishing and clothing and found more positive correlations with VAS-type scales for construct related items and no correlations for construct-unrelated items when compared to their Likert counterparts. Thus, evidence showed that VASs are able to assess the domain general construct sense of style better.
The present study aims to investigate the additional information provided by responses on a VAS-type scale in comparison to responses to the same items on a Likert-type scale directly. In contrast to previous studies, which used a between-subjects design and compared correlations, the present study implements a within-subjects design allowing for a more detailed and consistent analysis of the effect of response scale type. To assess the validity of the information, a criterion with perfect reliability is the gold standard, because differences in the interrelation are directly related to the properties of the construct under investigation. The age and gender measures provide near-perfect reliability, which is why they were chosen for the present study.
Relationship between personality characteristics and age and gender
Age and gender as variables are measured in most psychological studies along with other socio-demographic variables. They are often used to describe the sample and function as covariates or control variables in regression or ANCOVA analyses. In the present study, they are the main criterion variables in the analyses, because they possess the quality of a near-perfect criterion in terms of reliability. Several personality characteristics have shown a correlation with age and gender in previous research. The authors chose three well investigated and established personality constructs: Sensation Seeking, Conscientiousness, and Narcissism.
Sensation Seeking encompasses the tendency of individuals to seek out novel and exciting stimuli to reach their Optimal Level of Arousal (Zuckerman, Eysenck, & Eysenck, 1978). This has been shown to decline with increasing age after puberty, resulting in consistent negative correlations between age and Sensation Seeking (e.g., Steinberg et al., 2008; Zuckerman et al., 1978). Sensation Seeking has also been shown to be higher in males than in females (Steinberg et al., 2008; Zuckerman et al., 1978). The construct is measured as a subfacet of Extraversion in the Big Five personality model, labeled Excitement Seeking (Costa & McCrae, 1992).
The second personality trait investigated is the Big Five facet Conscientiousness (e.g., Buchanan, Johnson & Goldberg, 2005). This personality trait has also shown a relation to age in previous research. Srivastava et al. (2003) found a linear positive correlation throughout the whole lifespan, with some studies finding a trend towards a decline in late adulthood (Donnellan & Lucas, 2008). Srivastava et al. (2003) also found small gender differences for Conscientiousness, with women scoring slightly higher than men across the lifespan. This difference was also shown in a cross-cultural study by Donnellan and Lucas (2008), though the difference ceased to show in late adulthood.
The third personality construct addressed in the present study is Narcissism, which has been shown to be negatively associated with age (e.g., Roberts et al. 2010; Twenge, Konrath, Foster, Campbell, & Bushman, 2008). There is an ongoing debate about whether these are developmental changes or cohort effects (Roberts et al. 2010; Twenge et al., 2008). In the context of the present study it is only relevant that the relation has been shown consistently. Consistent gender differences have also been shown for Narcissism, with men scoring higher than women on the whole measure (Grijalva et al., 2015). The gender difference is most pronounced in the facets Exploitative/Entitlement and Leadership/Authority. All of the aforementioned constructs have been investigated in numerous studies and measured by well validated and widely implemented scales.
Research question and hypotheses
The main research question addressed in the current study is what we gain from implementing VASs as the response format, in comparison to Likert-type response scales. Specifically, the goal is to investigate whether VASs provide additional valid information when the information from the Likert-type scale is already accounted for. This extends the knowledge about better distributional properties and a better level of measurement for VASs to the area of validity and actual information contained in the measurement process. Our hypothesis proposes that personality instruments assessed via VAS-type response scales provide more information in comparison to the same instruments assessed via Likert-type response scales. This is expressed in additional explained variance when predicting the criteria age and gender. Furthermore, means and standard deviations (SDs) of the response-scale versions were compared as well as the intercorrelations between the constructs within and between both scale versions.
Results
The results of the analyses are presented below. These include the consistency of the age measure and the reliabilities for all scales in both response scale versions. Afterwards the results regarding intercorrelations, distributional properties, and regression analyses are presented. These analyses were carried out separately for the counterbalanced versions of the questionnaire. No differences emerged. Therefore we report results for the data collapsed over both versions.
Discussion
The present study aimed at investigating the properties of VAS-type response scales in a within-subjects design, comparing them to the more traditional Likert-type scales. The two versions showed considerable overlap as indicated by the high correlations between both versions of the scales. Internal reliabilities, means, and SDs did not differ between the response-scale versions. The intercorrelations between the three personality measures were also identical independent of the response scale used for measurement. All scales showed the expected relationship with the age measure. Narcissism and Excitement Seeking but not Conscientiousness were associated with the second criterion, gender.
The informational value of both scale versions emerged as identical, with the exception of Excitement Seeking. In this case the prediction of age was improved for the VAS version of the scale as shown by traditional as well as Bayesian regression models. When predicting gender, only Narcissism was a significant predictor with equal estimates for the Likert-type and VAS versions. The results of the present study indicate equivalence in measurement and associations between Likert-type scales and VASs, the only exception being the benefit of the VAS Excitement Seeking scale when predicting age. The effect size was small, though, with only 2.5% incremental variance explained out of a total of 28.6% explained variance. A possible explanation for this finding is that it emerged for the strongest original association, as age and Excitement Seeking had the highest correlation in the present sample, r = −.53 to −.51. Further research is necessary to evaluate the robustness and possible explanations for this effect.
The analyses in the present study use age and gender as reliable criteria. The reliability of the age measure was confirmed by a very high consistency of entries at the beginning and end of the questionnaire. Differences in the relationship between the personality scales and age and gender are only dependent on the information provided by the measurement of personality.
Our results indicate that the more fine-grained responses that are possible via VASs (Funke & Reips, 2012) did not lead to a better measurement in most cases. They did not increase the error variance in responses either, as shown by very similar associations within the scales as well as with the criteria age and gender. The equality of means and SDs also suggests similar distributional properties of both response scale versions. The finding of equal SDs contrasts with previous research that found lower SDs when implementing VASs (Funke & Reips, 2012; Kuhlmann, Reips, Wienert, & Lippke, 2016). A possible explanation for this finding is the difference between the assessed constructs. The present study measured personality characteristics, whereas the previous studies investigated health-related variables and semantic differentials. Another possible explanation is the difference in design. The present study investigated both response scales in a within-subjects design, previous studies implemented between-subjects designs.
The present study provides evidence for equal measurement when implementing VASs in comparison to Likert-type scales in a within-subjects design. Further research should be conducted to investigate other variables and ascertain the validity of VASs. Examining the impact of the length of the scale, including longer questionnaires, is also a possible direction for future studies. It should be noted, however, that the results with regard to external criteria only include age and gender. This renders the interpretation of the results more difficult and presents several possible explanations.
Limitations
The present study used a voluntary recruitment strategy through participants of a seminar. Since this is not a random sampling method, the generalizability of the results is limited. Recruiters were instructed not to disclose the purpose of the study, but naivety of study participants could not be guaranteed. On the other hand, the present sample does extend beyond the usual limits of a student sample because a wider age range was recruited.
A second limitation is the scope of the present study. We only investigated three personality scales and their relationship with gender and age. Construct validity remains to be investigated in future research. Age and gender were chosen as external criteria in the current study as they provide near-perfect reliability. Other criteria were not investigated in the present study, though evidence for informational advantages when predicting age and gender could very well translate to other criteria.
A third limitation is that only linear trends were investigated in the present study. The relationship between the response scales and age were examined via correlations and the GLM. This represents the most common analyses performed, but does not take into account possible nonlinear relationships between responses on a Likert scale and responses on a VAS-type scale. There is no theoretical reason to assume a meaningful nonlinear trend; nonetheless our analyses are not able to account for it in case it exists.
Conclusion
The present study is the first to investigate Likert-type and VAS-type scales in a within-subjects design, thus allowing for a direct comparison. The results indicate that VAS- and Likert-response scales provide identical information and have identical distributional qualities. As in most previous research, results indicate no disadvantages to implementing VASs. Further research should examine other personality measurements and validation criteria to examine possible moderator effects.
Copyright information
© Psychonomic Society, Inc. 2017