Abstract
Current methods of measuring gross motor abilities in children involve either high-cost specialist apparatus that is unsuitable for use in schools, or low-cost but nonoptimal observational measures. We describe the development of a low-cost system that is capable of providing high-quality objective data for the measurement of head movements and postural sway. This system is based on off-the-shelf components available for the Nintendo Wii: (1) The infrared cameras in a pair of WiiMotes are used to track head movements by resolving the position of infrared-emitting diodes in three dimensions, and (2) center-of-pressure data are captured using the WiiFit Balance board. This allows the assessment of children in school settings, and thus provides a mechanism for identifying children with neurological problems affecting posture. In order to test the utility of the system, we installed the apparatus in two schools to determine whether we could collect meaningful data on hundreds of children in a short time period. The system was successfully deployed in each school over a week, and data were collected on all of the children within the school buildings at the time of testing (N = 269). The data showed reliable effects of age and viewing condition, as predicted from previous small-scale studies that had used specialist apparatus to measure childhood posture. Thus, our system has the potential to allow screening of children for gross postural deficits in a manner that has never previously been possible. It follows that our system opens up the possibility of conducting large-scale behavioral studies concerning the development of posture.
Access options
Buy single article
Instant access to the full article PDF.
US$ 39.95
Tax calculation will be finalised during checkout.
Subscribe to journal
Immediate online access to all issues from 2019. Subscription will auto renew annually.
US$ 79
Tax calculation will be finalised during checkout.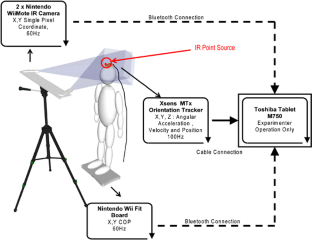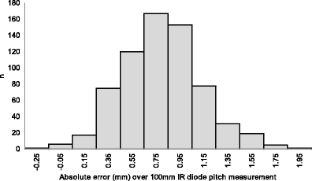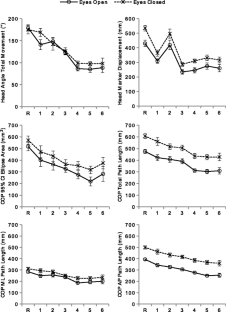 References
Assaiante, C., & Amblard, B. (1995). An ontogenetic model for the sensorimotor organization of balance control in humans. Human Movement Science, 14, 13–43.

Bakstein, H., & Halíř, R. (2000). Camera calibration with a simulated three dimensional calibration object. In T. Svoboda (Ed.), Czech pattern recognition workshop (pp. 1–7). Peršlák, Czech Republic: Czech Pattern Recognition Society.

Berrigan, F., Simoneau, M., Martin, O., & Teasdale, N. (2006). Coordination between posture and movement: Interaction between postural and accuracy constraints. Experimental Brain Research, 170(2), 255–264.

Bouget, J.-Y. (1999). Camera calibration toolbox for Matlab. Pasadena, CA: California Institute of Technology.

Carpenter, M. G., Frank, J. S., Winter, D. A., & Peysar, G. W. (2001). Sampling duration effects on centre of pressure summary measures. Gait and Posture, 13, 35–40.

Chiari, L., Rocchi, L., & Cappello, A. (2002). Stabilometric parameters are affected by anthropometry and foot placement. Clinical Biomechanics, 17, 666–677.

Clark, R. A., Bryant, A. L., Pua, Y., McCrory, P., Bennell, K., & Hunt, M. (2010). Validity and reliability of the Nintendo Wii Balance Board for assessment of standing balance. Gait and Posture, 31, 307–310.

Culmer, P. R., Levesley, M. C., Mon-Williams, M., & Williams, J. H. (2009). A new tool for assessing human movement: The kinematic assessment tool. Journal of Neuroscience Methods, 184(1), 184–192.

Donoho, D., Duncan, M., Huo, X., & Levi-Tsabari, O. (1999). About Wavelab (Technical Report). Standford, CA: Stanford University.

Granat, M. H., Kirkwood, C. A., & Andrews, B. J. (1990). Problem with the use of total distance travelled and average speed as measures of postural sway. Medical and Biological Engineering and Computing, 28, 601–602.

Hay, S., Newman, J., & Harle, R. (2008). Optical tracking using commodity hardware. In Proceeding of ISMAR '08 Proceedings of the 7th IEEE/ACM International Symposium on Mixed and Augmented Reality (pp. 159–160). Piscataway, NJ: IEEE Computer Society Press.

Heikkila, J., & Silven, O. (1997). A four-step camera calibration procedure with implicit image correction. In Proceedings of the IEEE Computer Society Conference on Computer Vision and Pattern Recognition (pp. 1106–1112). Piscataway, NJ: IEEE Computer Society Press.

Henderson, S. E., Sugden, D. A., & Barnett, A. L. (1992). Movement assessment battery for children. New York, NY: Psychological Corp.

Kim, J., Nam, K. W., Jang, I. G., Yang, H. K., Kim, K. G., & Hwang, J. M. (2012). Nintendo Wii remote controllers for head posture measurement: accuracy, validity, and reliability of the infrared optical head tracker. Investigative Ophthalmology and Visual Science, 53, 1388–1396.

Lord, S. R., & Menz, H. B. (2000). Visual contributions to postural stability in older adults. Gerontology, 46, 306–310.

Modroño, C., Rodríguez-Hernández, A. F., Marcano, F., Navarrete, G., Burunat, E., Ferrer, M., . . . González-Mora, J. L. (2011). A low cost fMRI-compatible tracking system using the Nintendo Wii remote. Journal of Neuroscience Methods, 202, 173–181. doi:10.1016/j.jneumeth.2011.05.014

Pozzo, T., Berthoz, A., & Lefort, L. (1990). Head stabilization during various locomotor tasks in humans. Experimental Brain Research, 82, 97–106.

Richards, J.G. (1999). The measurement of human motion: A comparison of commercially available systems. Human Movement Science, 18(5), 589–602.

Ruhe, A., Fejer, R., & Walker, B. (2010). The test–retest reliability of centre of pressure measures in bipedal static task conditions—A systematic review of the literature. Gait and Posture, 32, 436–445.

Saavedra, S., Woollacott, M., & van Donkelaar, P. (2010). Head stability during quiet sitting in children with cerebral palsy: Effect of vision and trunk support. Experimental Brain Research, 201, 13–23.

Schärli, A. M., Keller, M., Lorenzetti, S., Murer, K., & van de Langenberg, R. (2013). Balancing on a slackline: 8-year-olds vs. adults. Frontiers in Psychology, 4, 208. doi:10.3389/fpsyg.2013.00208

Schärli, A. M., van de Langenberg, R., Murer, K., & Müller, R. M. (2012). The influence of gaze behaviour on postural control from early childhood into adulthood. Gait and Posture, 36, 78–84.

Scherfgen, D., & Herpers, R. (2009). 3D tracking using multiple Nintendo Wii remotes: A simple consumer hardware tracking approach. In Future play '09: Proceedings of the 2009 conference on future play (pp. 31–32). New York, NY: ACM Press. doi:10.1145/1639601.1639620

Schmid, M., Conforto, S., Camomilla, V., Cappozzo, A., & D'Alessio, T. (2002). The sensitivity of posturographic parameters to acquisition settings. Medical Engineering and Physics, 24, 623–631.

Stahl, J. S. (1999). Amplitude of human head movements associated with horizontal saccades. Experimental Brain Research, 126, 41–54.

Sugden, D. A. (1992). Postural control: Developmental effects of visual and mechanical perturbations. Physiotherapy Theory & Practice, 8(3), 165–173.

Tsai, C. L., Wu, S. K., & Huang, C. H. (2008). Static balance in children with developmental coordination disorder. Human Movement Science, 27, 142–153.

Welch, G., & Foxlin, E. (2002). Motion tracking: No silver bullet, but a respectable arsenal. IEEE Computer Graphics and Applications, 22, 24–38.

Windolf, M., Götzen, N., & Morlock, M. (2008). Systematic accuracy and precision analysis of video motion capturing systems—Exemplified on the Vicon-460 system. Journal of Biomechanics, 41, 2776–2780.

Winter, D. A. (1995). Human balance and posture control during standing and walking. Gait and Posture, 3, 193–214.

Young, W., Ferguson, S., Brault, S., & Craig, C. (2011). Assessing and training standing balance in older adults: A novel approach using the "Nintendo Wii" Balance Board. Gait and Posture, 33, 303–305. doi:10.1016/j.gaitpost.2010.10.089

Zhang, Z. (1999). Flexible camera calibration by viewing a plane from unknown orientations. In Proceedings of the Seventh IEEE International Conference on Computer Vision (Vol. 1, pp. 666–673). Piscataway, NJ: IEEE Computer Society Press.

Zhou, H., & Hu, H. (2008). Human motion tracking for rehabilitation—A survey. Biomedical Signal Processing and Control, 3, 1–18.
Acknowledgments
This research was supported by an NIHR CLARHC implementation grant (KRD/012/001/006). Please note, the views expressed are those of the author(s) and not necessarily those of the NHS, the NIHR or the Department of Health.
About this article
Cite this article
Flatters, I., Culmer, P., Holt, R.J. et al. A new tool for assessing head movements and postural sway in children. Behav Res 46, 950–959 (2014). https://doi.org/10.3758/s13428-013-0419-x
Keywords
Postural stability

Software

Instrumentation

Kinematic assessment