Abstract
Numerous methods have been used to study expertise and performance. In the present article, we compare the cognitive thought processes of skilled soccer players when responding to film-based simulations of defensive situations involving two different experimental conditions. Participants either remained stationary in a seated position (n = 10) or were allowed to move (n = 10) in response to life-size film sequences of 11 versus 11 open-play soccer situations viewed from a player's perspective. Response accuracy and retrospective verbal reports of thinking were collected across the two task conditions. In the movement-based response group, participants generated a greater number of verbal report statements, including a higher proportion of evaluation, prediction, and action planning statements, than did participants in the stationary group. Findings suggest that the processing strategies employed during performance differ depending on the nature of the response required of participants. Implications for behavioral methods and experimental design are discussed.
Access options
Buy single article
Instant access to the full article PDF.
US$ 39.95
Tax calculation will be finalised during checkout.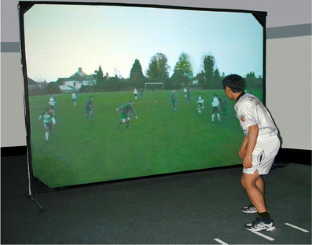 References
Abernethy, B., Thomas, K. T., & Thomas, J. T. (1993). Strategies for improving understanding of motor expertise (or mistakes we have made and things we have learned!). In J. L. Starkes & F. Allard (Eds.), Cognitive issues in motor expertise (pp. 317–356). Amsterdam, Netherlands: Elsevier.

Bianchi-Berthouze, N. (2013). Understanding the role of body movement in player engagement. Human Computer Interaction, 28, 40–75.

Dhami, M. K., Hertwig, R., & Hoffrage, U. (2004). The role of representative design in an ecological approach to cognition. Psychological Bulletin, 130, 959–988.

Dicks, M., Button, C., & Davids, K. (2010). Examination of gaze behaviors under in situ and video simulation task constraints reveals differences in information pickup for perception and action. Attention, Perception, & Psychophysics, 72, 706–720.

Dicks, M., Davids, K., & Button, C. (2009). Representative task designs for the study of perception and action in sport. International Journal of Sport Psychology, 40, 506–524.

Ericsson, K. A., & Kirk, E. (2001). Instructions for giving retrospective verbal reports. Tallahassee, FL: Florida State University.

Ericsson, K. A., & Simon, H. A. (1993). Protocol analysis: Verbal reports as data (Revth ed.). Cambridge, MA: Bradford books/MIT Press.

Ericsson, K. A., & Williams, A. M. (2007). Capturing naturally occurring superior performance in the laboratory: Translational research on expert performance. Journal of Experimental Psychology. Applied, 13, 115–123.

Fitts, P. M., & Deininger, R. L. (1954). S–R compatibility: Correspondence among paired elements within stimulus and response codes. Journal of Experimental Psychology, 48, 483–492.

Hays, R. T., & Singer, M. J. (1989). Simulation fidelity in training system design: Bridging the gap between reality and training. New York, NY: Springer.

Kornblum, S., Hasbroucq, T., & Osman, A. (1990). Dimensional overlap: Cognitive basis for stimulus–response compatibility - A model and taxonomy. Psychological Review, 97, 253–270.

Kushniruk, A. W., & Patel, V. L. (1998). Cognitive evaluation of decision making processes and assessment of information technology in medicine. International Journal of Medical Informatics, 51, 83–90.

McRobert, A. P., Williams, A. M., Ward, P., & Eccles, D. W. (2009). Tracing the process of expertise in a simulated anticipation task. Ergonomics, 52, 474–483.

Palmisano, S., & Gillam, B. J. (2005). Visual perception for touchdown during simulated landing. Journal of Experimental Psychology. Applied, 11, 19–32.

Proctor, R. W., & Reeve, T. G. (Eds.). (1990). Stimulus-response compatibility: An integrated perspective. Amsterdam, Netherlands: Elsevier.

Roca, A., Ford, P. R., McRobert, A. P., & Williams, A. M. (2011). Identifying the processes underpinning anticipation and decision-making in a dynamic time-constrained task. Cognitive Processing, 12, 301–310.

Thomas, J. R., Nelson, J. K., & Silverman, S. J. (2005). Research methods in physical activity (5th ed.). Champaign, IL: Human Kinetics.

Ward, P., Williams, A. M., & Ericsson, K. A. (2003). Underlying mechanisms of perceptual-cognitive expertise in soccer. Journal of Sport & Exercise Psychology, 25, S136.

Ward, P., Williams, A. M., & Hancock, P. A. (2006). Simulation for performance and training. In K. A. Ericsson, N. Charness, P. J. Feltovich, & R. R. Hoffman (Eds.), The Cambridge Handbook of Expertise and Expert Performance (pp. 243–262). New York, NY: Cambridge University Press.

Williams, A. M., Ericsson, K. A., Ward, P., & Eccles, D. W. (2008). Research on expertise in sport: Implications for the military. Military Psychology, 20, S123–S145.

Williams, A. M., Ford, P. R., Eccles, D. W., & Ward, P. (2011). Perceptual-cognitive expertise in sport and its acquisition: Implications for applied cognitive psychology. Applied Cognitive Psychology, 25, 432–442.

Zijlstra, F. R. H. (1993). Efficiency in work behavior: A design approach for modern tools. Delft, Netherlands: Delft University Press.
About this article
Cite this article
Roca, A., Williams, A.M. & Ford, P.R. Capturing and testing perceptual-cognitive expertise: A comparison of stationary and movement response methods. Behav Res 46, 173–177 (2014). https://doi.org/10.3758/s13428-013-0359-5
Keywords
Expert performance

Representative task design

Simulation fidelity

Cognitive processes