Uncertainty processing in bees exposed to free choices: Lessons from vertebrates
Abstract
Bees tend to avoid or to show indifference to uncertain ("risky") relative to certain ("safe") food rewards, whether in nectar volume or in nectar concentration. The unattractiveness of uncertain food rewards is also sometimes independent of the energy budget of bees. This pattern of responses seems to differ from that observed in mammals and birds, which may exhibit a strong preference for the uncertainty over the certainty of food delivery on a given trial in dual-choice tasks. Upon analysis of the conditions that determine preference and aversion for uncertain food rewards in "higher" vertebrates, I attempt to demonstrate that bees react to uncertainty in a similar way. It is argued that, because of their social organization and of the type of resources they seek, bees are essentially exposed to situations in which "higher" vertebrates find reward uncertainty unattractive as well. The nature of their representation of food distribution is discussed, and it is suggested that scout bees may differ from recruits with respect to uncertainty processing.
Keywords
Bee 
Preference 
Food seeking 
Risk sensitivity 
Sensitivity to reward uncertainty (often called "risk") has been studied in a variety of animal species in vertebrates (especially rats, pigeons, starlings, and humans) and in invertebrates (bees and wasps). Typically, animals are given a choice between an option in which a conditioned stimulus (CS) predicts constant conditions (certainty) of reward delivery from trial to trial and an option in which the CS predicts variable conditions (uncertainty) of reward delivery from trial to trial (for a review, see Kacelnik & Bateson, 1996). In vertebrates, this instrumental procedure often induces a preference for the uncertain option when uncertainty is about the number of responses to produce (ratio schedules) or about the time between response and reward (delay schedules). A strong preference for uncertainty is also shown with probabilistic schedules, in which one option is occasionally rewarded and the other consistently rewarded. In contrast, a preference for the certain option or indifference between the two options is frequently observed when uncertainty is about the amount of reward (amount schedules), where uncertainty consists of receiving more or less reward than with the certain option. Here, the word uncertainty refers to the inability to predict what an outcome will be (reward or nonreward), irrespective of whether the animal knows the probability of reward or not—in doing this, I put together the concepts of risk and uncertainty such as initially defined by Knight (1921; for details, see Anselme, 2015a).
In invertebrates, the behaviour of bees and wasps has been examined in similar experimental conditions and seems to display a more homogenous pattern than in the case of vertebrates: those insects often develop indifference to or come to avoid reward uncertainty. The present article reviews the scientific literature on the sensitivity to reward uncertainty in bees and is an attempt to explain bees' behaviour in the light of what is known about mammals and birds. Most behavioural similarities existing between these two zoological groups are likely to result from convergent evolution (homoplasy) rather than from phenotypic traits present in a common ancestor (homology), which 'lived about half billion years ago and must hardly have had any brain at all' (Bitterman, 1996, p. 1900). But bees have demonstrated such high-level capabilities (with respect to navigation and search, visual recognition, communication, etc.) compared to many vertebrate species that it is useful to analyse their behavioural strategies by means of the same theoretical tools. For example, agitated honeybees show a 'pessimistic' bias when they are exposed to an ambiguous CS (odour) that predicts both reward and punishment (Bateson, Desire, Gartside, & Wright, 2011), a phenomenon possibly related to the 'optimistic' bias exhibited by rats, pigs, and starlings reared in an enriched, stress-free environment (Brydges, Leach, Nicol, Wright, & Bateson, 2011; Douglas, Bateson, Walsh, Bédué, & Edwards, 2012; Matheson, Asher, & Bateson, 2008; for an evolutionary approach to cognitive biases, see D. D. P. Johnson & Fowler, 2011; Marshall, Trimmer, Houston, & McNamara, 2013; von Hippel & Trivers, 2011). Also, because some brain structures and neurotransmitters appear to control the same processes across phyla (e.g., Adamo & Baker, 2011; Alcaro, Panksepp, & Huber, 2011; Barron, Søvik, & Cornish, 2010; Perry & Barron, 2013; Strausfeld & Hirth, 2013), invertebrates can exhibit comparable reactions—such as fear and stress responses—in many situations (Elwood, Barr, & Patterson, 2009; Ottaviani & Franceschi, 1996; Stefano et al. 2002). In particular, Strausfeld and Hirth (2013) found homology between central complex (insects) and basal ganglia, which are known to play a determining role in reward and uncertainty processing in vertebrates (e.g., Berridge, 2007; Fiorillo, Tobler, & Schultz, 2003).
The existence of highly conserved behavioural reactions in different taxa—because all animals have to deal with similar constraints, such as finding food and avoiding competitors—suggests that the basic processes controlling decision-making under uncertainty in bees may be comparable to those found in birds and mammals. In this article, it is argued that, given the type of resources they seek and the way they seek it, bees rarely experience a delay-based or a ratio-based variability; they are almost exclusively exposed to uncertain amounts of food. In other words, they essentially experience situations in which mammals and birds find reward uncertainty unattractive as well. It is also suggested that evolution may have shaped the brain of recruits with a foraging strategy that differs from that of scouts relative to their sensitivity to uncertain delays and ratios of responses.
The effects of uncertain rewards in pollinator insects
In this section, I present and discuss a number of experimental situations in which bees and wasps were given a choice between a certain/constant and an uncertain/variable food source. In addition to details given in the text, a summary of the main results is reported in Table
1
.
Table 1
Choice responses of bees to reward uncertainty
Species

Procedure

Response to uncertainty

Reference

B. sandersoni

100% (2 μl) vs. 33% (6 μl)

Aversion

Real (1981)

B. edwardsii

100% (0.1 μl) vs. 10% (1 μl)

Aversion

Waddington et al. (1981)

B. pennsylvanicus

100% (2 μl) ≥ Variable vol.

100% (2 μl) < Variable vol.

Aversion

Attraction

Real et al. (1982)

A. mellifera

100% (20 μl) vs. 33% (20 μl)

Indifference

Wells & Wells (1983)

B. occidentalis

100% (2 μl) vs. 50% (1 or 5 μl)

Attraction

Cartar & Dill (1990)

B. melanopygus

B. mixtus

B. sitkensis

0.07 ± 0.08 μl vs. 0.42 ± 1.06 μl (natural conditions)

Attraction

Cartar (1991)

A. mellifera

100% (1 μl, 20% sucrose) vs.

50% (1 μl, 10% sucrose) or

50% (1 μl, 30% sucrose)

Aversion (45%)

Attraction (37.5%)

Indifference (17.5%)

Banschbach & Waddington (1994)

B. fervidus

100% (1 μl, 20% sucrose) vs.

50% (1 μl, 10% sucrose) or

50% (1 μl, 30% sucrose)

Indifference

Waddington (1995)

X. micans

100% (2 μl) vs. 50% (1 or 3 μl)

Indifference

Perez & Waddington (1996)

A. m. ligustica

A. m. caucasica

A. m. scutellata

100% (5 μl) vs. 33% (5 μl)

Aversion

Cakmak et al. (1999)

A. mellifera

75% (0.4 μl) vs. 25% (0 or 1.6 μl)

75% (0.4 μl) vs. 25% (0 or 2.4 μl)

75% (0.6 μl) vs. 25% (0.2 or 1.8 μl)

Aversion

Aversion

Indifference

Shafir et al. (1999)

A. mellifera

Fixed vs. variable time visits

Indifference

Fülöp & Menzel (2000)

A. mellifera

100% (5 μl) vs. 16.7% (30 μl)

100% (5 μl) vs. 33.3% (30 μl)

100% (10 μl, 15% sucrose) vs.

50% (10 μl, 60% sucrose)

Aversion

Aversion

Attraction

Shapiro et al. (2001)

B. flavifrons

100% (3 μl) vs. 50% (6 μl)

Aversion

Biernaskie et al. (2002)

A. mellifera

* workers

* drones

67% (0.4 μl) vs. 33% (1.2 μl)

Aversion

Indifference

Shafir et al. (2005)

A. mellifera

Several probabilities of low

and high variable rewards

Aversion

Indifference

Drezner-Levy & Shafir (2007)

A. m. caucasica

A. m. carnica

A. m. syriaca

100% (2 μl) vs. 33% (6 μl)

Indifference

Cakmak et al. (2010)

A. mellifera

100% (0.2 μl) vs. 50% (0.4 μl)

Aversion (if increasing budget)

Attraction (if decreasing budget)

Indifference (if constant budget)

Mayack & Naug (2011)
Comparing bees with mammals and birds
Artificial choice schedules
In vertebrates, a reward obtained after an uncertain delay whose mean is the value of a constant delay is preferred to—associated with a higher average subjective value than—the same reward obtained after the constant delay (Kacelnik & Bateson,
1996
). The reason is that the variable option occasionally allows individuals to obtain food more quickly than the constant option, confirming the temporal discounting hypothesis (see Fig.
2
): The subjective value of a reward decreases hyperbolically when the time between a response and reward delivery increases (Cardinal,
2006
; Estle, Green, Myerson, & Holt,
2006
; Mazur,
1987
). Nevertheless, finding delay values for which variability is not advantageous, and hence is not preferred to constancy, remains possible (Anselme, Edeş, Tabrik, & Güntürkün,
2018
). The same reasoning also applies to random-ratio schedules since the opportunity to receive a reward after a small number of responses is equivalent to its possible delivery after a short delay (e.g., Day, Jones, Wigthtman, & Carelli,
2010
; P. S. Johnson, Madden, Brewer, Pinkston, J& Fowler,
2011
). This interpretation is in accordance with the evolutionary explanation of this phenomenon (e.g., McNamara & Houston,
1987
,
1992
). To my knowledge, bees have never been tested in choices involving variable and constant delays, even though there is evidence that they have some perception of the time elapsed (Boisvert & Sherry,
2006
). Such experiments would be of paramount importance for comparative psychology.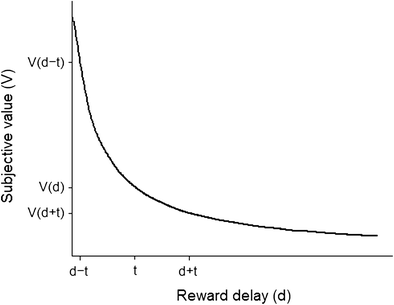 As shown earlier, bees are systematically tested in experiments involving probabilistic choices (e.g., 2 μl of sucrose with a 100% chance vs. 0 or 4 μl of sucrose with a 50% chance) and often find reward uncertainty unattractive. Do they react differently than vertebrates? At first sight, the answer to this question is yes, given the vast number of studies showing that mammals and birds may strongly prefer probabilistic over certain outcomes (Belke & Spetch 1994; Dunn & Spetch 1990; Gipson, Alessandri, Miller, & Zentall, 2009; Laude, Stagner, & Zentall, 2014; Mazur, 1991; Pattison, Laude, & Zentall, 2013; Spetch, Belke, Barnet, Dunn, & Pierce, 1990; Stagner & Zentall, 2010; Vasconcelos, Monteiro, & Kacelnik, 2015). But it must be realized that, in these experiments, a preference for uncertainty is obtained because the uncertain option is associated with reliable CSs (e.g., if red -> 0% chance of reward, if green -> 100% chance of reward) and the surer/certain option with unreliable CSs (e.g., if blue or yellow -> 100% chance of reward). In the reverse case, when uncertainty is predicted by unreliable CSs and certainty by reliable CSs, the preference becomes in favour of certainty (for an excellent review, see McDevitt, Dunn, Spetch, & Ludvig, 2016). This means that animals are tracking the reliability of CSs, not uncertainty or certainty in themselves (e.g., Smith & Zentall, 2016). Thus, it is important to consider how bees are exposed to uncertainty/certainty in psychology experiments: one flower colour unreliably predicts reward or no reward (uncertainty), while another flower colour reliably predicts reward (certainty). These experimental conditions reflect a situation in which pigeons would strongly prefer the certain over the uncertain option, like bees do; the experiments carried out with bees have simply been unable to reveal the exact conditions in which bees should, like "higher" vertebrates, exhibit massive preference for reward uncertainty.
In vertebrates, uncertain amounts—where all trials are immediately rewarded—are almost systematically avoided (Kacelnik & Bateson, 1996). Psychologically, this phenomenon is assumed to result from differential subjective valuation of gains and losses; a higher subjective value is assigned to the loss of a quantity than to the gain of the same quantity. In humans, it was demonstrated that the subjective compensation for a loss of x approximately requires a gain of 2.5x (Kahneman & Tversky, 1979). Consider the case of an individual which receives two food pellets for sure in the constant option and one or three pellets on a random basis (mean of two pellets) in the uncertain option, and assume that the delivery of two pellets is associated with a subjective value V. So, when the animal receives three pellets (gain of one pellet relative to the mean), the subjective value of that outcome is V + V/2 = 3V/2. But when the animal receives only one pellet (loss of one pellet relative to the mean), the subjective value of the outcome is V − 2.5V/2 = −0.5V/2. Thus, the average subjective value for the uncertain option is 3V/2 + (−0.5V/2)]/2 = 0.625V, which is lower than the value V for the constant option. A concave-down function is used to represent this result, which suggests that variability in amounts should not be preferred to a constant amount equal to their mean. The avoidance of uncertain amounts is quite sensitive to energy budget. After Kacelnik and Bateson (1996), if given a choice between a constant and an uncertain food amount, animals under a positive budget exhibit a preference for the uncertain option in only 14% of studies. In contrast, under a negative budget, 40% of studies report a shift in preference towards the uncertain option. As noted earlier, this relative dependence of uncertainty-related choices on energy budget also occurs in bees, and may lead to the conclusion that bees are mainly reacting to variable food amounts in their environment. In the next section, we shall describe some elements that might support this hypothesis.
Before that, think a little bit about the reason why losses carry more weight than gains. This phenomenon is not specific to vertebrates; bees also overestimate losses relative to gains. Waddington (1985) studied how honeybees perceive caloric costs and gains while foraging on artificial flowers. The rate of reversals in direction while performing a round dance was used to quantify the perception of bees. It appeared that caloric cost (induced by flight and handling) regression coefficients were larger in absolute magnitude than caloric gain (resulting from intake per floral visit) coefficients. This fact consolidates the suggestion that bees, like mammals and birds, represent amounts according to a concave-down function (see Harder & Real, 1987; Shafir et al., 2003). But it does not explain why animals (in general) use such a representation. If animals showed here a perceptual bias that obeyed the same logic as that shown in vertebrates with uncertain delays, a concave-up function (increasing and accelerating) should be expected—involving a preference for uncertain amounts owing to the occasional delivery of larger rewards. In contrast, a concave-down function means that occasional larger amounts are hardly more attractive, while occasional small amounts are strongly unattractive.
I suggest that a concave-down function is preferred to a concave-up function with respect to amount schedules, in order to satisfy, at best, the constraints at stake. If a concave-up function strongly promotes preference for larger amounts, it also requires that animals prefer variability to constancy—and hence that they accept to possibly receive less than the expected (mean) value. However, there is no advantage associated with this possibility—such as the opportunity to receive rewards sooner: contrary to delay and ratio schedules, the two options (certain and uncertain) of amount schedules provide the reward after the same interval of time. In other words, preferring variable-amount schedules would mean that animals accept to receive less without any kind of compensation. The strong aversion for variable-amount schedules is compatible with the evidence that receiving a smaller amount than expected/desired is particularly averse, as demonstrated using the successive negative contrast procedure (Couvillon & Bitterman, 1984; Flaherty, 1996). The only way of maintaining a preference for larger amounts while avoiding the smaller amounts is to represent the subjective value of reward amounts by means of a concave-down function. In a natural context, reasonable delays and ratios are, in themselves, unlikely to be a source of problems for animals. The main problem associated with those delays and ratios originates in the possible reduction in expected food amounts, caused by intraspecific and interspecific competition. In summary, the observation by Kahneman and Tversky (1979) that losses carry more weight than gains is here possibly explained. It is argued that the higher subjective value assigned to losses relative to gains is a rational property of decision processes; it is a direct consequence of the advantage (preferring larger amounts while avoiding smaller amounts) of concave-down functions to represent reward amounts.
The social dimension
Most bees belong to social species and often exhibit no preference for reward uncertainty. We saw that solitary bees also might exhibit the same behavioural propensity. Do social and solitary vertebrates behave in a similar way when exposed to reward uncertainty? Answering this question is difficult because vertebrates represent a much vaster diversity of animal species than bees, and those species have evolved under such different ecological conditions that this certainly has influenced the type of decisions they make (e.g., Heilbronner, Rosati, Stevens, Hare, & Hauser, 2008). It must also be noted that, in vertebrate-related studies, social foraging is synonymous with "foraging in the presence of competitors" because each individual is seeking food for itself (or for its offspring). This definition is not fully satisfactory with respect to social bees (and social insects in general), which mainly collect food for the colony rather than for their private consumption—although competition between colonies exists, nevertheless (e.g., Thomson, 2004). In mammals and birds, some studies report that individuals of the same species may use distinct foraging strategies depending on whether competitors are present or absent. Common shrews (Sorex araneus) with low energy reserves and foraging alone prefer unpredictable food rewards (Barnard & Brown, 1985b), while they become indifferent to variance when a competitor—not allowed to feed—is visible (Barnard & Brown, 1985a). Greenfinches (Carduelis chloris) with low energy reserves seek variable food sources and favour solitary foraging, but they exhibit the reverse strategies with higher energy reserves (Ekman & Hake, 1988). Interestingly, Brown (1988) showed that the proportion of prey capture successes increases with group size in cliff swallows (Hirundo pyrrhonota), and is consequently higher compared to that of solitary foragers. Accordingly, house sparrows (Passer domesticus) with low energy reserves scrounge more, decreasing variability in feeding rate and in patch finding time (Lendvai, Barta, Liker, & Bokony, 2004). As these authors pointed out, scrounging can be viewed as a risk-averse (uncertainty aversion) tactic. In conclusion, social foraging in vertebrates might induce direct competition that promotes uncertainty aversion, because exploiting the patches of successful individuals improves the chances of finding food, or because the presence of competitors generates a time pressure leading individuals to exploit the locations associated with more certainty. Social foraging in bees and wasps is less competitive, so the unattractiveness of reward uncertainty should essentially depend on parameters unrelated to the presence of other individuals on the same patch. But it is likely that, like with sparrows, foraging with many conspecifics contribute to reduce the uncertainty to find a food source, as we shall see further.
In summary, mammals and birds prefer reward uncertainty to reward certainty when choice is about a delay or a ratio of responses. Conversely, they tend to prefer reward certainty to reward uncertainty, or show indifference, when choice is about the amount or the probability of reward. But, when they choose the uncertain option, it is not because they find uncertainty attractive in itself. They only choose it when associated with some advantages, such as quicker food access or reliable CSs (i.e., properties increasing the chance of survival in the wild). Bees also do not seek uncertainty for itself; current evidence indicates that they react to uncertainty like mammals and birds exposed to similar situations do. Bees might decide under reward uncertainty by means of equivalent strategies, although crucial experiments need to be carried out to properly answer the remaining issues.
Hypothesis: Bees are mainly exposed to uncertain food amounts
The data available have been obtained in bees exposed to probabilistic choices, which indicate that bees are likely to track the reliability of CSs, and therefore prefer the constant/certain over the variable/uncertain option. However, it also appears that their preference may change according to their energy budget (or honey stores in the hive), like vertebrates exposed to uncertain amounts. For this reason, it is argued that bees are mainly exposed to uncertain food amounts during their lifetime because of the type of resources they seek and of the way they seek it. As a result, evolution may have favoured the concave-down function as a major foraging strategy to represent food distributions.
Typically, a hive is composed of a queen bee which never forages, of drone bees (up to a thousand) which fertilize the queen but do not forage, and of worker bees (30,000 to 80,000) whose activity varies across their lifetime. Initially devoted to tasks inside the hive (feeding the larvae, cleaning the hive, and defending the hive against intruders such as wasps and ants), worker bees perform their first learning flights before they can acquire the status of forager bees, in general 3–4 weeks after hatching. Forager bees approximately represent 20% of the bees within a hive. During a multitude of flower visits per day, they suck up nectar through their proboscis and collect pollen by means of the baskets located on their posterior legs, and then back to the hive where those resources are stored and used to feed larvae as well as nonforager individuals. Bees consume pollen in great quantities (20–30 kg per year on average for a colony) because it is their unique source of proteins. Pollen consumption is known to affect the bee's size, longevity, and performance (Roulston & Crane,
2000
). In order to be more attractive for pollinator insects, some flowers also produce nectar, a sugar-based liquid providing a source of energy. To find food, most forager bees (called recruits) follow the instructions (waggle and round dances) provided by scout bees, a second subcategory of foragers, which incessantly seek new sites for food in the vicinity of the hive (e.g., Dreller,
1998
; Liang et al.,
2012
). We have already mentioned that bees forage during the good seasons, a strategy that reduces their exposure to reward uncertainty. This is not to say that they never experience failures. But several factors related to their social organization indicate that, when uncertainty is encountered, it is essentially about food amounts rather than delays or ratios.
Risk-taking is limited. Only a minority of individuals within a hive is concerned with foraging behaviour. Among the 20% of individuals attending to collect food resources, most forage with instructions, limiting the risk of failure. Inaccuracies in the execution of waggle dances may lead recruits to miss a food source, especially when it is near the hive (Weidenmüller & Seeley, 1999). But recruits end up finding out the target flowers, so that their flights are often successful when they decide to forage on a patch. Because they tend to be flower constant (Grüter and Ratnieks, 2011; Wells & Wells, 1983), they also minimise the risk of experiencing zero reward.

Using many recruits. A recruit that acts upon a waggle dance may require four to 12 energetically expensive trips before it can find the rewarding flowers (Anderson, 2001). But once the recruit has located the site, many profitable return trips to that site can be made and, in a sense, cancel the initial 'feeling' of failure. In addition, waggle dancers typically recruit not just one but many foragers, so that abundance is commonly met by bees. This picture contrasts with that of birds and mammals which individually look for small, sparse food items. Of course, some vertebrate species can also hoard food items (e.g., Hurly, 1992; Lucas, 1994), but their abundance is rarely encountered. In general, food distribution is relatively unpredictable (no patchy distribution).

Exploiting in-hive odours. Arenas, Fernández, and Farina (2007) showed that food odours learned within the hive can be used by bees during foraging flights. This odour-induced bias in food preference was maintained even 24 hours after the feeders were removed from the hive. Since the odours in a hive directly depend on the floral distributions around the nest site, this is likely to inform the inexperienced bees about the type of food they have to seek. It must be noted that when recruits leave the hive to find food, they often ignore the spatial information about a food source location provided by a scout, reaching a patch of flowers based on information learned independently—for example, recruits prefer scouts that carry food odours they knew from previous trips (Grüter, Balbuena, & Farina, 2008).

Identifying rewarding flowers. Both honeybees and bumblebees can mark rewarding flowers with specific scent that promotes probing by conspecifics (Ferguson & Free, 1979; Kato, 1988). Also, complex floral patterns (combining a specific scent with a specific shape) reduce bees' uncertainty in identifying rewarding flowers; bees acquire visual information about shape more effectively in the presence of scent (Leonard, Dornhaus, & Papaj, 2011).

Identifying unrewarding flowers. Honeybees and bumblebees (B. terrestris and B. pascuorum) are also able to identify the flowers that have been recently visited by themselves, by conspecifics, or by other species of bees in order to avoid them for a while (e.g., Giurfa, 1993; Goulson, Hawson, & Stout, 1998). They seem to use a specific scent rather than vision for this selection process because they are unable to reject inflorescences from which the nectar had been removed artificially (Goulson et al., 1998).

Leaving too variable patches and low food densities. When bumblebees encounter unsatisfactory reward sources, they may sample alternative flowers and can fly considerable distances in search of landscapes where variation in floral resources is less (Jha & Kremen, 2013; Wiegmann et al., 2003). Also, when reward rate in nectar volume/concentration or in the number of flowers available is too low, bees can become less flower constant in order to increase their chance of obtaining more—but the differences in flower constancy among bee species remains unexplained (Grüter & Ratnieks, 2011).

Benefiting from hermaphrodism of many plants. The 'feeling' of failure in foragers may remain limited because a majority of plants are hermaphrodite, both males and females. Thus, most flowering plants contain pollen, which is a product of the male organ (or stamen). The availability in pollen and nectar varies according to plant species. Some flowers produce much pollen but no nectar (e.g., poppy, Papaver rhoeas) and, more rarely, much nectar without pollen (e.g., burdock, Arctium lappa). Although a majority of bees specialize on pollen or nectar, the two resources are available in many plants (including trees and bushes) involved in the production of honey by bees.
Taken together, these elements suggest that forager bees are mainly exposed to variability in amounts, where all trials are (more or less) rewarded, and this may explain in a large part why they are so often not attracted by reward uncertainty: bees represent food distribution as variable amounts rather than variable delays or variable ratios. According to Schmickl and Crailsheim (2004), the bee colony's decentralized decision system (also called 'swarm' intelligence) allows a reduction in the potential costs associated with a loss of nectar income when environmental fluctuations generate a change in food quality. Swarm intelligence could be viewed as an effective strategy that protects the colony against the uncertainty of finding food. If food only varies in amounts for the colony (without risk of honey shortfall), this may explain why most individual bees as members of a colony are indifferent to or avoid variability—the individual bee represents food distribution as if it was the colony. Of course, this general rule does not preclude the existence of individual differences within a colony (e.g., Banschbach & Waddington, 1994). For example, the evidence that worker honeybees are more averse to uncertainty than drones (Shafir et al., 2005), irrespective of their energy budget, is an indication that selective pressures have acted against a preference for variability in foraging individuals, while those pressures have been absent in the case of drones.
Prediction: Scouts might differ from recruits
If recruits encounter uncertain amounts most of the time, the scout bees, which attempt to find new floral patches, should experience delay-type and ratio-type variability with a higher frequency—especially under average conditions of profitability. Given that mammals and birds prefer variable over constant delays/ratios, scouts could react differently from recruits. Scouts consist of a minority of individuals within a hive, and there is evidence that genetic predispositions are necessary to develop foraging/scouting behaviour. Humphries, Fondrk, and Page (2005) showed that honeybees selected to become foragers exhibit a greater walking activity and a stronger responsiveness to sucrose. Liang et al. (2012) demonstrated that scouts differ from recruits with respect to brain gene expression, including neurotransmitters such as dopamine, octopamine, glutamate, and γ-aminobutyric acid (GABA). Octopamine, the functional equivalent to noradrenaline in vertebrates (Roeder, 1999), is known to alter foraging preferences (Giray, Galindo-Cardona, & Oskay, 2007) and promotes scouting behaviour (Liang et al., 2012). These genetic differences may suggest that scouts are prepared to deal with the uncertainty (in delay and ratio) of food distributions. Several studies report that the number of honeybees finding their next foraging site through scouting is low when resources are abundant and high when resources are poorer (Anderson, 2001; Seeley, 1983; Waddington, Visscher, Herbert, & Richter, 1994), suggesting that scouts often experience delay/ratio-type uncertainty. Thus, if uncertainty can stimulate seeking behaviour (notably because the delay to reach food is unpredictable), it is more likely to obtain this effect with scout bees because they may seek food using strategies that mimic those used by "higher" vertebrates (Schultheiss, Cheng, & Reynolds, 2015).
Owing to the quasirandom distribution of resources in the environment, animals have to explore the surroundings, especially when the environment is unknown and some information is needed. Exploration is commonly met among vertebrates (e.g., Bean, Mason, & Bateson, 1999; Forkman, 1996) as well as invertebrates (e.g., Anselme, 2013, 2015b; Mailleux, Devigne, Deneubourg, & Detrain, 2010; Wilson & Fowler, 1976). Bees also explore their surroundings in the search of significant information (Jander, 1997). The bee's exploratory activity does not aim to find out a new food source but rather to learn the location of orienting signals (landmarks) allowing the animal to facilitate the later return trips. Two forms of exploration flight are identified (Jander, 1997). First, during focal exploration, the bee faces the visited site and performs oscillatory movements (left-right) while backing away from the site, as if it attempted to form an accurate mental representation allowing the target and contextual cues to be retrieved in a subsequent visit. Second, peripheral exploration consists of a fly forward, with more and more marked turn alternation that becomes full circles, increasing in diameter as the bee elevates above the ground. Among insects, only the aculeate hymenoptera are known to produce an exploration flight, which might be phylogenetically derived from the search flight encountered in many other species. In bees, the search flight resembles the exploration flight, although it is less stereotyped and covers a more extended zone allowing the flight over novel, potential targets (Jander, 1997). Contrary to exploration flights, search flights may lead to experiencing uncertainty but they are believed to be only performed by scouts (Degen et al., 2015). In other words, bees that explore (recruits and scouts) are not very often exposed to delay and ratio type of uncertainty, while bees that search for new targets (scouts only) can experience uncertainty.
There is evidence that bees are sensitive to time intervals (e.g., Cheng, Pena, Porter, & Irwin, 2002). Boisvert and Sherry (2006) showed that B. impatiens waits significantly longer before responding to a fixed interval of 36 s compared to a fixed interval of 6 s, presented separately. However, if the two intervals are randomly mixed up within a session, the animal fails to distinguish them, exhibiting similar wait times for the two intervals. In general, there is a single burst of responding between the two interval values, sometimes enhanced by a second burst in anticipation of the long value. More thorough studies are here necessary to examine this interesting topic, because it is unknown whether bees may show a preference for an unpredictable delay (e.g., 6 or 36 s) relative to a predictable delay (here, 21 s). For recruits, delays might be unimportant because the flight time depends more on the terrain over which the bees fly than on the distance estimation reported by waggle dancers (Barron, Zhu, Robinson, & Srinivasan, 2005). But delays might be a stronger determinant of preference in scouts. If correct, testing bees irrespective of their functional status (recruit or scout) within a hive is likely to produce results showing indifference or a preference for certain rewards because of the greater proportion of recruits relative to scouts.
The hypothesis that scouts may prefer delay-related uncertainty seems to contradict the evidence that the solitary bee X. micans, which has to find food by itself, shows indifference to uncertainty (Perez & Waddington, 1996). However, such a comparison is perhaps irrelevant because, as noted earlier, the constraints that solitary bees and social forager bees have to satisfy are different. Solitary bees have to feed for themselves, in addition to managing their reproduction as well as predation risk. In contrast, social worker bees are sterile and can take refuge in their hive in case of predatory attacks. Here, the point is that solitary individuals can spend less time and energy foraging than social individuals while experiencing a higher risk of energy shortfall. As a result, feeding rate is perhaps more important than the opportunity to collect more food occasionally. In other words, solitary bees should ignore variability and feed as often as they can—an occasional small amount is better than nothing. If correct, this would mean that social and solitary bees exhibit uncertainty indifference for distinct reasons.
Conclusion
Overall, bees react to reward uncertainty in a similar way to "higher" vertebrates, but recruits (as opposed to scouts) might essentially be exposed to variable food amounts and might therefore have an innate aversion for uncertainty. Original experiments in which the reliability of CSs is manipulated could be of interest in a comparative perspective (bees vs. vertebrates or recruits vs. scouts). Of course, not all bee species have been tested, and more thorough investigations are necessary, but it is likely that no more mammalian and avian species have been tested in comparison. In the future, the reactivity of scouts (compared with recruits) would be worth being tested. If scouts exhibited a massive preference for reward uncertainty, this might be a behavioural indicator of their genetic predisposition to forage differently from recruits.
Notes
Acknowledgements
This work was partly supported by the DFG (An-1067/1-1).
Copyright information
© Psychonomic Society, Inc. 2018