Abstract
Generalization from previous experiences to new situations is a hallmark of intelligent behavior and a prerequisite for category learning. It has been proposed that category learning in humans relies on multiple brain systems that compete with each other, including an explicit, rule-based system and an implicit system. Given that humans are biased to follow rule-based strategies, a counterintuitive prediction of this model is that other animals, in which this rule-based system is less developed, might generalize better to new stimuli in implicit category-learning tasks that are not rule-based. To test this prediction, rats and humans were trained in rule-based and information-integration category-learning tasks with visual stimuli. The generalization performance of rats and humans was equal in rule-based categorization, but rats outperformed humans on generalization in the information-integration task. The performance of rats was consistent with a nondimensional, similarity-based categorization strategy. These findings illustrate through a comparative approach that the bias toward rule-based strategies can impede humans' performance on generalization tasks.
Access options
Buy single article
Instant access to the full article PDF.
US$ 39.95
Tax calculation will be finalised during checkout.
Subscribe to journal
Immediate online access to all issues from 2019. Subscription will auto renew annually.
US$ 79
Tax calculation will be finalised during checkout.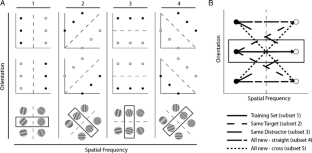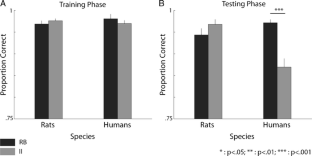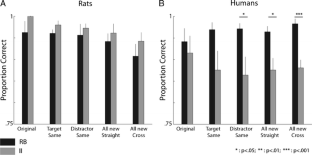 References
Ashby, F. G., Alfonso-Reese, L. A., Turken, A. U., & Waldron, E. M. (1998). A neuropsychological theory of multiple systems in category learning. Psychological Review, 105, 442–481. doi:10.1037/0033-295X.105.3.442

Ashby, F. G., Ell, S. W., & Waldron, E. M. (2003). Procedural learning in perceptual categorization. Memory & Cognition, 31, 1114–1125. doi:10.3758/BF03196132

Ashby, F. G., & Maddox, W. T. (2005). Human category learning. Annual Review of Psychology, 56, 149–178. doi:10.1146/annurev.psych.56.091103.070217

Burne, R. A., Parnavelas, J. G., & Lin, C. S. (1984). Response properties of neurons in the visual cortex of the rat. Experimental Brain Research, 53, 374–383.

Filoteo, J. V., Lauritzen, S., & Maddox, W. T. (2010). Removing the frontal lobes: The effects of engaging executive functions on perceptual category learning. Psychological Science, 21, 415–423.

Girman, S. V., Sauvé, Y., & Lund, R. D. (1999). Receptive field properties of single neurons in rat primary visual cortex. Journal of Neurophysiology, 82, 301–311.

Hélie, S., Waldschmidt, J. G., & Ashby, F. G. (2010). Automaticity in rule-based and information-integration categorization. Attention, Perception, & Psychophysics, 72, 1013–1031. doi:10.3758/APP.72.4.1013

Jitsumori, M. (1993). Category discrimination of artificial polymorphous stimuli based on feature learning. Journal of Experimental Psychology: Animal Behavior Processes, 19, 244–254. doi:10.1037/0097-7403.19.3.244

Maddox, W. T., Ashby, F. G., & Bohil, C. J. (2003). Delayed feedback effects on rule-based and information-integration category learning. Journal of Experimental Psychology: Learning, Memory, and Cognition, 29, 650–662. doi:10.1037/0278-7393.29.4.650

Miller, W., Rosenbloom, K., Hardison, R. C., Hou, M., Taylor, J., Raney, B., & Kent, W. J. (2007). 28-way vertebrate alignment and conservation track in the UCSC Genome Browser. Genome Research, 17, 1797–1808. doi:10.1101/gr.6761107

Niell, C. M., & Stryker, M. P. (2008). Highly selective receptive fields in mouse visual cortex. Journal of Neuroscience, 28, 7520–7536. doi:10.1523/JNEUROSCI.0623-08.2008

Nishihara, H., Hasegawa, M., & Okada, N. (2006). Pegasoferae, an unexpected mammalian clade revealed by tracking ancient retroposon insertions. Proceedings of the National Academy of Sciences, 103, 9929–9934.

Nosofsky, R. M. (1986). Attention, similarity, and the identification–categorization relationship. Journal of Experimental Psychology: General, 115, 39–57. doi:10.1037/0096-3445.115.1.39

Ohki, K., Chung, S., Ch'ng, Y. H., Kara, P., & Reid, R. C. (2005). Functional imaging with cellular resolution reveals precise micro-architecture in visual cortex. Nature, 433, 597–603.

Prusky, G. T., West, P. W., & Douglas, R. M. (2000). Behavioral assessment of visual acuity in mice and rats. Vision Research, 40, 2201–2209.

Shepard, R. N. (1987). Toward a universal law of generalization for psychological science. Science, 237, 1317–1323. doi:10.1126/science.3629243

Silveira, L. C., Heywood, C. A., & Cowey, A. (1987). Contrast sensitivity and visual acuity of the pigmented rat determined electrophysiologically. Vision Research, 27, 1719–1731.

Smith, E. E., & Medin, D. L. (1981). Categories and concepts. Cambridge, MA: Harvard University Press.

Smith, J. D., Ashby, F. G., Berg, M. E., Murphy, M. S., Spiering, B. J., Cook, R. G., & Grace, R. C. (2011). Pigeons' categorization may be exclusively nonanalytic. Psychonomic Bulletin & Review, 18, 414–421. doi:10.3758/s13423-010-0047-8

Smith, J. D., Beran, M. J., Crossley, M. J., Boomer, J., & Ashby, F. G. (2010). Implicit and explicit category learning by macaques (Macaca mulatta) and humans (Homo sapiens). Journal of Experimental Psychology: Animal Behavior Processes, 36, 54–65.

Smith, J. D., Minda, J. P., & Washburn, D. A. (2004). Category learning in rhesus monkeys: A study of the Shepard, Hovland, and Jenkins (1961) tasks. Journal of Experimental Psychology: General, 133, 398–414. doi:10.1037/0096-3445.133.3.398

Uylings, H. B., Groenewegen, H. J., & Kolb, B. (2003). Do rats have a prefrontal cortex? Behavioural Brain Research, 146, 3–17.

Visser, I., & Raijmakers, M. E. (2012). Developing representations of compound stimuli. Frontiers in Psychology, 3, 73. doi:10.3389/fpsyg.2012.00073

Vogels, R. (1999). Categorization of complex visual images by rhesus monkeys. Part 1: Behavioural study. European Journal of Neuroscience, 11, 1223–1238.

Wong, A. A., & Brown, R. E. (2006). Visual detection, pattern discrimination and visual acuity in 14 strains of mice. Genes, Brain and Behavior, 5, 389–403. doi:10.1111/j.1601-183X.2005.00173.x
Author note
This research was supported by Grant Nos. G.0819.11, G.0562.10, and GOA/12/008. B.V. is currently a postdoctoral fellow of the Research Foundation Flanders.
Electronic supplementary material
Below is the link to the electronic supplementary material.
About this article
Cite this article
Vermaercke, B., Cop, E., Willems, S. et al. More complex brains are not always better: rats outperform humans in implicit category-based generalization by implementing a similarity-based strategy. Psychon Bull Rev 21, 1080–1086 (2014). https://doi.org/10.3758/s13423-013-0579-9
Keywords
Animal behavior

Categorization

Implicit/explicit cognition

Visual perception