Abstract
As actors in a highly mechanized environment, we are citizens of a world populated not only by fellow humans, but also by virtual characters (avatars). Does immersive video gaming, during which the player takes on the mantle of an avatar, prompt people to adopt the coldness and rigidity associated with robotic behavior and desensitize them to real-life experience? In one study, we correlated participants' reported video-gaming behavior with their emotional rigidity (as indicated by the number of paperclips that they removed from ice-cold water). In a second experiment, we manipulated immersive and nonimmersive gaming behavior and then likewise measured the extent of the participants' emotional rigidity. Both studies yielded reliable impacts, and thus suggest that immersion into a robotic viewpoint desensitizes people to real-life experiences in oneself and others.
Access options
Buy single article
Instant access to the full article PDF.
USD 39.95
Price includes VAT (USA)
Tax calculation will be finalised during checkout.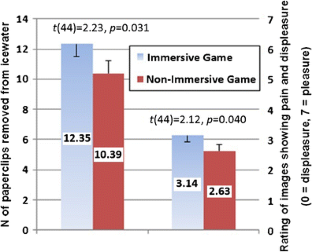 Notes
1.

When the individual claiming 50 h of weekly video gaming was removed, the correlation remained largely unchanged, r(27) = .317, p = .056.

2.

Thanks to a reviewer for raising this possibility.
References
Anderson, C. A., Shibuya, A., Ihori, N., Swing, E. L., Bushman, B. J., Sakamoto, A., & Saleem, M. (2010). Violent video game effects on aggression, empathy, and prosocial behaviour in Eastern and Western countries: A meta-analytic review. Psychological Bulletin, 136, 151–173. doi:10.1037/a0018251

Bastian, B., Jetten, J., & Fasoli, F. (2011). Cleansing the soul by hurting the flesh: The guilt-reducing effect of pain. Psychological Science, 22, 334–335. doi:10.1177/0956797610397058

Bastian, B., Jetten, J., & Radke, H. R. M. (2012). Cyber-dehumanization: Violent video game play diminishes our humanity. Journal of Experimental Social Psychology, 48, 486–491. doi:10.1016/j.jesp.2011.10.009

Buckley, K. E., & Anderson, C. A. (2006). A theoretical model of the effects and consequences of playing video games. In P. Vorderer & J. Bryant (Eds.), Playing video games: Motives, responses, and consequences. Mahwah: Erlbaum.

Feng, J., Spence, I., & Pratt, J. (2007). Playing an action video game reduces gender differences in spatial cognition. Psychological Science, 18, 850–855. doi:10.1111/j.1467-9280.2007.01990.x

Fischer, P., Kastenmüller, A., & Greitemeyer, T. (2010). Media violence and the self: The impact of personalized gaming characters in aggressive video games on aggressive behavior. Journal of Experimental Social Psychology, 46, 192–195. doi:10.1016/j.jesp.2009.06.010

Gentile, D. A., Anderson, C. A., Yukawa, S., Ihori, N., Saleem, M., Ming, L. K., & Sakamoto, A. (2009). The effects of prosocial video games on prosocial behaviors: International evidence from correlational, longitudinal, and experimental studies. Personality and Social Psychology Bulletin, 35, 752–763. doi:10.1177/0146167209333045

Green, C. S., & Bavelier, D. (2003). Action video game modifies visual selective attention. Nature, 423, 534–537. doi:10.1038/nature01647

Hartmann, T., & Vorderer, P. (2010). It's okay to shoot a character: Moral disengagement in violent video games. Journal of Communication, 60, 94–119. doi:10.1111/j.1460-2466.2009.01459.x

Haslam, N. (2006). Dehumanization: An integrative review. Personality and Social Psychology Review, 10, 252–264. doi:10.1207/s15327957pspr1003_4

Jackson, L. A., von Eye, A., Fitzgerald, H. E., Zhao, Y., & Witt, E. A. (2010). Self-concept, self-esteem, gender, race and information technology use. Computers in Human Behavior, 26, 323–328. doi:10.1016/j.chb.2009.11.001

Konijn, E. A., Bijvank, M. N., & Bushman, B. J. (2007). I wish I were a warrior: The role of wishful identification in the effects of violent video games on aggression in adolescent boys. Developmental Psychology, 43, 1038–1044. doi:10.1037/0012-1649.43.4.1038

Padilla-Walker, L. M., Nelson, L. J., Carroll, J. S., & Jensen, A. C. (2010). More than just a game: Video game and Internet use during emerging adulthood. Journal of Youth and Adolescence, 39, 103–113. doi:10.1007/s10964-008-9390-8
About this article
Cite this article
Weger, U.W., Loughnan, S. Virtually numbed: Immersive video gaming alters real-life experience. Psychon Bull Rev 21, 562–565 (2014). https://doi.org/10.3758/s13423-013-0512-2
Keywords
Pain

Gaming

Immersion

Dehumanization

Social cognition

Imagery