Abstract
In the past decade, many studies have focused on the relationship between emotional valence and vertical spatial positions from a processing perspective. Lakoff and Johnson's (1980) work on conceptual metaphor has traditionally motivated these investigations, but recent work (Lakens in J Exp Psychol: Learn, Mem Cogn, 38: 726–736, 2012) has suggested that polarity-based perspectives offer an alternative account of response time patterns. We contrasted the predictions of these two theories using a new facial emotion recognition task, in which participants made speeded responses to happy or sad faces on a display, with the spatial location of those faces being manipulated. In three experiments (two-alternative forced choice tasks and a go/no-go task), we found a pattern of responses consistent with a polarity-based account, but inconsistent with key predictions of the conceptual-metaphor account. Overall, congruency effects were observed for positively valenced items, but not for negatively valenced items. These findings demonstrate that polarity effects extend to nonlinguistic stimuli and beyond two-alternative forced choice tasks. We discuss the results in terms of common-coding approaches to task–response mappings.
Access options
Buy single article
Instant access to the full article PDF.
US$ 39.95
Tax calculation will be finalised during checkout.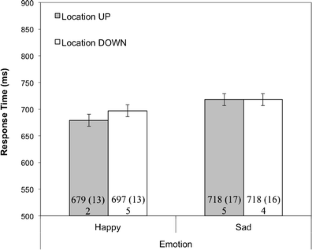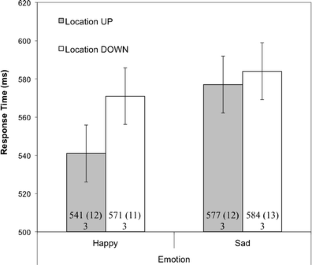 References
Batty, M., & Taylor, M. J. (2003). Early processing of the six basic facial emotional expressions. Cognitive Brain Research, 17, 613–620.

Clark, H. H. (1969). Linguistic processes in deductive reasoning. Psychological Review, 76, 387–404. doi:10.1037/h0027578

Clark, H. H., & Brownell, H. H. (1975). Judging up and down. Journal of Experimental Psychology. Human Perception and Performance, 1, 339–352. doi:10.1037/0096-1523.1.4.339

Crawford, L. E., Margolies, S. M., Drake, J. T., & Murphy, M. E. (2006). Affect biases memory of location: Evidence for the spatial representation of affect. Cognition & Emotion, 20, 1153–1169.

Ekman, P. (1992). An argument for basic emotions. Cognition & Emotion, 6, 169–200.

Elfenbein, H. A., & Ambady, N. (2002). On the universality and cultural specificity of emotion recognition: A meta-analysis. Psychological Bulletin, 128, 203–235.

Estes, Z., & Adelman, J. S. (2008). Automatic vigilance for negative words in lexical decision and naming: Comment on Larsen, Mercer, and Balota (2006). Emotion, 8, 441–444.

Frühholz, S., Jellinghaus, A., & Herrmann, M. (2011). Time course of implicit processing and explicit processing of emotional faces and emotional words. Biological Psychology, 87, 265–274.

Giessner, S. R., & Schubert, T. W. (2007). High in the hierarchy: How vertical location and judgments of leaders' power are interrelated. Organizational Behavior and Human Decision Processes, 104, 30–44.

Gosselin, F., & Schyns, P. G. (2001). Bubbles: A technique to reveal the use of information in recognition tasks. Vision Research, 41, 2261–2271.

Hoffman, J. E., & Subramaniam, B. (1995). The role of visual attention in saccadic eye movements. Perception & Psychophysics, 57, 787–795. doi:10.3758/BF03206794

Holm, S. (1979). A simple sequentially rejective multiple test procedure. Scandinavian Journal of Statistics, 6, 65–70.

Hommel, B., Müsseler, J., Aschersleben, G., & Prinz, W. (2001). The Theory of Event Coding (TEC): A framework for perception and action planning. Behavioral and Brain Sciences, 24, 849–878, disc. 878–937. doi:10.1017/S0140525X01000103

Kosslyn, S. M., Koenig, O., Barrett, A., Cave, C. B., Tang, J., & Gabrieli, J. D. E. (1989). Evidence for two types of spatial representations: Hemispheric specialization for categorical and coordinate relations. Journal of Experimental Psychology. Human Perception and Performance, 15, 723–735. doi:10.1037/0096-1523.15.4.723

Kövecses, Z. (1991). Happiness: A definitional effort. Metaphor and Symbolic Activity, 6, 29–46.

Làdavas, E. (1988). Asymmetries in processing horizontal and vertical dimensions. Memory & Cognition, 16, 377–382. doi:10.3758/BF03197049

LaFrance, M., & Mayo, C. (1978). Cultural aspects of nonverbal communication. International Journal of Intercultural Relations, 2, 71–89.

Lakens, D. (2012). Polarity correspondence in metaphor congruency effects: Structural overlap predicts categorization times for bi-polar concepts presented in vertical space. Journal of Experimental Psychology: Learning, Memory, and Cognition, 38, 726–736.

Lakens, D., Semin, G. R., & Foroni, F. (2012). But for the bad, there would not be good: Grounding valence in brightness through shared relational structures. Journal of Experimental Psychology. General, 141, 584–594.

Lakoff, G., & Johnson, M. (1980). Metaphors we live by. Chicago, IL: University of Chicago Press.

Loftus, G. R., & Masson, M. E. J. (1994). Using confidence intervals in within-subject designs. \Psychonomic Bulletin & Review, 1, 476–490. doi:10.3758/BF03210951

Lyons, M. J., Akamatsu, S., Kamachi, M., & Gyoba, J. (1998). Coding facial expressions with Gabor wavelets. In Proceedings of the Third IEEE International Conference on Automatic Face and Gesture Recognition (pp. 200–205). Los Alamitos, CA: IEEE Computer Society.

Meier, B. P., Hauser, D. J., Robinson, M. D., Kelland Friesen, C., & Schjeldahl, K. (2007). What's "up" with God? Vertical space as a representation of the divine. Journal of Personality and Social Psychology, 93, 699–710.

Meier, B. P., & Robinson, M. D. (2004). Why the sunny side is up: Associations between affect and vertical position. Psychological Science, 15, 243–247.

Murphy, G. L. (1996). On metaphoric representation. Cognition, 60, 173–204. doi:10.1016/0010-0277(96)00711-1

Proctor, R. W., & Cho, Y. S. (2006). Polarity correspondence: A general principle for performance of speeded binary classification tasks. Psychological Bulletin, 132, 416–442. doi:10.1037/0033-2909.132.3.416

Quadflieg, S., Etzel, J. A., Gazzola, V., Keysers, C., Schubert, T. W., Waiter, G. D., & Macrae, C. N. (2011). Puddles, parties, and professors: Linking word categorization to neural patterns of visuospatial coding. Journal of Cognitive Neuroscience, 23, 2636–2649.

Santiago, J., Ouellet, M., Román, A., & Valenzuela, J. (2012). Attentional factors in conceptual congruency. Cognitive Science, 36, 1051–1077.

Schubert, T. W. (2005). Your highness: Vertical positions as perceptual symbols of power. Journal of Personality and Social Psychology, 89, 1–21.

Seymour, P. H. K. (1974). Asymmetries in judgments of verticality. Journal of Experimental Psychology, 102, 447–455.

van Quaquebeke, N., & Giessner, S. R. (2010). How embodied cognitions affect judgments: Height-related attribution bias in football foul calls. Journal of Sport & Exercise Psychology, 32, 3–22.

Young, A. W., Perrett, D. I., Calder, A. J., Sprengelmeyer, R., & Ekman, P. (2002). Facial Expressions of Emotion: Stimuli and Tests (FEEST). Edmunds, UK: Bury St Thames Valley Test Company.
Author note
We thank Jeff Zacks and Louise Connell for helpful discussions in preparing this work and Daniel Lakens and Remo Job for very helpful reviews. The order of authorship is arbitrary: both authors contributed equally to the work.
About this article
Cite this article
Lynott, D., Coventry, K. On the ups and downs of emotion: testing between conceptual-metaphor and polarity accounts of emotional valence–spatial location interactions. Psychon Bull Rev 21, 218–226 (2014). https://doi.org/10.3758/s13423-013-0481-5
Keywords
Emotion recognition

Conceptual metaphor

Spatial congruency

Representation

Polarity