Abstract
A head camera was used to examine the visual correlates of object name learning by toddlers as they played with novel objects and as the parent spontaneously named those objects. The toddlers' learning of the object names was tested after play, and the visual properties of the head camera images during naming events associated with learned and unlearned object names were analyzed. Naming events associated with learning had a clear visual signature, one in which the visual information itself was clean and visual competition among objects was minimized. Moreover, for learned object names, the visual advantage of the named target over competitors was sustained, both before and after the heard name. The findings are discussed in terms of the visual and cognitive processes that may depend on clean sensory input for learning and also on the sensory–motor, cognitive, and social processes that may create these optimal visual moments for learning.
Access options
Buy single article
Instant access to the full article PDF.
US$ 39.95
Tax calculation will be finalised during checkout.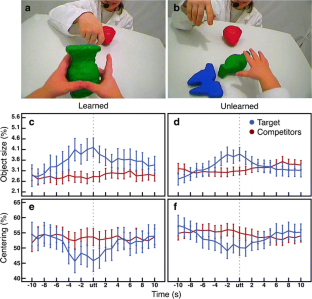 References
Adolph, K. E., & Berger, S. E. (2006). Motor development. In W. Damon & R. Lerner (Eds.), Handbook of child psychology: Vol 2 (6th ed., pp. 161–213). New York: Wiley.

Allopenna, P. D., Magnuson, J. S., & Tanenhaus, M. K. (1998). Tracking the time course of spoken word recognition using eye movements: Evidence for continuous mapping models. Journal of Memory and Language, 38(4), 419–439.

Aslin, R. N. (2009). How infants view natural scenes gathered from a head-mounted camera. Optometry and Vision Science: American Academy of Optometry, 86(6), 561.

Baayen, R. H., Davidson, D. J., & Bates, D. M. (2008). Mixed-effects modeling with crossed random effects for subjects and items. Journal of memory and language, 59(4), 390–412.

Baldwin, D. A. (1995). Understanding the link between joint attention and language In: Joint attention: Its origins and role in development, ed. C. Moore & P. J. Dunham. Erlbaum, 131–158.

Bates, D. (2005). Fitting linear mixed models in R. R news, 5(1), 27–30.

Bates, D. (2012). Linear mixed model implementation in lme4. Ms., University of Wisconsin.

Bertenthal, B., & Von Hofsten, C. (1998). Eye, head and trunk control: The foundation for manual development. Neuroscience & Biobehavioral Reviews, 22(4), 515–520.

Booth, A. E., & Waxman, S. R. (2009). A horse of a different color: Specifying with precision infants' mapping of novel nouns and adjectives. Child Development, 80, 15–22.

Cicchino, J. B., Aslin, R. N., & Rakison, D. H. (2010). Correspondences between what infants see and know about causal and self-propelled motion. Cognition, 118, 171–192.

Colombo, J. (2001). The development of visual attention in infancy. Annual Review of Psychology, 52(1), 337–367.

Fennell, C. T. (2011). Object familiarity enhances infants' use of phonetic detail in novel words. Infancy

Frank, M. C., Goodman, N. D., & Tenenbaum, J. B. (2009). Using speakers' referential intentions to model early cross-situational word learning. Psychological Science, 20(5), 578–585.

Henderson, J. M., Chanceaux, M., & Smith, T. J. (2009). The influence of clutter on real-world scene search: Evidence from search efficiency and eye movements. Journal of Vision, 9(1).

Iverson, J. M. (2010). Developing language in a developing body: The relationship between motor development and language development. Journal of Child Language, 37(02), 229–261.

Kannass, K. N., Oakes, L. M., & Shaddy, D. J. (2006). A longitudinal investigation of the development of attention and distractibility. Journal of Cognition and Development, 7(3), 381–409.

Knudsen, E. I. (2007). Fundamental components of attention. Annu. Rev. Neurosci., 30, 57–78.

Lawson, K. R., & Ruff, H. A. (2004). Early focused attention predicts outcome for children born prematurely. Journal of Developmental & Behavioral Pediatrics, 25(6), 399–406.

Lidz, J., Waxman, S. R., & Freedman, J. (2003). What infants know about syntax but couldn't have learned: Experimental evidence for syntactic structure at 18 months. Cognition, 89, 295–303.

Mayer, D. L., & Fulton, A. N. (1993). Development of the human visual field. In K. Simons (Ed.), Early Visual Development, Normal and Abnormal (pp. 117–129). New York, NY: Oxford University Press.

Mirman, D., Dixon, J. A., & Magnuson, J. S. (2008). Statistical and computational models of the visual world paradigm: Growth curves and individual differences. Journal of memory and language, 59(4), 475–494.

Oakes, L. M., Hurley, K. B., Ross-Sheehy, S., & Luck, S. J. (2010). Developmental changes in infants' visual short-term memory for location. Cognition, 118, 293–305.

R development core team. (2008). R: A language and environment for statistical computing. R Foundation Statistical Computing.

Ramscar, M., Yarlett, D., Dye, M., Denny, K., & Thorpe, K. (2010). The effects of feature label order and their implications for symbolic learning. Cognitive Science, 34(6), 909–957.

Richards, J. E., & Cronise, K. (2000). Extended visual fixation in the early preschool years: Look duration, heart rate changes, and attentional inertia. Child Development, 71(3), 602–620.

Smith, L. B., Yu, C., & Pereira, A. F. (2011). Not your mother's view: The dynamics of toddler visual experience. Developmental Science, 14(1), 9–17.

Smith, L., & Yu, C. (2008). Infants rapidly learn word-referent mappings via cross-situational statistics. Cognition, 106, 1558–1568.

Tomasello, M., & Akhtar, N. (1995). Two-year-olds use pragmatic cues to differentiate reference to objects and actions. Cognitive Development, 10(2), 201–224.

Xu, F., & Tenenbaum, J. B. (2007). Word learning as Bayesian inference. Psychological Review, 114, 245–272.

Yoshida, H., & Smith, L. B. (2008). What's in view for toddlers? using a head camera to study visual experience. Infancy, 13(3), 229–248.

Yu, C., Smith, L. B., Shen, H., Pereira, A. F., & Smith, T. (2009). Active information selection: Visual attention through the hands. Autonomous Mental Development, IEEE Transactions on, 1(2), 141–151.
Acknowledgments
We thank Charlotte Wozniak, Amanda Favata, Amara Stuehling, and Andrew Filipowicz for collection of the data and Thomas Smith for developing data management and preprocessing software. This research was supported by National Science Foundation Grant 0924248, AFOSR FA9550-09-1-0665, NICHHD grant R01HD 28675, and Portuguese Ministry of Education and Science Postdoctoral fellowship SFRH/BPD/70122/2010 awarded to Alfredo F. Pereira.
About this article
Cite this article
Pereira, A.F., Smith, L.B. & Yu, C. A bottom-up view of toddler word learning. Psychon Bull Rev 21, 178–185 (2014). https://doi.org/10.3758/s13423-013-0466-4
Keywords
Visual attention

Language comprehension

Word recognition