Nonprobative photographs (or words) inflate truthiness
Abstract
When people evaluate claims, they often rely on what comedian Stephen Colbert calls "truthiness," or subjective feelings of truth. In four experiments, we examined the impact of nonprobative information on truthiness. In Experiments 1A and 1B, people saw familiar and unfamiliar celebrity names and, for each, quickly responded "true" or "false" to the (between-subjects) claim "This famous person is alive" or "This famous person is dead." Within subjects, some of the names appeared with a photo of the celebrity engaged in his or her profession, whereas other names appeared alone. For unfamiliar celebrity names, photos increased the likelihood that the subjects would judge the claim to be true. Moreover, the same photos inflated the subjective truth of both the "alive" and "dead" claims, suggesting that photos did not produce an "alive bias" but rather a "truth bias." Experiment 2 showed that photos and verbal information similarly inflated truthiness, suggesting that the effect is not peculiar to photographs per se. Experiment 3 demonstrated that nonprobative photos can also enhance the truthiness of general knowledge claims (e.g., Giraffes are the only mammals that cannot jump). These effects add to a growing literature on how nonprobative information can inflate subjective feelings of truth.
Keywords
Memory 
Relative judgment 
Cognitive fluency 
"I am no fan of dictionaries or reference books," says comedian Stephen Colbert, "constantly telling us what is or isn't true." Instead of looking up claims in a book, Colbert urges viewers to "try looking it up in your gut." This is truthiness: "truth that comes from the gut, not books." Of course, when people evaluate claims, they use both rational thinking and intuitive hunches—often doing so, as Colbert implied, without having access to the facts. A century of research has shown that these intuitive judgments are susceptible to influence from general beliefs, prejudices, and expectations; from features of the current context, such as demand characteristics; and from aspects of past experience that interact with the present to privilege the accessibility of some memories over others (Bransford & Johnson, 1972; Henkel & Mather, 2007; Kunst-Wilson & Zajonc, 1980; Lindsay, 2008). In this article, we will use the term "truthiness effect" to refer to a category of phenomena in which—when making rapid judgments about the truth of a claim—nonprobative information about a stimulus or situation causes people to shift toward believing that claim.
Suppose, for instance, that you evaluate the claim "Stephen King is alive." You are probably familiar with Stephen King. The cognitive literature suggests that you will try to retrieve information from memory—related knowledge, thoughts, and images—to help you decide whether or not he is alive (Graesser & Hemphill, 1991). We know from research on confirmation bias that people search for information that supports their hypotheses, perhaps because (as per Spinoza's notion) comprehending a claim entails representing it as true, whereas falsifying it requires a secondary, more effortful step (Gilbert, Tafarodi, & Malone, 1993; Nickerson, 1998). So, given the claim "Stephen King is alive," you might mentally test the hypothesis that he is indeed alive: You "see" recent images of him, "hear" him on NPR, or "remember" seeing advertisements for his latest book. The fluency with which you generate these alive-consistent thoughts and images may bolster their perceived currency. And so you conclude that the claim is true.
But now suppose that you evaluate the claim "John Key is alive." We suspect that most readers know little to nothing about John Key. You might think "John Key? Not sure if I've heard of him. I have no idea whether he's alive." You might be unable to conjure thoughts and images to help you evaluate whether the claim is true, and your only recourse would be to guess. But nonprobative information can affect people's guesses in the moment. Indeed, several lines of research lead us to speculate that when a claim appears with a photograph, such as the one of John Key in Fig. 
1
below, the photo might bias people to guess that the claim is true.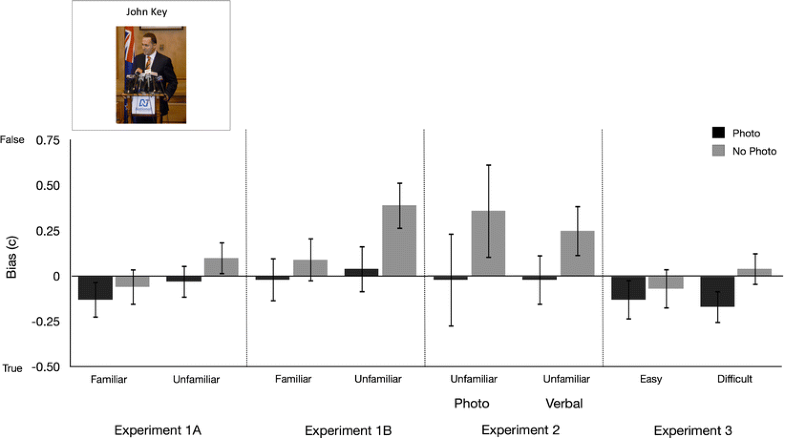 We know from studies of cognitive fluency that presenting information in a semantically rich context can facilitate conceptual processing and lead to illusions of familiarity in the moment. For example, people more often claim that they have studied a target word (e.g., "boat") earlier when the test word appears in a semantically predictive sentence ("The stormy seas tossed the boat") rather than in a neutral sentence ("He saved up his money and bought a boat"; Whittlesea, 1993). The semantically predictive context is thought to help people anticipate the final word, producing unexpectedly fluent conceptual processing, which they take as evidence of familiarity—leading them to say that they have recently seen the word. This finding also fits with the literature on cognitive availability: Repeated or semantically primed information is easily retrieved from memory, and people often conclude—sometimes falsely—that easy retrieval signals frequency, familiarity, and truth (Begg, Anas, & Farinacci, 1992; Kelley & Lindsay, 1993; Tversky & Kahneman, 1973; Whittlesea, 2011).
This literature suggests that in a single presentation, photos might provide a semantically rich context, making details about an otherwise unfamiliar name more available. Thus, photos should bootstrap the generation of thoughts and images that subjects may then be biased to construe as evidence that the claim in question is true. To understand our thinking, reconsider the claim about John Key, but this time look at the photo in Fig. 1. Suddenly you know a little more about him. You might think "He's probably some kind of political figure—I see a flag, and microphones with media logos. The flag has part of the Union Jack—looks like it's from Australia or maybe New Zealand. . . ." The photo is related to the claim and is nonprobative—it does not tell you whether John Key is alive—but the information you glean from that photo might nonetheless enable you to do a better job of imagining that the claim is true.
Related lines of research have shown that when people can easily imagine a target, they often conclude—only moments later—that a claim about it is more likely to occur (Sherman, Cialdini, Schwartzman, & Reynolds, 1985; see Alter & Oppenheimer, 2009, for a review). Photos should provide the raw materials for imagery, thereby facilitating generation of the rich perceptual and conceptual details that people typically interpret as cues to reality (e.g., Johnson, 2006). Moreover, people are inclined to trust photos, which are often the best evidence that something actually occurred (Kelly & Nace, 1994). So, even if photos do not provide probative evidence for a target claim (like the photo in Fig. 1), they might nonetheless boost belief in the claim, because photos are inherently credible in themselves. In a particularly worrisome example of this sort of bias, students rated the scientific reasoning of a neuroscience article more favorably if the article included an image of the brain (McCabe & Castel, 2008).
This body of research suggests that photos might boost the truthiness of claims by bootstrapping the generation of related ideas and images, or by creating an aura of plausibility simply because people find photos to be credible. Many studies have demonstrated that imagination or repeated exposure to claims can—over time—produce illusions of truth, belief, and memory (Bernstein, 2005; Brown & Marsh, 2008; Garry, Manning, Loftus, & Sherman, 1996; Lindsay, Hagen, Read, Wade, & Garry, 2004). Here we propose that a claim coupled with a related but nonprobative photo might, in the moment, combine with confirmation bias to produce immediate truthiness (cf. Hansen & Wänke, 2010).
In our first two experiments, we showed people familiar and unfamiliar celebrity names; half of the celebrities were alive. The celebrity names appeared either with or without a photo. For each name, we asked some subjects to judge the truth of the claim "This famous person is alive." The photos depicted celebrities alive, which might be taken as evidence of celebrities being alive. Therefore, we asked another group of subjects to respond to the claim "This famous person is dead." If photos help people generate hypothesis-consistent thoughts and images about unfamiliar celebrities, then photos should increase the truthiness of claims about those celebrities, regardless of whether the claim is that the celebrity is alive or dead (cf. Unkelbach, 2007).
Notes
Author note
We are grateful for the generous support provided by the Marsden Fund and the Natural Sciences and Engineering Research Council of Canada. We thank Christian Unkelbach for kindly sharing his trivia statements for Experiment 3.
Copyright information
© Psychonomic Society, Inc. 2012