A prospective investigation of rumination and executive control in predicting overgeneral autobiographical memory in adolescence
Abstract
The CaR-FA-X model (Williams et al., 2007), or capture and rumination (CaR), functional avoidance (FA), and impaired executive control (X), is a model of overgeneral autobiographical memory (OGM). Two mechanisms of the model, rumination and executive control, were examined in isolation and in interaction in order to investigate OGM over time. Across two time points, six months apart, a total of 149 adolescents (13–16 years) completed the minimal-instruction autobiographical memory test, a measure of executive control with both emotional and nonemotional stimuli, and measures of brooding rumination and reflective pondering. The results showed that executive control for emotional information was negatively associated with OGM, but only when reflective pondering levels were high. Therefore, in the context of higher levels of reflective pondering, greater switch costs (i.e., lower executive control) when processing emotional information predicted a decrease in OGM over time.
Keywords
Overgeneral autobiographical memory 
Adolescence 
Rumination 
Executive control 
Emotion 
Autobiographical memory (AM) is a type of episodic memory storage system for past personal experiences and semantic information about the self (Conway & Pleydell-Pearce, 2000). The structure of AM is hierarchical, forming a broad life story of past personal memories from the highest level of memory representation for prolonged periods of time, to general memories for single and repeated events, to event specific memory representations (self-memory model; Conway & Pleydell-Pearce, 2000). The ability to retrieve specific memories, defined as a memory for a personally experienced event that occurred at a particular time and place and lasted less than a day, has a number of important functions. For example, remembering specific details from past events can aid problem solving, guide future behaviors, and help regulate emotions (Raes, Hermans, de Decker, Eelen, & Williams, 2003). Unlike specific memories, remembering events in an overgeneral, nonspecific way has consistently been associated with emotional difficulties. Remembering events in such a nonspecific, overgeneral way refers to the phenomenon of overgeneral autobiographical memory (OGM). There are two forms of OGM: categorical memories, defined as memories for categories of events (e.g., every weekend when I visit my grandparents), and extended memories, defined as general events that last over an extended time frame (e.g., my summer holiday in Spain).
The association between OGM and depression is well-documented, and OGM is associated with the onset, diagnosis, and course of depression in adults (Kaviani, Rahimi, Rahimi-Darabad, & Naghavi, 2011; Sumner, Griffith, & Mineka, 2010; Williams et al., 2007), as well as with the onset of depression in adolescence (Kleim & Ehlers, 2008). OGM is a stable characteristic in adults with depression, those recovered from depression, and those at risk of depression (Brittlebank, Scott, Williams, & Ferrier, 1993; Mackinger, Pachinger, Leibetseder, & Fartacek, 2000). Furthermore, Williams and Dritschel (1992) reported that group differences in OGM between suicidal patients and controls were due to the retrieval of categoric memories, with no differences in extended memories. In a recent review of the adult literature, Sumner et al. (2010) reported that OGM was associated with symptoms of depression and predicted increased symptoms of depression over and above initial symptoms. Fewer studies have investigated the phenomenon of OGM with child and adolescent populations. Within the limited number that have, OGM (for categoric, categoric and extended memories combined, and reduced specific memories) has been shown to predict later depressive symptoms and depressive disorder (Hitchcock, Nixon, & Weber, 2014b), even after controlling for age and baseline OGM, depressive symptoms, and IQ (Rawal & Rice, 2012a). Furthermore, OGM is a stable characteristic in both adolescents and adults who are recovered from depression (Kuyken & Dalgleish, 2011; Mackinger et al., 2000). Given the significance of OGM in understanding adolescent depression, an important research objective is to investigate the theoretical underpinnings of OGM, particularly during the developmental period associated with the onset of depressive symptoms (Dekker et al., 2007) and disorder (Kessler et al., 2005). A greater understanding of OGM in adolescence could lead to the creation of focused techniques designed to reduce the risk associated with it.
The CaR-FA-X model (Williams et al.,
2007
; see Fig.
1
for a visualization) is based on Conway and Pleydell-Pearce's (
2000
) self-memory model, which posits that the search for a specific memory requires a hierarchical search through the autobiographical memory knowledge base, which has three levels of memory descriptions. The broadest, top level of the knowledge base holds memories for events of prolonged time periods (e.g., my time at university). Below these, midlevel knowledge includes more general memories for single or repeat events (e.g., my summer holiday in Spain or every day on the train to work). Finally, the lowest level of the knowledge base relates to event-specific knowledge that primarily consists of summary records of sensory–perceptual processing during an event (e.g., my 30th birthday party last Saturday). Conway and Pleydell-Pearce stated that memories for events can be recalled in two ways, either through a generative search process or by direct retrieval.
Generative retrieval
refers to top-down processing that spreads down the AM knowledge base, activating broad memory representations, then general memories, and finally specific memories. The CaR-FA-X model (Williams et al.,
2007
) is the most prominent and comprehensive theory of OGM and is a framework for generative retrieval. The model posits that due to difficulties in one or more of the three mechanisms (i.e., CaR:
c
apture and
r
umination; FA:
f
unctional
a
voidance; and/or X: impaired e
x
ecutive control), the generative search is disrupted early and thus truncated, leading in turn to OGM. The different mechanisms can work in isolation or in interaction (Williams et al.,
2007
).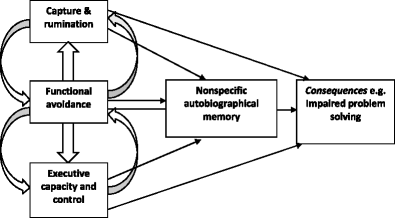 The capture and rumination mechanism proposes that attention can be captured by self-relevant conceptual, abstract information activated at an early stage of retrieval. This can then activate ruminative thinking (i.e., persistent and recurring focus on negative thoughts, depressive affect, and their consequences; Nolen-Hoeksema, 1991), resulting in movement from categoric to other categoric memories instead of down the hierarchy to a specific memory; hence, the search for a specific memory is truncated. The second mechanism of the CaR-FA-X model is functional avoidance, which refers to the interruption of the memory search at a general level, typically in trauma-exposed populations. This is a method of affect regulation, since general memories are thought to result in less affect than specific memories. This mechanism is similar to those proposed in previous theories of OGM, where OGM was a strategy used by traumatized children as a way of avoiding either the negative affect associated with specific memories (Williams, 1996; affect regulation theory) or the sensory–perceptual elements of specific memories of traumatic events (Conway & Pleydell-Pearce, 2000; the self-memory model). These earlier theories of OGM suggest that avoidance is a key factor in OGM, and the CaR-FA-X model (Williams et al., 2007) builds on these previous theories by recognizing that a number of factors, including functional avoidance, contribute to OGM in both trauma-exposed and non-trauma-exposed populations (Williams et al., 2007).
The third and final mechanism is impaired executive control (sometimes referred to as cognitive control or executive functions). Executive control refers to a collection of cognitive processes responsible for the control, coordination, and flexibility of cognitive processes toward goal-directed behavior (Roberts, 1998; Shah & Miyake, 1999; Williams et al., 2007). There is ongoing debate concerning the nature and components of executive control (Diamond, 2013), but three separable but related executive functions have been proposed: inhibition, working memory updating, and switching (Miyake et al., 2000). Recently, Diamond proposed that higher-order executive functions, such as planning, problem solving, and reasoning skills, are built upon these initial executive functions. There are a number of cognitive theories of OGM. One group of theories is the resource allocation theories, which postulate a limit on the amount of cognitive capacity an individual has available, and that engaging in cognitive processing can lead to deficits in other cognitive resources (Ellis & Ashbrook, 1988). For example, cognitive processes such as rumination (the suppression of other thoughts or intrusions) may use up cognitive capacity that could otherwise have been allocated to the search for a specific memory (see Moore & Zoellner, 2007; van Vreeswijk & de Wilde, 2004). The CaR-FA-X model (Williams et al., 2007) posits that impairment in executive control can hamper a person's ability to successfully search for and retrieve specific memories. For example, difficulties in the ability to inhibit irrelevant information and switch between, update, and hold information in working memory may truncate the search for a specific memory (Sumner et al., 2010; Williams et al., 2007).
The CaR-FA-X model (Williams et al., 2007) was developed to characterize OGM in clinical populations. Since Williams et al. (2007) formulated this theory, evidence has indicated that capture and rumination problems, as well as difficulties in executive control, contribute to OGM in nonclinical populations (Sumner, Griffith, & Mineka, 2011). A review of the literature with mainly adult populations (Sumner, 2012) concluded that the CaR-FA-X model is an important contribution to our understanding of OGM in both clinical and nonclinical populations. More recently, a review of the CaR-FA-X model within the child and adolescent literatures has supported the utility of the model in both clinical and nonclinical populations, while noting the need for further research in this area (see Stewart, Hunter, & Rhodes, 2017). Research investigating the CaR-FA-X model in child and adolescent populations has produced mixed findings. Capture errors have been associated with OGM in nonclinical, mixed-gender, community adolescent populations (Schoofs, Hermans, & Raes, 2012) as well as in subclinical (self-reported symptoms of depression) populations of mixed-gender trauma-exposed (physical and sexual abuse) and nonmaltreated children and adolescents (Valentino, Toth, & Cicchetti, 2009). However, rumination has only been supported in one study, which utilized a clinical adolescent population (Park, Goodyer, & Teasdale, 2004). Park, Goodyer and Teasdale examined OGM both pre and post an experimental rumination-and-distraction manipulation task, with samples of depressed adolescents and partially remitted adolescents, as compared with a psychiatric control group and a community control sample. In contrast to distraction, rumination resulted in increased OGM in the group diagnosed with depression (full and partially remitted). These findings suggest that rumination in isolation is not associated with OGM in nonclinical populations but may be associated with OGM in the context of clinical depression.
Research with nonclinical adolescents at familial risk of depression suggests that rumination in isolation does not predict OGM but that rumination in interaction with executive functioning (albeit assessed with a very general measure of executive functioning, the block design task, which assesses visuo-constructional ability) does predict OGM at a one-year follow-up (Rawal & Rice, 2012b). This suggests that identifying interactions between rumination and executive control may be more effective in explaining levels of OGM than examining the mechanisms in isolation. Indeed, research that investigates OGM and executive control in isolation has produced mixed findings. For example, although OGM has been associated with difficulties in inhibitory processing (Raes, Verstraeten, Bijttebier, Vasey, & Dalgleish, 2010) and category fluency (Valentino, Bridgett, Hayden, & Nuttall, 2012), other researchers have reported no such association between OGM and inhibition, switching, letter fluency (Valentino et al., 2012), or working memory (de Decker, Hermans, Raes, & Eelen, 2003).
The lack of empirical support for the executive control mechanism may be attributed to the paucity of studies that have employed emotional tasks of executive control. This may be problematic, since a growing literature has shown that executive control impairments appear to be more pronounced when processing emotional information (Joormann & Gotlib, 2010). Similarly, because rumination, particularly brooding rumination, involves a passive attentional focus on the meaning of negative emotions and thoughts (Treynor, Gonzalez, & Nolen-Hoeksema, 2003), the association between rumination and executive control may be more prominent when cognitive tasks use emotional rather than neutral stimuli.
It is also important to note that few studies have distinguished between the two subcomponents of rumination, reflective pondering and brooding rumination. Reflective pondering, defined as a nonjudgmental attentional focus on problem solving, is an adaptive form of rumination that is negatively associated with symptoms of depression (Arditte & Joormann, 2011). Brooding rumination, defined as a maladaptive component of rumination with a passive attentional focus on the meaning of negative and self-blaming thoughts (Treynor et al., 2003), has in contrast been positively associated with major depressive disorder and depressive symptoms in adolescence (Burwell & Shirk, 2007; Gibb, Grassia, Stone, Uhrlass, & McGreary, 2012). It is therefore important to consider the distinction between these two forms of rumination, but the literature on OGM in adolescence has seldom done so. Schoofs, Hermans, and Raes (2012), in two studies, did not find any associations between either brooding rumination or reflective pondering and OGM. However, Schoofs et al. did not consider whether there was an interaction between executive control and either form of rumination in OGM. In light of Rawal and Rice's (2012b) finding concerning general rumination, we propose that the effects of executive control may be moderated by rumination, and the present study is the first to investigate this possibility.
To best characterize and understand the development of OGM, longitudinal studies are required. Two studies have prospectively investigated the interacting effects of executive control and rumination on OGM in child and adolescent populations. Hitchcock, Nixon, and Weber (2014a) investigated the effects of rumination on OGM across a 6-month period but found no main effect nor any interaction between rumination and impairment in executive control (working memory capacity, working memory updating, verbal fluency, or inhibition). This finding is in contrast to Rawal and Rice (2012b), who found that rumination in the context of low executive control (visuo-constructional ability) predicted reduced autobiographical memory specificity at a one-year follow-up (Rawal & Rice, 2012b). These two studies may have reached different results because they involved samples drawn from different populations: Hitchcock et al. (2014a) tested nonclinical preadolescents, whereas Rawal and Rice (2012b) tested adolescents who had a parent with a history of recurrent depression. The age of the participants may also have been a contributing factor here, since Rawal and Rice (2012b) recruited an adolescent sample (M = 13.64 years), whereas Hitchcock et al.'s (2014a) sample were preadolescents (M = 11.90 years). Rumination is relatively unstable in childhood (Driscoll, 2004) and only becomes a trait-like, more stable predictor of depression in adolescence (Rood, Roelofs, Bogels, Nolen-Hoeksema, & Schouten, 2009). Therefore, rumination may not yet have developed enough or been present long enough in the preadolescent sample from the Hitchcock et al. (2014a) study to exert an effect of executive control on OGM. This suggests that to examine the relation between rumination and executive control in predicting OGM, an adolescent sample over the age of 13 years may be necessary.
It should also be noted that executive control was assessed in different ways in the Hitchcock et al. (2014a) and Rawal and Rice (2012b) studies. Hitchcock et al. (2014a) referred to executive control as "a score" on their measures of executive control (i.e., a range of scores on the measure), whereas Rawal and Rice (2012b) defined low executive control as scores falling one standard deviation below the mean on a block design task. As we noted previously, the block design task employed in the Rawal and Rice (2012b) study is more readily known as a measure of visuo-constructional ability than as the executive control task for which the authors proposed to use it, and therefore it is difficult to confidently conclude that the block design task taps into executive control per se. Notably, neither Hitchcock et al. (2014a) nor Rawal and Rice (2012b) investigated the subcomponents of rumination, and the present study is the first, to the authors' knowledge, to examine the interactive relation between rumination and executive control when processing emotional and nonemotional information and their effects on OGM in adolescence.
Copyright information
© The Author(s) 2018
Open Access This article is distributed under the terms of the Creative Commons Attribution 4.0 International License (http://creativecommons.org/licenses/by/4.0/), which permits unrestricted use, distribution, and reproduction in any medium, provided you give appropriate credit to the original author(s) and the source, provide a link to the Creative Commons license, and indicate if changes were made.