What is play fighting and what is it good for?
Abstract
Play fighting is a common form of play reported among species of mammals, birds, and some other taxa. The competition present in play fighting revolves around gaining some advantage, such as biting a partner without being bitten. The behavior simulated during play fighting need not be restricted to that present in adult serious fighting, but can involve competitive interactions derived from amicable behavior, such as sex and social grooming, or from nonsocial competition, such as predation. What unifies play fighting, irrespective of the functional behavior being simulated, is that it involves some degree of reciprocity, or turn taking, that requires that the competition be attenuated by cooperation. However, there are several different ways in which cooperation can be inserted into playful interactions, and these vary in use across different species. The moderation of competition with cooperation forces animals to monitor their own actions and those of their partners, and this common feature appears to be one vehicle through which the experience of play fighting in the juvenile period can train animals for greater psychological resilience. The monitoring and contextual adjustment of actions influences the development of executive functions of the brain, which, in turn, leads to the development of more adaptable adults.
Keywords
Reciprocity 
Targets 
Tactics 
Play fighting, or rough-and-tumble play, is a commonly reported form of play (Pellis & Pellis, 1998a) that occurs in a wide range of species (Aldis, 1975; Burghardt, 2005; Fagen, 1981). As the term suggests, it is seen as a form of nonserious fighting, an image that has been reinforced by reports that in many species, the same body areas that are bitten or struck during serious fighting are also the ones that are competed over during play fighting (e.g., Aldis, 1975; Fox, 1969; Havkin & Fentress, 1985; Owens, 1975a, 1975b; Pellis, 1981; Symons, 1978). Such a view, however, does not adequately take into account the diversity of interactions that have been labeled as "play fighting."
In Fig. 
1
, a sequence of play fighting is shown for a pair of domesticated juvenile rats (
Rattus norvegicus
). The rat on the left approaches another rat (a), and then, from the rear, reaches toward the nape of its neck with its snout (b). However, before contact can be made, the defender rotates around its longitudinal axis (c) to face its attacker (d). By moving forward, the attacker pushes the defender onto its side (e). The defender then rolls over onto its back as the attacker continues to reach for its nape (f–h). Once in the supine position, the defender launches an attack on its partner's nape (i), but this fails due to its partner's use of its hind foot (j, k). Eventually, the rat on top (l) is pushed off by the supine animal (m), which then regains its footing (n) and lunges towards its partner's nape (o). The whole sequence involves repeated attack and defense of the nape of the neck, which if contacted is nuzzled with the snout (Pellis,
1988
; Pellis & Pellis,
1987
; Siviy & Panksepp,
1987
).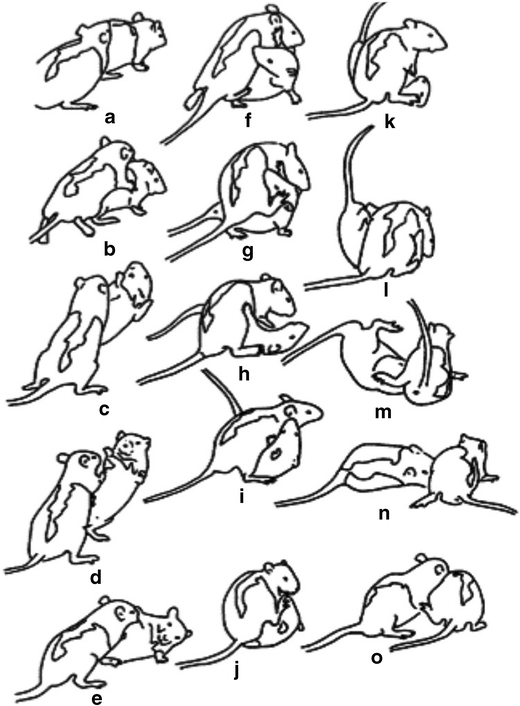 In marked contrast to this playful fighting, rats engaged in serious fighting compete to bite their opponent's lower flanks and rump (Blanchard, Blanchard, Takahashi, & Kelley, 1977; Pellis & Pellis, 1987). Moreover, playful fights that escalate into serious fighting not only involve a shift from targeting the nape to targeting the rump, but also the emission of various signals, such as piloerection, tail rattling, lateral display, and vocalizations that are associated with aggression (Grant, 1963; Kisko, Euston, & Pellis, 2015; L. K. Smith, Fantella, & Pellis, 1999; Takahashi, 1986). Thus, even though the playful competition evident in the social play of rats has led authors to label it "play fighting" or "immature aggression" (e.g., Hurst, Barnard, Hare, Wheeldon, & West, 1996; Silverman, 1978; G. T. Taylor, 1980), it is not a simulation of adult aggression. The difference in targets distinguishes the two and also influences the types of tactics used and how they are executed (Pellis & Pellis, 1987). The insight that play fighting involves competition for some advantage, and that that advantage in many species involves contacting a particular body target on the partner (Aldis, 1975), has been critical in focusing attention on the targets competed over during play fighting (Pellis & Bell, 2011; Pellis & Pellis, 2015). However, such a focus has also revealed that, in many species, the targets of competition during play fighting are not the same as those in serious fighting (Pellis, 1988). In rats, for instance, the target competed over during play fighting simulates precopulatory behavior, as the male attempts to contact the female's nape with its snout and then uses this contact as an anchor to orient to her dorsum and mount (Pellis & Iwaniuk, 2004).
Comparison of the play fighting and serious aggression in other murid rodents (i.e., those in the same family as rats) supports this conclusion (Pellis, 1993). In all species examined, whereas serious fighting involves biting attacks to the lower flanks and dorsum (Pellis, 1997), play fighting involves competing for different targets. For example, in Djungarian hamsters (Phodopus campbelli), the competition is for access to the partner's mouth, which is licked if contacted (Pellis & Pellis, 1989); in Syrian golden hamsters (Mesocricetus auratus), it is the cheeks that are nibbled (Pellis & Pellis, 1988a); in montane voles (Microtus montanus) and prairie voles (M. ochrogaster), the nape of the neck is nuzzled (Pellis, Pellis, & Dewsbury, 1989); and in Northern grasshopper mice (Onychomys leucogaster), the lateral edge of the shoulder and side of the neck is licked and nuzzled (Pellis, Pasztor, Pellis, & Dewsbury, 2000). Although the play targets differ across these species, what they have in common is that these are the same targets that are contacted during adult precopulatory behavior (Pellis, 1993).
Similarly, nonagonistic targets are the focus of playful competition in a variety of other species from several mammalian lineages. For example, pottos (Perodicticus potto) and giant mouse lemurs (Mirza coquerelli) playfully grapple as they compete to groom one another (Epps, 1974; Pagés, 1978); marmots (Marmota spp) playfully grapple as they compete to make mouth-to-mouth contact, a body target associated with greeting behavior (Armitage, 1962; Barash, 1973); and finally, squirrels (Sciurus carolinensis, Urocitellus [formerly Spermophilus] spp), slender loris (Loris tardigradus), and fat-tailed lemurs (Cheirogaleus medius) playfully compete to mount one another (Goonan, 1993; Hoffman & Foerg, 1983; Horwich, 1972; Nunes, Muecke, Anthony, & Batterbee, 1999; Pasztor, Smith, MacDonald, Michener, & Pellis, 2001). The conclusion to be drawn from these species comparisons is that what has been labeled as "play fighting" may in fact involve partners competing for some advantage, but that advantage may not be limited to simulating serious fighting. Pairs of animals engaged in play fighting may be competing to gain the advantage typical of sex and other amicable social behaviors, predation, or conspecific aggression (Pellis, 1988). It could be argued that only play fighting simulating serious fighting should be labeled "play fighting," but this creates several problems.
First, all five criteria developed by P. K. Smith (1997) to distinguish playful from serious fighting—(1) a resource, such as a piece of food, is not gained or protected; (2) the contact is restrained, or at least there are no combat-induced injuries; (3) there are frequent role reversals between a pair, with partners alternating as to which is the attacker and which is the defender; (4) even if chasing ensues following contact, further affiliation is likely; and (5) the presence of play signals—apply to all species that engage in play fighting, irrespective of the target of competition. Second, in some species play fighting with peers may involve competition for targets derived from more than one functional context (e.g., Goonan, 1993; Hoffman & Foerg, 1983; Pagés, 1978). For example, in Djungarian hamsters, about 70% of play fights involve competition for licking the mouth, and the remainder for biting the lower flanks and rump (Pellis & Pellis, 1989). Similarly, in species of ground squirrels (Urocitellus) play fighting can involve competition to mount one another, simulating sex, or biting the partner's shoulders, simulating conspecific fighting (Nunes et al., 1999; Pasztor et al., 2001), but in some of these species sex play encompasses 80% of all play fighting, whereas in others, 80% is aggressive play (Pellis & Iwaniuk, 2004). Those interactions that involve competing for nonagonistic targets are no less competitive than those involving agonistic ones, so it would seem arbitrary to label only some of these interactions as "play fighting." Third, in most cases in the literature, the targets or other advantage being competed over are not specified, so it is not possible to know whether the play fighting being reported is a simulation of conspecific fighting or of something else.
What unifies all cases of play fighting is the appearance of animals competing in a way that does not look serious and does not lead to the outcomes that are typically associated with the behavior being simulated—delivering injurious bites or strikes (i.e., as conspecific aggression), lethal bites (i.e., as in predation), or copulation (i.e., as in sex). The distinction is in how the tactics of attack and defense are deployed in playful as compared to serious contexts (Pellis & Pellis, 1998b).
Notes
Author note
We thank Lance Miller and Alex de Voogt for organizing the Leading Edge workshop on play, and Lou Shomette and the Psychonomic Society for sponsoring this event. In particular, we dedicate this article to Stan Kuczaj , who was the inspiration behind the workshop. In part, the research was supported by grants from the Natural Sciences and Engineering Research Council of Canada to S.M.P.
Copyright information
© Psychonomic Society, Inc. 2017