Flipping the stimulus: Effects on scanpath coherence?
Abstract
In experiments investigating dynamic tasks, it is often useful to examine eye movement scan patterns. We can present trials repeatedly and compute within-subjects/conditions similarity in order to distinguish between signal and noise in gaze data. To avoid obvious repetitions of trials, filler trials must be added to the experimental protocol, resulting in long experiments. Alternatively, trials can be modified to reduce the chances that the participant will notice the repetition, while avoiding significant changes in the scan patterns. In tasks in which the stimuli can be geometrically transformed without any loss of meaning, flipping the stimuli around either of the axes represents a candidate modification. In this study, we examined whether flipping of stimulus object trajectories around the x- and y-axes resulted in comparable scan patterns in a multiple object tracking task. We developed two new strategies for the statistical comparison of similarity between two groups of scan patterns, and then tested those strategies on artificial data. Our results suggest that although the scan patterns in flipped trials differ significantly from those in the original trials, this difference is small (as little as a 13 % increase of overall distance). Therefore, researchers could use geometric transformations to test more complex hypotheses regarding scan pattern coherence while retaining the same duration for experiments.
Keywords
Eye movements 
Scanpath 
Group similarity 
Correlation distance 
In natural tasks, humans direct their eyes toward objects of interest to make the best use of the high acuity vision in the fovea. Many factors influence eye movements. However, it is possible to get consistent scan patterns and, therefore, to separate signal from noise if the stimuli are presented repeatedly. However, repetition introduces the risk that the participants will recognize the repeated scenes and alter their gaze behavior. In many tasks, repeated presentation of the same scene is undesirable, because some subjects will recognize the scene and examine previously unexplored areas, encode additional details, and/or find targets more efficiently on the basis of their previous experience. Dorr, Martinetz, Gegenfurtner, and Barth (2010) compared the variability of eye movements during free viewing of dynamic natural scenes and found that whereas between-subjects coherence was maximal at the first presentation of the movie, it decreased during later presentations throughout the day. Dorr et al. suggested that this decrease in the between-subjects coherence was caused by a rising influence of individual viewing strategies. Gaze patterns are even affected when the stimulus is not explicitly recognized. In studies on contextual cueing, Chun and Jiang (1998) showed that people implicitly learn the positions of targets over time, which then results in shorter response times.
One way to decrease the chance that participants will recognize the repetition is to increase the number of filler trials. The disadvantage of this approach is an increase of the experiment's duration, which can have a negative impact on the performance of the participants. Another possibility is to modify the stimuli in a way that will keep scan patterns similar to the unmodified version. Geometrical transformations of the stimuli are one way to achieve this goal. The use of geometrical transformations is limited with structured scenes such as movie clips, in which the orientation is meaningful; however, scenes without an inherent structure offer a wider range of possibilities.
In this study, we utilized Multiple Object Tracking (MOT; Pylyshyn & Storm, 1988). MOT is an experimental paradigm in which subjects must track several moving target objects among other moving distractor objects. It has been found that when MOT trials are presented repeatedly, participants fail to notice the repetition (Lukavský, 2013; Ogawa, Watanabe, & Yagi, 2009). This task is convenient for two reasons: First, because the stimuli in MOT are simple displays with moving objects/dots, they can be easily transformed without any change in meaning. Second, MOT is a dynamic task, and people need to sustain their attention over the course of the whole trial. Thus, their eye movements are likely to be connected to the scene properties or object positions rather than to other factors (e.g., guidance or search strategies). Additionally, examining human eye movement strategies in a situation of distributed attention can be useful for understanding behavior in many other everyday tasks.
In a dynamic task like MOT, eye movement data can be easily represented as scan patterns (see Fig. 
1
below). Examining scan patterns instead of saccades or fixations on areas of interest is useful, since it can account for similarities in smooth pursuit or cases in which people fixate empty space between objects. Similarly, scan pattern coherence has been used to examine human eye movements while viewing movies (Dorr et al.,
2010
).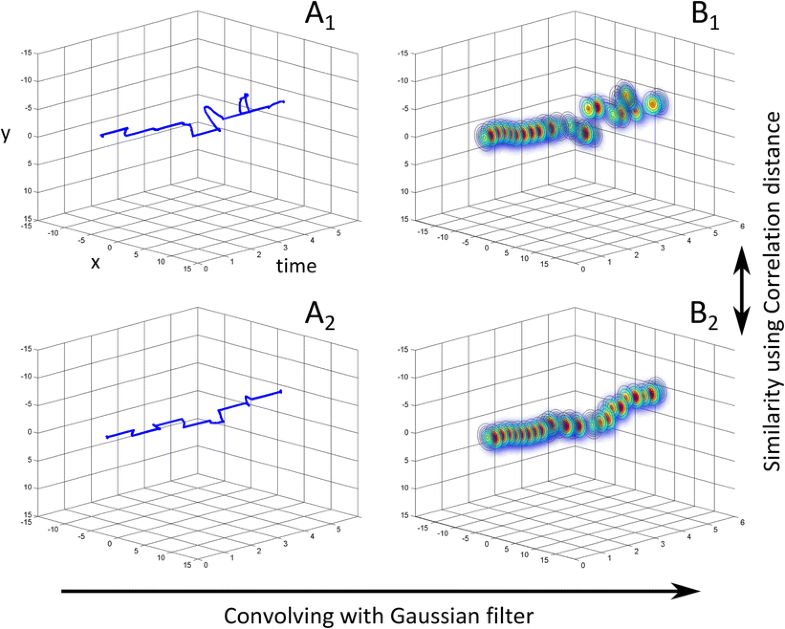 Here, we asked whether human observers would transform spatio-temporal scan patterns in a way that corresponds to geometric transformations that were applied to MOT trials by the experimenter. If the two transformations are similar, then the data from both the transformed and the original MOT trials could be pooled. One of the possible transformations would be to flip the stimuli around axes. This operation should be plausible if the eye movements were symmetrical with respect to the left and right hemifields (or the upper and lower hemifields, depending on the axis of a transformation).
Behaviorally, the existence of a left–right asymmetry is unclear. Unlike the upper–lower asymmetry (Levine & McAnany, 2005), a left–right asymmetry is rarely reported in healthy subjects (Greene, Brown, & Dauphin, 2014; Petrov & Meleshkevich, 2011; cf. Corballis, Funnell, & Gazzaniga, 2002). In the case of MOT, if people track a group of targets as a single object (Yantis, 1992), we should expect no left–right difference, since the optimal viewing position is found at the center of the perceived object, with no lateral bias (Foulsham & Kingstone, 2010). Conversely, others have reported a preference for early fixations to the left part of the scene (Dickinson & Intraub, 2009; Foulsham, Gray, Nasiopoulos, & Kingstone; 2013; Nuthmann & Matthias, 2014; Ossandón, Onat, & König, 2014). This bias is often discussed with respect to "pseudoneglect": a leftward bias in the line-bisection task in healthy humans (Bowers & Heilman, 1980; Jewell & McCourt; 2000).
When viewing natural scenes, people make more horizontal than vertical saccades and show no left–right asymmetry in these saccades (Foulsham, Kingstone, & Underwood, 2008). Performance in an antisaccade task has shown that people are better prepared to make rightward saccades, which are performed faster and with fewer errors (Evdokimidis et al., 2002; Tatler & Hutton, 2007). This asymmetry may be a result of a learned behavior, since it is consistent with the findings of Abed (1991) comparing the directions of saccades when looking at simple dot patterns in Western, Middle Eastern, and East Asian participants.
All of the abovementioned studies used static stimuli. The left–right asymmetries in fixation patterns happen within a few fixations at the beginning of a trial and later disappear (Nuthmann & Matthias, 2014; Ossandón et al., 2014). In a dynamic task like MOT, it is an open question whether a left–right asymmetry would be observed. To our knowledge, there are currently no studies regarding the symmetry of scan patterns using dynamic stimuli.
To summarize the aims of our study: We wanted to test whether we could flip stimuli around the axes as a way of masking the repetition of trials. We chose the MOT paradigm because it has suitable properties for this goal. During preparation of the experiment, we found that few methods have been developed to test the statistical differences between groups of scan patterns. Any two scan patterns are almost certainly different from each other; the important question is how large that difference is, given the noise. Thus, for testing differences between two groups of scan patterns, the within-group coherence has to be computed first. The usual approach is to compute the average distance between all possible pairs of scan patterns. There are several pairwise comparison methods, such as the Levenshtein distance (Levenshtein, 1966), ScanMatch (Cristino, Mathôt, Theeuwes, & Gilchrist, 2010), and Multimatch (Dewhurst et al., 2012; Jarodzka, Holmqvist, & Nyström, 2010), that work with scan patterns represented using an event-based approach (Le Meur & Baccino, 2013). This representation is complicated in MOT, however, because of the prevalence of smooth pursuit, which is difficult to detect in eyetracking data. The alternative approach is to use the raw data, as in Dorr et al. (2010), and compute the distance using Normalized Scanpath Saliency (Peters, Iyer, Koch, & Itti, 2010), which works with a spatio-temporal fixation map (or three-dimensional saliency map).
Usually, a saliency map is computed for scan patterns collapsed over time and represents areas in the scene that participants fixated during the trial. There are two sets of methods for using saliency maps to compare scan patterns. First, both scan patterns can be expressed in the form of saliency maps and then compared to one another. Second, we can compute how well a scan pattern can be explained by a given saliency map. Both approaches are similar, and most of the methods can be used for both representations. When both scan patterns are represented as saliency maps, there are several methods for computing similarity, such as ROC analysis (Tatler, Baddeley, & Gilchrist, 2005), Kullback–Leibler distance (Rajashekar, Cormack, & Bovik, 2004; Tatler et al., 2005), and correlation-based metrics (Jost, Ouerhani, von Wartburg, Müri, & Hügli, 2005; Toet, 2011). When only one scan pattern is represented as a saliency map, researchers can use Percentile metric (Peters & Itti, 2008) or Normalized Scanpath Saliency. ROC analysis and the Kullback–Leibler distance can be used in this case. For dynamic tasks, using the spatio-temporal fixation map is an interesting extension, because it keeps the time dimension in the analysis. Correlation-based metrics and Percentile metric can still be used for the spatio-temporal fixation maps. Metrics that work with the saliency map can compute within-group coherence by using the leave-one-out method, in which all of the scan patterns except one are summed into one saliency map, and then the distance is computed using one of the available metrics. Because a saliency map can be created from a single scan pattern, these methods can be also used for pairwise comparison.
With within-group coherence computed for each group, it is an open question how to test correctly whether the between-group variability is larger than the within-group variability—in other words, whether the scan patterns from one group are significantly different from the scan patterns in other group. Currently, only one method, that of Feusner and Lukoff (2008), addresses this situation, and it is only applicable using the pairwise comparison approach. Their method computes the distance for all pairs within each group and between groups using one metric selected a priori. It then tests the significance of the differences between the overall within-group distance and the overall between-group distance using permutation tests. The choice for the distance metric is dependent on the researcher's task. Tang, Topczewski, Topczewski, and Pienta (2012) extended this method for scan patterns of unequal lengths.
In this study, we tested whether the scan patterns from MOT trials are similar to the scan patterns from the same trials flipped around the y-axis (Exp. 2) and around the x-axis (Exp. 3). Prior to this, we developed two additional strategies for comparing groups of scan patterns and tested their discrimination capabilities on simulated data (Simulation Experiment 1).
Notes
Author note
The work of F.D. on this research was supported by a student grant GAUK No. 68413 and by the SVV project. The work of J.L. was part of a research program of the Czech Academy of Sciences, Strategy AV21, and was supported by Grant No. RVO 68081740. Authors would like to thank Sebaastian Mathôt and another anonymous reviewer for their helpful comments with previous version of the manuscript.
Copyright information
© Psychonomic Society, Inc. 2016