MPTinR: Analysis of multinomial processing tree models in R
Abstract
We introduce MPTinR, a software package developed for the analysis of multinomial processing tree (MPT) models. MPT models represent a prominent class of cognitive measurement models for categorical data with applications in a wide variety of fields. MPTinR is the first software for the analysis of MPT models in the statistical programming language R, providing a modeling framework that is more flexible than standalone software packages. MPTinR also introduces important features such as (1) the ability to calculate the Fisher information approximation measure of model complexity for MPT models, (2) the ability to fit models for categorical data outside the MPT model class, such as signal detection models, (3) a function for model selection across a set of nested and nonnested candidate models (using several model selection indices), and (4) multicore fitting. MPTinR is available from the Comprehensive R Archive Network at http://cran.r-project.org/web/packages/MPTinR/.
Keywords
MPT models 
R 
Software 
Fisher information 
Multinomial processing tree (MPT) models represent a prominent class of cognitive measurement models for categorical data (Hu & Batchelder,
1994
; Purdy & Batchelder,
2009
; Riefer & Batchelder,
1988
). They describe the observed response frequencies from a finite set of response categories (i.e., responses following a multinomial distribution) with a finite number of latent states. Each latent state is reached by particular combinations of cognitive processes—processes that are assumed to take place in an all-or-nothing fashion (e.g., a previously seen item is remembered as having been seen or not). The probability of a latent state being reached depends on the probabilities that the different cognitive processes associated to it will successfully take place. The latent states usually follow each other in a serial order that can be displayed in a tree-like structure (see Fig. 
1
; this model is described in more detail below).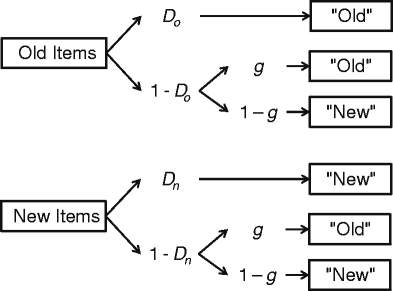 MPT models exist in a wide range of fields, such as memory, reasoning, perception, categorization, and attitude measurement (for reviews, see Batchelder & Riefer, 1999; Erdfelder, Auer, Hilbig, Aßfalg, Moshagen, & Nadarevic, 2009), where they provide a superior data analysis strategy, as compared with the usually employed ad hoc models (e.g., ANOVA). MPT models allow the decomposition of observed responses into latent cognitive processes with a psychological interpretation, whereas ad hoc models permit only the testing of hypotheses concerning the observed data, the model parameters do not have a psychological interpretation, and the models do not provide any insight into the underlying cognitive processes. In this article, we present a package for the analysis of MPT models for the statistical programming language R (R Development Core Team, 2012b), called MPTinR, that offers several advantages over comparable software (see Moshagen, 2010, for a comparison of software for the analysis of MPTs).
The remainder of this article is organized as follows. In the next section, we will introduce a particular MPT model as an example. In the section thereafter, we will provide a general overview of model representation, parameter estimation, and statistical inference in the MPT model class. This overview is by no means exhaustive, but it gives several references that provide in-depth analysis. In the section thereafter, we introduce MPTinR and its functionalities and provide an example session introducing the most important functions for model fitting, model selection, and simulation. Furthermore, an overview of all functions in MPTinR is given, followed by a brief comparison of MPTinR with other software for analyzing MPT models. Finally, the Appendix contains a description of the algorithms used by MPTinR.
Notes
Author note
This work was supported by Grant KL 614/33-1 to Karl Christoph Klauer and Sieghard Beller from the Deutsche Forschungsgemeinschaft (DFG) as part of the priority program "New Frameworks of Rationality" (SPP 1516). Furthermore, this work was supported by grant Kl 614/32-1 from the Deutsche Forschungsgemeinschaft to Karl Christoph Klauer. We thank Karl Christoph Klauer and Fabian Hölzenbein for their comments throughout the development of the described software and Kerstin Dittrich, Xiangen Hu, Gregory Francis, Andreas Kappes, Karl Christoph Klauer, Morten Moshagen, and Alexandra Schulz for comments on earlier versions of this manuscript. Furthermore, we thank the R Development Core Team for their continuing and invaluable efforts to provide R.
Copyright information
© Psychonomic Society, Inc. 2013