Using modified incremental chart parsing to ascribe intentions to animated geometric figures
Abstract
People spontaneously ascribe intentions on the basis of observed behavior, and research shows that they do this even with simple geometric figures moving in a plane. The latter fact suggests that 2-D animations isolate critical information—object movement—that people use to infer the possible intentions (if any) underlying observed behavior. This article describes an approach to using motion information to model the ascription of intentions to simple figures. Incremental chart parsing is a technique developed in natural-language processing that builds up an understanding as text comes in one word at a time. We modified this technique to develop a system that uses spatiotemporal constraints about simple figures and their observed movements in order to propose candidate intentions or nonagentive causes. Candidates are identified via partial parses using a library of rules, and confidence scores are assigned so that candidates can be ranked. As observations come in, the system revises its candidates and updates the confidence scores. We describe a pilot study demonstrating that people generally perceive a simple animation in a manner consistent with the model.
Keywords
Perception of intentionality 
Causal explanation 
Computational model 
Animation 
Plan recognition 
Incremental chart parsing 
For social robots and intelligent systems to interact with humans in a believable and humanlike manner, they will have to be able to ascribe mental states (e.g., intentions, beliefs, and desires) to the people with whom they interact. Humans routinely ascribe mental states, even in infancy. For example, 3-month-olds attribute agency to self-propelled boxes (Luo,
2010
), and 6-month-old infants can distinguish helpful versus hindering agents (Hamlin, Wynn, & Bloom,
2007
). As adults, we ascribe mental states automatically, even in response to simple geometric objects moving in a 2-D plane (Scholl & Tremoulet,
2000
). In a classic study (Heider & Simmel,
1944
), people who observed two triangles and a circle moving against a white background (see Fig. 
1
) reported perceiving actions (e.g., chasing and hiding), intentions (e.g., to catch and to harm), and emotions (e.g., jealousy), and even sophisticated relationships (e.g., a love triangle). How do natural cognitive systems infer higher-order mental states from sparse, yet dynamic, spatially displayed information that is no more than moving objects in a 2-D plane? Can artificial systems be designed to make similar inferences?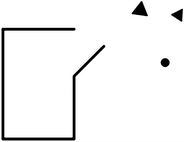 Notes
Author Note
We are grateful to Edwin Wirawan and Sepideh Sadeghi for their assistance in checking pseudocode and reviewing drafts.
Copyright information
© Psychonomic Society, Inc. 2011