Four reasons to prefer Bayesian analyses over significance testing
Abstract
Inference using significance testing and Bayes factors is compared and contrasted in five case studies based on real research. The first study illustrates that the methods will often agree, both in motivating researchers to conclude that H1 is supported better than H0, and the other way round, that H0 is better supported than H1. The next four, however, show that the methods will also often disagree. In these cases, the aim of the paper will be to motivate the sensible evidential conclusion, and then see which approach matches those intuitions. Specifically, it is shown that a high-powered non-significant result is consistent with no evidence for H0 over H1 worth mentioning, which a Bayes factor can show, and, conversely, that a low-powered non-significant result is consistent with substantial evidence for H0 over H1, again indicated by Bayesian analyses. The fourth study illustrates that a high-powered significant result may not amount to any evidence for H1 over H0, matching the Bayesian conclusion. Finally, the fifth study illustrates that different theories can be evidentially supported to different degrees by the same data; a fact that P-values cannot reflect but Bayes factors can. It is argued that appropriate conclusions match the Bayesian inferences, but not those based on significance testing, where they disagree.
Keywords
Bayes factor 
Bayesian statistics 
Power 
Significance testing 
Statistics 
Introduction
This paper will present case studies from real research that illustrate how significance testing and Bayesian statistics can lead researchers to draw different conclusions. The question will be, which conclusions are most sensible? First, we will discuss the nature of hypothesis testing, then the anatomy of a Bayes factor, focusing on how one models the theory. Finally, the heart of the paper will be a set of five case studies taken from a recent special replication issue of the journal Social Psychology.
The nature of hypothesis testing
In using inferential statistics to test a theory of scientific interest, the world is typically first divided into H0 (the null hypothesis) and H1 (the alternative hypothesis), where one of those hypotheses is a consequence of the theory. Data are then collected in order to evaluate H0 and H1. In evaluating whether the theory survived the test, it would often be useful to say whether the data provided good enough evidence for H0; good enough evidence for H1; or else failed to discriminate the hypotheses. That is, one might like to make a three-way distinction, as indicated in Fig. 
1a
. How could that distinction be made? According to a key intuition, and one that can be readily formalized, evidence is strongest for the theory that most strongly predicted it (Good,
1983
; Morey, Romeijn, & Rouder,
2016
). Thus, to make the distinction between the three evidential states of affairs, one needs to know what each hypothesis predicts. Explicitly specifying predictions can be described as a 'model'.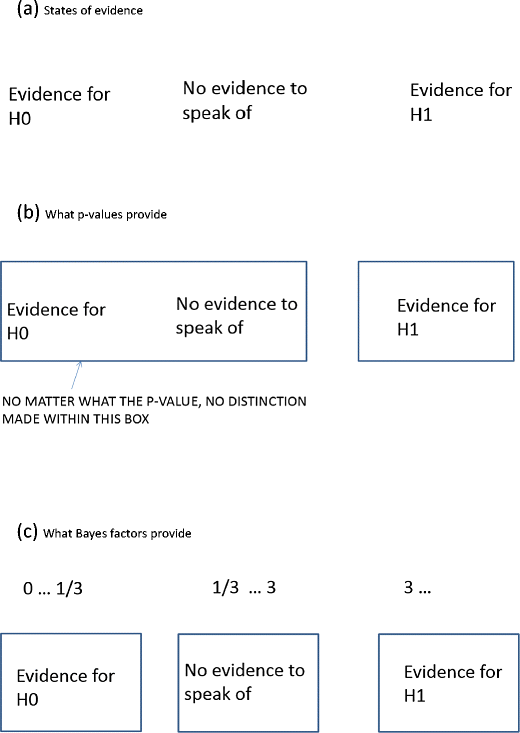 In significance testing, one models H0 and not H1. A typical model for H0 is, for example, the model that there is no population difference in means. Assuming in addition a model of the data (e.g. that the data are normally distributed), the probability of the data given H0 can be calculated. Unfortunately, modelling H0 but not H1 does not allow one to make a three-way distinction. How can one know by which hypothesis the data are better predicted, if one only knows how well the data are predicted by one of the hypotheses? Thus, significance testing only allows a weak form of inference; it tells us something but not all that we want. As shown in Fig. 1b, P-values only allow one to distinguish evidence against H0 from the other two evidential states of affairs (to the extent that P-values allow an evidential distinction at all1). The P-value, no matter how large it is, in no way distinguishes good evidence for H0 from not much evidence at all. (A large P-value may result from a large standard error—a large standard error means the data do not have the sensitivity to discriminate competing hypotheses.)
To remedy the problem, it might seem obvious that one needs a model of H1 (Dienes, 2016; Rouder, Morey, Verhagen, Province et al., 2016). The hypothesis testing of Neyman and Pearson (as opposed to the significance testing of Fisher) tries to model H1 in a weak way (Dienes, 2008). Hypothesis testing uses power calculations. Typically, when researchers use power they indicate what effect size they expect given their theory, perhaps based on the estimate provided by a past relevant study. Giving a point estimate of the effect size is one way of quantifying H1. But what is the model of H1? In most contexts, the researcher does not believe that that precise effect size is the only possible one. Nor do they typically believe that it is the minimal one allowed by the theory. Classic hypothesis testing scarcely models a relevant H1 at all.
In fact, to know how well the hypothesis predicts the data, one needs to know the probability of each effect size given the theory (Rouder et al., 2016). This is the inferential step taken in Bayesian statistics but not in classic hypothesis testing. Because classic hypothesis testing does not take this step, it cannot evaluate evidence for H1 versus H0, and it cannot make the three-way distinction in Fig. 1. The case studies below will illustrate.
The anatomy of a Bayes factor
A model, as the term is used here, is a probability distribution of different effects; for example, a distribution of different possible population mean differences. To determine the evidence for H1 versus H0, one needs a model of H0 and a model of H1. And, of course, one needs a model of the data (in the context of a statistical model, this is called the likelihood). Figure
2
illustrates the three models needed to calculate a Bayes factor: the model of H0, the model of H1, and the model of the data. In this paper, we will assume that H0 can be modelled as no difference (it might be a chance value, or a particular difference; conceptually such values can all be translated to "no difference"). The model of H1 depends on the theory put to test; it is a model of the predictions of that theory. Finally, the model of the data, the likelihood, specifies how probable the data are given different possible population effects. The Dienes (
2008
) online calculator assumes a normal likelihood (and in that way is similar to many tests that users of significance tests are familiar with where it is assumed that the participants' data are roughly normally distributed). The first and last models are typically relatively unproblematic in terms of the decisions different researchers might come to (though see e.g. Morey & Rouder,
2011
; Wilcox,
2005
). In any case, the first and last models involve decisions of a similar nature in both significance testing and Bayesian statistics: shall I test against a null hypothesis of no difference; and shall I assume that the process generating the data produces normal distributions? In the
Appendix
, we explore another likelihood distribution one might assume in the same situation. But now we focus on the model of H1—a key feature distinguishing Bayesian from orthodox thinking.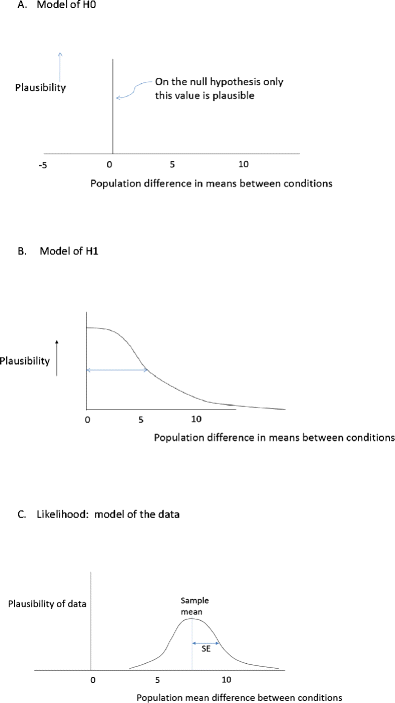 The model of H1
Generally, in science, predictions are made from a theory via auxiliary assumptions (e.g. Popper, 1963). For example, in testing a theory about extraversion, one needs to accept the hypothesis that the scale used measures extraversion. In applying conditioning theory to learning a language, one needs hypotheses about what constitutes the conditioned stimuli. And so on. In general, these auxiliary assumptions should be (1) simple, and (2) informed by scientific evidence where relevant. Hopefully, the latter claim strikes the reader as self-evident. In just the same way, specifying H1 is the process of making predictions from a theory via auxiliary assumptions. In general, these assumptions need to be (1) simple and (2) informed. Hopefully, this claim strikes the reader as equally banal. Science proceeds by deriving predictions from theories in simple and informed ways; indeed in transparent ways open to critical discussion. Of course, different theories and assumptions will lead to different predictions. That is not a problem with science; that is how it works. Just so, Bayes factors test particular theories linked to predictions by particular assumptions (cf. Vanpaemel & Lee, 2012). A rational test could not be otherwise.
Specifying H1 makes the predictions of a scientific theory explicit. Thus, the relation of H1 to the substantial theory can be evaluated according to whether H1 is simple and scientifically informed (Dienes, 2014; Vanpaemel, 2010, 2011). One way H1 can be scientifically informed is by being based on the sort of effect size the literature claims the type of manipulation in question can produce. This is especially straightforward when the purpose of a second study is to replicate a first study (e.g. Verhagen & Wagenmakers, 2014). In that case, we expect roughly the same order of magnitude of effect as obtained in the first study. But the true population effect in the second study could be larger or smaller than the sample mean difference obtained in the first (due not only to sampling variability but also to unknown changes in conditions, moderating variables, etc.) without much changing the meaning of the first result. How much larger might the effect be? To answer this question, consider the sorts of effect sizes researchers typically investigate. On the one hand, researchers often seem interested in effects sizes with a Cohen's d around 0.5 (the modal effect size in a review of studies in many disciplines within psychology; Kühberger, Fritz, & Scherndl, 2014).2 On the other hand, d values greater than about 1 are unlikely for effects that are not trivially true (Simmons, Nelson, & Simonsohn, 2013). That is, twice the expected effect might be a reasonable maximum to consider in a given scientific context. A suggested simple defeasible (i.e. over-turnable) default is: if previous work suggests a raw effect of about E, then regard effects between 0 and twice E plausible. For example, if a past study found a mean difference between conditions of 5 s, then for a further study (that is similar to the original), a population mean difference between 0 and 10 s may be plausible. (By default, we will work with raw effect sizes, e.g. seconds, because their estimates are less sensitive than standardized effect sizes, e.g. Cohen's d, to theoretically irrelevant factors like number of trials, or other factors affecting error variance alone; Baguley, 2009).
We will add one more simplifying assumption about H1. Studies that get published (and perhaps also as yet unpublished studies that catch the eye) in general over-estimate effect sizes (Ioannides, 2008; Open Science Collaboration, 2015). Thus, a defeasible default assumption is: smaller effect sizes are more plausible than larger ones.
Putting these assumptions together, one way of representing H1 when a relevant similar effect size E (ideally in raw units) is available is illustrated in Fig. 2, as the model for H1. We will consider a case (as in a replication) where a directional prediction is made, i.e. one condition is postulated to be greater than another. By convention we will take the difference between groups in the population to be only positive. We model the plausibility of different effects by a half-normal distribution (i.e. what was a normal distribution centred on zero, with the bottom half removed; so that only positive mean differences are predicted). The standard deviation of the half-normal is set to E. The consequences are that an effective maximum plausible effect size is about twice E, and smaller effect sizes are more likely than larger ones. Thus, the general considerations we mentioned are implemented in a simple way. Further, H1 is scientifically informed by being scaled by E. All examples that follow will use this procedure. (See Dienes, 2014, for other ways of setting up H1.) All examples below can be worked out by the reader using the Dienes (2008) online Bayes factor calculator (see Dienes, 2014, for a tutorial; or the website cited in Dienes 2008 for 5-min YouTube tutorials).
Having constructed an H1, for example by the method just described, there is a crucial final step: the judgment that the model is acceptable for the scientific problem (Good 1983; Lindley, 2004). While a relatively default procedure is useful for constructing a possible model of H1, in the end H1 has to be a good representation of the predictions of the scientific theory. (In the examples that follow, we judged the model of H1 generated in this way as consistent with scientific intuitions. Other researchers are free to disagree. Then we will have a scientific debate about what our theories predict and why.) The theory directly tested in each case below is that the second experiment replicated the regularity found by the first (Verhagen & Wagenmakers, 2014). As Popper (1959) pointed out, a 'result' obtained in one experiment is actually a low-level hypothesis concerning the existence of a regularity. Before we can accept that regularity (as counting for or against the substantive theory it was designed to test) we need sufficient evidence for it—as might be provided by direct replications. So the replication tests the low-level hypothesis that defines the 'result' of the first experiment. (In doing so it helps test the more general theory the results of the first experiment were regarded as bearing on, of course.) In using the effect size, E, found in the first experiment we are testing the regularity according to the explicit claims in the first paper of what the regularity is (the stated finding, where the Methods define the hypothesis concerning conditions under which the regularity obtains),.3 4
As a Bayes factor is relative to the model of H1, we will use a subscript to specify the model of H1 (a notational convention used in Dienes 2014, 2015). Specifically B H(0, S) means the Bayes factor obtained when a Half-normal distribution (hence 'H') is used to model H1 with a mode of 0 (which we will always use for a half-normal) and a standard deviation of S. (Or, for example, when a Uniform distribution is used to model H1 going from a minimum of L and a maximum of M, the notation is B U[L, M]).
In order to illustrate both the flexibility and robustness of Bayes, the Appendix describes a different set of principles for specifying the likelihood and H1 that we will use in the examples that follow (where it is appropriate; see Appendix also for notation). This differently specified Bayes factor will be reported in footnotes. Because the scientific intuitions that it instantiates are, in the cases discussed, similar to the simpler procedure just described, the conclusions that follow from each model turn out to agree fairly closely in the examples that follow. A key difference between the models is that the t-distribution presumes the original study provides a good estimate of the effect and its uncertainty, even when transposed to a different laboratory; the half-normal presumes that the original study likely over-estimated the effect size for replication purposes.
Putting it together: the meaning of a Bayes factor
The Bayes factor provides a continuous measure of evidence for H1 over H0. When the Bayes factor is 1, the data is equally well predicted by both models, and the evidence does not favour either model over the other. As the Bayes factor increases above 1 (towards infinity) the evidence favours H1 over H0 (in the convention used in this paper). As the Bayes factor decreases below 1 (towards 0) the evidence favours H0 over H1. There are no sharp boundaries or necessary thresholds (unlike the fixed significance levels of the Neyman Pearson approach), just a continuous degree of evidence. Nonetheless, rough guidelines can be provided, in much the same way as Cohen (1988) suggested guidelines for thinking about standardised effect sizes (researchers do not take a Cohen's d of 0.5 as a sharp cut off from small to medium effect size). Jeffreys (1939) suggested that a Bayes factor of about 3 often matches the amount of evidence obtained when P < .05 (contrast Wetzels, Matzke, Lee, Rouder et al., 2011). Dienes (2014) also argued that when the raw mean difference matches that used to model H1 (a crucial condition, as we will see below), then indeed a Bayes factor of about 3 occurs when a result is just significant. That is, a Bayes factor of 3 corresponds to the amount of evidence we as a scientific community have been used to treating just worth taking note of (when the obtained effect size roughly matches that expected). Whether the scientific community understand what this means as a strength of evidence is a separate empirical question. Jeffreys suggests the label "substantial" for B > 3. By symmetry, we automatically get a criterion evidence for H0 over H1: when B < 1/3, there is substantial evidence for H0 over H1. We will follow this convention in reporting results below. "Substantial" means just starting to have some substance; "worth exploring further" might be a better gloss in many contexts. Another discussion worth having is whether this is good enough level of evidence; would it better to default to 6 (Cf. Schönbrodt, Wagenmakers, Zehetleitner, & Perugini, 2015) or maybe 10 (Cf. Etz & Vandekerckhove, 2016)? Etz and Vandekerckhove recommend calibrating the interpretation of the Bayes factor by studying by how much different degrees of prior belief are swayed by the evidence. This point may help calibrate the scientific community to aid understanding what the evidence actually means. The question of the amount of evidence we should aim for is taken up further in the discussion.
We will illustrate the difference between Bayesian inference and significance testing by taking as case studies papers published in issue 3 of volume 45 of the journal Social Psychology (Nosek, & Lakens, 2014). These papers were Registered Reports accepted in advance of the results. Thus, the results obtained have not been through a publication filter and allow a range of patterns as may be regularly obtained in research. By the same token, by restricting ourselves to one journal issue, we show the patterns we use are not so hard to find in real research. (Nonetheless, to make a point, we will sometimes show what happens when the patterns are changed in instructive ways.)
Discussion
The aim of the paper was to illustrate how significance testing and Bayesian inference may lead researchers to draw different conclusions in certain cases, and to show why the Bayesian conclusion is the preferred one. Specifically, we considered four types of scenarios. First, researchers may believe that a high-powered non-significant result necessarily means one has good evidence for H0. We showed that, in actual situations, high power does not guarantee sensitive evidence for H0 rather than H1. Conversely, it might be thought that "power just is not demanding enough; but that means a low-powered non-significant result guarantees the evidence for H0 is weak." But this second intuition turns out to be false as well. A low-powered result may be substantial evidence for H0 rather than H1. Thus nothing about the evidential value of a non-significant result follows from the mere fact that study was low or high powered. Thus, classic hypothesis testing does not allow one to distinguish three evidential states of affairs, namely evidence for H0 rather than H1, evidence for H1 rather than H0, or not much evidence either way. By contrast, Bayes factors do allow this three-way distinction.
The researcher might conclude that she always suspected that non-significant results were problematic anyway. But, she might feel, with significant results we are on firmer ground. However, in the third contradiction, we found that a high-powered significant result may not actually be good evidence for H1 rather than H0. If H1 is sufficiently vague, the significant result may be unlikely under the theory. And, in the fourth scenario, we found that, in general, the strength of evidence for H1 rather than H0 depends on what the H1 is, a sensible state of affairs that a p-value cannot reflect.
While in the examples we have used B > 3 (or < 1/3) as a criterion for sufficient evidence to draw a conclusion, we have done so merely because that roughly matches the standard of evidence the psychology community has been using up to now. However, our aim has been to advocate using a genuine measure of evidence, which is different from advocating a particular degree of evidence as sufficient. A conjecture is that the current standard of evidence has arisen for psychological reasons, namely it is a point where researchers typically judge that evidence is just enough to be worth taking notice of. (Compare the equivalent two-sigma, i.e. t = 2, criterion in the particle physics community, a criterion which means "maybe there is something there", see e.g. Gibney, 2016. Five-sigma in that community is taken as warranting a conclusion that would be closer to B = 5 × 104.) Because B = 3 is typically around the borderline of what is worth taking note of, analytic flexibility could push conclusions around when B = 3 is used as a threshold (see e.g. Dienes, 2016). Schönbrodt et al. (2015) recommend using B = 6 as a conventional threshold; Morey (2015) recommends negotiating the threshold for each particular case. However, a threshold of evidence for reaching a decision by a journal or scientists is chosen, it is important that the threshold is seen as only a useful convention, while bearing in mind that what the Bayes factor actually shows is a continuous degree of evidence.
In this paper we have focused on examples that involve direct replications. The same principles apply for calculating Bayes factors in other situations; Dienes (2014, 2015) gives examples of specifying the model of H1 in ANOVA, regression and contingency table cases.
The role of Bayes factors in addressing problems with how research is conducted goes beyond the issues discussed here. For example, the role of Bayes factors in experiments with optional stopping is discussed by Rouder (2014) and Schönbrodt et al. (2015); the role of Bayes factors in addressing these and other issues involved in the "credibility crisis" in psychology (e.g. Open Science Collaboration, 2015), and other sciences, is discussed by Dienes (2016), and the reproducibility project in particular by Etz and Vandekerckhove (2016): Guan and Vandekerckhove (2016) introduce a Bayesian method for mitigating publication bias; and Lee and Wagenmakers (2013) and Vanpaemel and Lee (2012) describe Bayesian methods for incorporating more theory into models in testable ways.
What is the way forward? We suggest a community learning process in which orthodox statistics are reported, but along with the orthodox statistics such as F values, and the P values and B values are reported as well (see, e.g. Ziori & Dienes, 2015, for a paper illustrating this policy). Interpretation can be done with respect to the B values–and in many cases a P-aficionado may agree with the conclusion (e.g. as in Ziori & Dienes). On the one hand, distinctions would be drawn that are not available to the P-aficionado, and more informed decisions taken. On the other hand, a significant P-value at the 5% level indicates there is some way of specifying H1 such that B > 3 (Royall, 1997), which may be worth considering. In the process of implementing "a B for every P," we, as a community, would learn to see the relationship between significance testing and Bayes factors—and, crucially, come to debate the optimal Bayesian ways of addressing different research questions.
Notes
Acknowledgements
Many thanks to Stefan Wiens and Joachim Vandekerckhove for valuable comments.
Copyright information
© The Author(s) 2017
Open Access This article is distributed under the terms of the Creative Commons Attribution 4.0 International License (http://creativecommons.org/licenses/by/4.0/), which permits unrestricted use, distribution, and reproduction in any medium, provided you give appropriate credit to the original author(s) and the source, provide a link to the Creative Commons license, and indicate if changes were made.