Recognition in context: Implications for trade mark law
Abstract
Context effects in recognition have played a major role in evaluating theories of recognition. Understanding how context impacts recognition is also important for making sound trade mark law. Consumers attempting to discriminate between the brand they are looking for and a look-alike product often have to differentiate products which share a great deal of common context: positioning on the supermarket shelf, the type of store, aspects of the packaging, or brand claims. Trade mark and related laws aim to protect brands and reduce consumer confusion, but courts assessing allegations of trade mark infringement often lack careful empirical evidence concerning the impact of brand and context similarity, and, in the absence of such evidence, make assumptions about how consumers respond to brands that downplay the importance of context and focus on the similarity of registered marks. The experiments reported in this paper aimed to test certain common assumptions in trade mark law, providing evidence that shared context can cause mistakes even where brand similarity is low.
Keywords
Recognition memory 
Context 
Global matching 
Trade mark law 
Context effects in recognition memory have been studied for over 40 years.1 The role of context in a match of a test probe with memory played a prominent role in the development and testing of the Global Matching Models (Clark & Gronlund, 1996; Humphreys, Pike, Bain, & Tehan, 1989). Context effects continue to be of interest in dual process theories of recognition, with contextual information potentially playing a role in both the familiarity and recollection components of the theories (Hockley, 2008). However, context effects are still not well understood.
The present paper seeks to contribute further to understanding these effects. This is significant not only in theory but has important real-world applications, because memory can be important to the determination of legal questions. One example commonly explored in the literature is eyewitness identification evidence, but in this paper we establish a significant applied need for understanding the impact of context effects because of their implications for trade mark law and other areas of the law that are concerned with enabling consumers to reliably identify desired products and avoid confusion when acquiring products and services.
Consumers are frequently challenged to discriminate between the brand they are looking for and a look-alike product. This can be difficult especially when the look-alike product has things in common with the sought-for brand – that is, has common context. For the purpose of understanding how consumers recognize a product that is displayed on a shelf or depicted on a website we consider context to include the physical location, the shoppers' understanding of the physical location (e.g., an upmarket retail outlet), and any aspects of the product or display such as aspects of the packaging, brand claims, and celebrity endorsements. Some, but not all of these aspects of context can be controlled by trade mark and related laws aimed at preventing consumer confusion.2 The present experiments focus on a quintessential example of a trade mark – a product name – and one aspect of context, namely brand claims, for example, "Yoplait makes dairy fun."
The role of context in recognition has not always been recognized in trade mark law, where there is an active debate as to how cognitive psychology and experimental methods can better contribute to how we assess or predict consumer responses for legal purposes (Dinwoodie & Gangjee, 2015; Weatherall, 2017). Courts determine trade mark infringement by reference to whether a "hypothetical reasonable consumer"3 would have been confused into thinking a competing product might have been produced by the same manufacturer. As imagined by the courts, this hypothetical consumer tends to be analytical when drawing such inferences, disregarding a great deal of context (especially context common to the trade), and focusing on essential differentiating features of trade marks and rival packaging.4 For example, in an Australian trade mark case, the court ruled that consumers would not confuse "Rain Master" and "Rain King" as names of lawn sprinklers because "rain" was a common term used in marketing lawn sprinklers, and "Master" and "King" were sufficiently different to avoid the risk of confusion (Cooper Engineering Co Pty Ltd v Sigmund Pumps Ltd (1952) 86 CLR 536). The risk of consumer confusion might be remote if consumers were deliberately comparing the brands. However, if they are attempting to recognize the name of a brand that they had seen in an advertisement for sprinklers, they may be determining whether they have a memory for the joint occurrence of "rain" and the brand name. To foreshadow the current results we would expect confusion in this example because of (a) the moderate similarity between master and king, and (b) the common contextual component rain.
We set out to consider how experimental methods could be used to test more general assumptions made in cases like Cooper Engineering. Experimental proof undermining courts' characterization of the hypothetical consumer does not necessarily mean that results in cases like Rain King/Rain Master are wrong as a matter of policy; however, as discussed below, it might at least make for more informed discussion of what trade mark law is trying to achieve.
In the memory laboratory, we know that even when participants are instructed to recognize a target and ignore the context, the recognition behavior can look like associative recognition (Humphreys & Chalmers, 2016; Ratcliff & McKoon, 1981). It thus seems possible that when consumers are trying to recognize brands in a familiar context they will either explicitly attempt to recognize the brand-context association, or may implicitly give some weight to this association in their recognition decision. This raises the question as to what happens to associative recognition when a brand-context association has been formed and an unstudied similar brand is tested in the old context. There is a straightforward prediction from the Global Matching models (Clark & Gronlund, 1996; Humphreys, Pike, et al., 1989). We can represent the study pair as AB where A is the context (in our case a brand claim), B is the studied brand and B' is an unstudied brand that is similar to the studied brand. In these models the similarity of A to itself is multiplied by the similarity of B' to B. If the similarity of B and B' is low then the probability of falsely recognizing the AB' pair is no greater than the probability of falsely recognizing a YX pair where Y is an unstudied claim and X is an unstudied brand unrelated to any studied brand. However, as the similarity of B' to B increases, the probability of falsely recognizing the AB' pair will increase. Thus it seems possible that a moderate increase in brand similarity will have a disproportionate (multiplicative) effect on false recognitions when the new brand name is encountered in a familiar context.
In order to establish that a multiplicative effect could be obtained in associative recognition, we had participants study brand names (B) in the presence of a context consisting of a brand claim (A). Participants were then tested on five different types of pairs. The target pairs were studied brand names tested with the study claim paired with that brand at study (AB) (see Fig. 
1
for examples of brands and brand claims). The distractors consisted of non-studied claims with a non-studied brand that was dissimilar to any studied brand (YX), a studied brand claim with an unstudied brand that was dissimilar to any studied brand (AX),
5
an unstudied brand claim paired with a brand that was similar to a studied brand (YB'), and a studied brand claim with an unstudied brand that was similar to the brand that had been studied with that claim (AB'). We used membership in a product category such as flavored milk as a proxy for brand similarity (see Humphreys et al.,
2010
). Support for a multiplicative combination would occur if the oldness of the brand claim on its own (AX pairing) and the use of a similar name on its own (YB' pairing) failed to increase the false alarm rate, whereas the combination of the two significantly increased the false alarm rate (AB' pairing). The global matching models have inspired research on the role of context in recognition and in associative recognition (Bain & Humphreys,
1988
; Clark & Gronlund,
1996
; Humphreys, Bain, & Pike, 1989), but we do not believe that a test of this specific prediction has been published.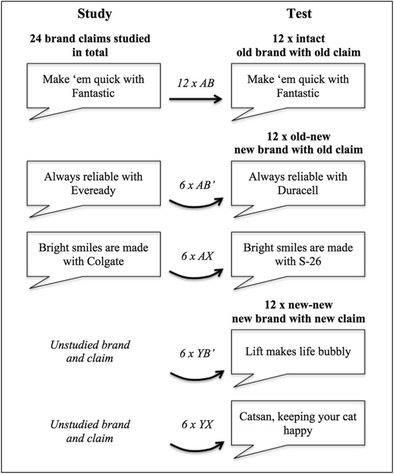 Notes
Acknowledgments
This research was supported by Australian Research Council Linkage grant LP1201 00249.
Copyright information
© Psychonomic Society, Inc. 2017