A rational analysis of the approximate number system
Abstract
It is well-known in numerical cognition that higher numbers are represented with less absolute fidelity than lower numbers, often formalized as a logarithmic mapping. Previous derivations of this psychological law have worked by assuming that relative change in physical magnitude is the key psychologically-relevant measure (Fechner, 1860; Sun et al., 2012; Portugal & Svaiter, Minds and Machines, 21(1), 73–81, 2011). Ideally, however, this property of psychological scales would be derived from more general, independent principles. This paper shows that a logarithmic number line is the one which minimizes the error between input and representation relative to the probability that subjects would need to represent each number. This need probability is measured here through natural language and matches the form of need probabilities found in other literatures. The derivation does not presuppose anything like Weber's law and makes minimal assumptions about both the nature of internal representations and the form of the mapping. More generally, the results prove in a general setting that the optimal psychological scale will change with the square root of the probability of each input. For stimuli that follow a power-law need distribution this approach recovers either a logarithmic or power-law psychophysical mapping (Stevens, 1957, 1961, 1975).
Keywords
Weber's law 
Psychophysical law 
Number frequency 
A fundamental challenge faced by cognitive agents in the world is that of mapping observable stimuli to internal representations. In human and animal cognition such mappings are mathematically regular, following a systematic relationship between stimulus and representation. This mapping is perhaps most studied in the case of the approximate number system (Dehaene 1997), which is used to form non-exact representations of discrete quantities. Notably, this system of numerical representation is found across ontogeny (Xu & Spelke, 2000; Lipton & Spelke, 2003; Xu et al., 2004; Xu & Arriaga, 2007; Feigenson et al., 2004; Halberda & Feigenson, 2008; Carey 2009; Cantlon et al., 2010), age (Halberda et al., 2012), culture (Pica et al., 2004; Dehaene et al., 2008; Frank et al. 2008), and species (Brannon & Terrace, 2000; Emmerton, 2001; Cantlon & Brannon 2007).
The approximate number system has been characterized two ways in prior literature. One formalization assumes that number gets mapped to a linear psychological scale where the fidelity of representation decreases with increasing numerosity (Gibbon, 1977; Meck & Church 1983; Whalen et al., 1999; Gallistel & Gelman 1992). If, for instance, the standard deviation of a represented value n is proportional to n, this model can explain the ratio effect in which the confusability of x and y depends on x/y. An alternative to a linear mapping with variable noise is a logarithmic mapping with constant noise (Dehaene 2003; Dehaene & Changeux 1993). In this model, a number n is mapped to a representation ψ(n) given by ψ(n)∝ log(n). Properties such as the psychological confusability of numbers are determined by distance in the logarithmically-transformed psychological space. Because logx− logy = log(x/y), this framework can also explain the ratio effect. Some work has argued for the neural reality of the logarithmic mapping by showing neural tuning curves that scale logarithmically (Nieder et al. 2002; Nieder & Miller 2004; Nieder & Merten 2007; Nieder & Dehaene 2009), although other behavioral phenomena appear less well described by either model (Verguts et al. 2005) (see Prather (2014) for deviations from both models).1
The present paper aims to investigate why cognitive systems may represent higher numbers with decreasing fidelity in the way that they do. To answer this question, we will derive a general form of an optimal representation of a continuous quantity in a bounded psychological space. To make this derivation tractable, we assume that the noise is constant and then show that the optimal mapping will change with the square root of the input probability. This derives a logarithmic psychophysical function for a plausible input distribution for natural number. The approach of optimizing a representation function relative to constraints may be generalizable to also deriving the linear mapping with scalar variability2 or other psychophysical domains.
In principle, the cognitive system supporting number could likely implement a large number of mappings (though see Luce,
1959
). It is easy to imagine other possibilities, such as where the input stimuli are mapped to representational space according to other functions like exponentials, power-laws, or polynomials. Several of these examples are shown in Fig. 
1
a, where numbers 1,2,…,100 are mapped into a bounded psychological space, arbitrarily denoted [0,1]. Here, the distance between numerosities in psychological space (difference along the
y
-axis) is meant to quantify measures such as confusability or generalization among particular representations (in the sense of Shepard,
1987
). Thus, representations which are given high fidelity are further away from their neighbors; close numbers such as the higher numbers are more likely to be confused because they are nearby in psychological space. This figure illustrates the key challenge faced by a cognitive system: the psychological space for any organism is bounded—we do not have infinite representational capacities—so our cognitive system must trade-off fidelity among representations. One cannot increase fidelity for one stimulus without paying the cost of effectively decreasing it for another.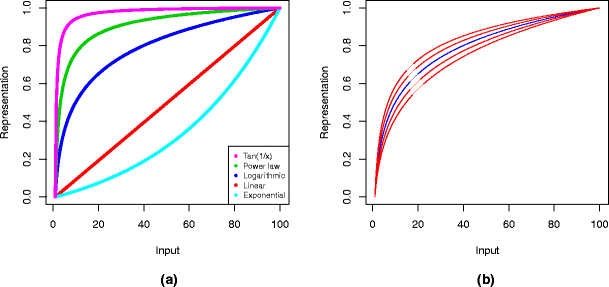 The logarithmic mapping in this setup makes higher numbers closer in psychological space (e.g. |log98− log99| < |log4− log5|), reserving higher fidelity for lower numbers. Other mappings would not have this property—for instance, the mapping ψ(x) = tan1/x which reserves almost all fidelity for the very lowest cardinalities (e.g. 20 and 21 are about as confusable as 98 and 99), or the exponential curve in Fig. 1a which actually reserves fidelity for higher cardinality (e.g. 98 and 99 are less confusable than 4 and 5).
The below derivation explains why the mapping for numerosity appears to be at least close to logarithmic, building on prior derivations as well as work arguing for information processing explanations in perception more generally (e.g. Wainwright, 1999). The derivation presented here shows that a logarithmic mapping is an optimal psychological scaling for how people use numbers. The derivation is similar in spirit to Smith and Levy (2008), who derive the logarithmic relationship between reading time and probability in language comprehension. The present derivation shows that the logarithmic mapping is optimal relative to the probabilities with which different numerosities must be represented, the need probabilities. This approach differs from that undertaken previous by, for instance, Luce (1959), who created a set of psychophysical axioms—such as how the representation should behave under rescaling of the input—and studied the laws permitted by such a system. Building on recent work by Portugal and Svaiter (2011) and Sun et al. (2012), we formalize an optimization problem over a broad class of possible psychological functions, and show that solution of this optimization yields the logarithmic mapping in the case of number. In deriving the optimal representation for number, we show how power-law mappings may also be derived, for distributions similar in parametric form to the number need distribution. Thus, much as other accounts have attempted to unify or collapse logarithmic and power-law psychophysical functions (MacKay 1963; Ekman 1964; Wagenaar 1975; Wasserman et al. 1979; Krueger 1989; Sun et al. 2012), the present work demonstrates that both are optimal under different situations, starting from the same base assumptions. This work therefore provides an alternative to previous derivations of powers laws based on aggregation (Chater and Brown 1999). We begin with an overview of previous derivations of the logarithmic mapping.
Notes
Acknowledgments
I'd like to thank Dan Roy for providing crucial comments and advice on this work. Ted Gibson, Josh Tenenbaum, and Liz Spelke also provided important feedback on this and earlier versions of this paper. Three reviewers provided extremely helpful comments on this paper. Research reported in this publication was supported by the Eunice Kennedy Shriver National Institute Of Child Health & Human Development of the National Institutes of Health under Award Number F32HD070544. The content is solely the responsibility of the authors and does not necessarily represent the official views of the National Institutes of Health.
Copyright information
© Psychonomic Society, Inc. 2016