Abstract
The present research assessed the potential effects of expecting to teach on learning. In two experiments, participants studied passages either in preparation for a later test or in preparation for teaching the passage to another student who would then be tested. In reality, all participants were tested, and no one actually engaged in teaching. Participants expecting to teach produced more complete and better organized free recall of the passage (Experiment 1) and, in general, correctly answered more questions about the passage than did participants expecting a test (Experiment 1), particularly questions covering main points (Experiment 2), consistent with their having engaged in more effective learning strategies. Instilling an expectation to teach thus seems to be a simple, inexpensive intervention with the potential to increase learning efficiency at home and in the classroom.
Access options
Buy single article
Instant access to the full article PDF.
US$ 39.95
Tax calculation will be finalised during checkout.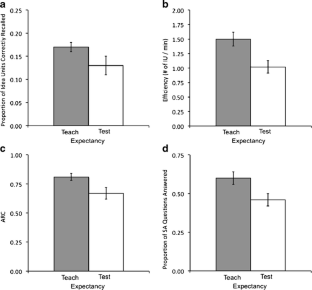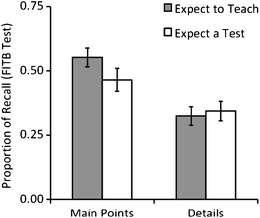 Notes
1.

In the interest of full disclosure, we note that we also conducted this analysis using a different criterion for classifying main points and detail points: Specifically, questions were labeled as main points or detail points only if 66 % of the pilot participants agreed in their ratings. Using this criterion, the interaction between expectancy instructions and information type was not statistically significant, although the pattern of data was essentially the same as reported using the "majority rules" criterion reported here. The 66 % criterion led to six questions being dropped from analysis, which reduced the power of the ANOVA to detect differences, and so we interpret the observed null effect with caution.
References
Aiken, E. G., Thomas, G. S., & Shennum, W. A. (1975). Memory for a lecture: Effects of notes, lecture rates, and informational density. Journal of Educational Psychology, 67, 430–444.

Ameen, E. C., Guffey, D. M., & Jackson, C. (2002). Evidence of teaching anxiety among accounting educators. Journal of Education for Business, 78, 16–22.

Bargh, J. A., & Schul, Y. (1980). On the cognitive benefits of teaching. Journal of Educational Psychology, 72, 593–604.

Benware, C. A., & Deci, E. L. (1984). Quality of learning with an active versus passive motivational set. American Educational Research Journal, 21(4), 755–765.

Berry, D. C. (1983). Metacognitive experience and transfer of logical reasoning. Quarterly Journal of Experimental Psychology, 35A, 39–49.

Bjork, E. L., & Bjork, R. A. (2011). Making things hard on yourself, but in a good way: Creating desirable difficulties to enhance learning. In M. A. Gernsbacher, R. W. Pew, L. M. Hough, & J. R. Pomerantz (Eds.), Psychology and the real world: Essays illustrating fundamental contributions to society (pp. 56–64). New York: Worth Publishers.

Bjork, R. A., Dunlosky, J., & Kornell, N. (2013). Self-regulated learning: Beliefs, techniques, and illusions. Annual Review of Psychology, 64, 417–444.

Bui, D. C., Myerson, J., & Hale, S. (2013). Note-taking with computers: Exploring alternative strategies for improved recall. Journal of Educational Psychology, 105, 299–309.

Cepeda, N. J., Pashler, H., Vul, E., Wixted, J. T., & Rohrer, D. (2006). Distributed practice in verbal recall tasks: A review and quantitative synthesis. Psychological Bulletin, 132, 354–380.

Chi, M. T. H., de Leeuw, N., Chiu, M.-H., & LaVancher, C. (1994). Eliciting self-explanations improves understanding. Cognitive Science, 18, 439–477.

Cohen, P. A., Kulik, J. A., & Kulik, C. C. (1982). Educational outcomes of tutoring: A meta-analysis of findings. American Educational Research Journal, 19(2), 237–248.

Coleman, E. B., Brown, A. L., & Rivkin, I. D. (1997). The effect of instructional explanations on learning from science texts. The Journal of the Learning Sciences, 6(4), 347–365.

Cummings, G. (2013). The new statistics: Why and how. Psychological Science, 27, 7–29.

Curtiz, M. (Director). (1936). The charge of the light brigade [Motion picture]. United States: Warner Bros.

Dunlosky, J., Rawson, K. A., Marsh, E. J., Nathan, M. J., & Willingham, D. T. (2013). Improving students' learning with effective learning techniques: Promising directions from cognitive and educational psychology. Psychological Science in the Public Interest, 14(1), 4–58.

Ehly, S., Keith, T. Z., & Bratton, B. (1987). The benefits of tutoring: An exploration of expectancy and outcomes. Contemporary Educational Psychology, 12, 131–134.

Fiorella, L., & Mayer, R. E. (2013). The relative benefits of learning by teaching and teaching expectancy. Contemporary Educational Psychology, 38, 281–288.

Gardner, L. E., & Leak, G. K. (1994). Characteristics and correlates of teaching anxiety among college psychology teachers. Teaching of Psychology, 21, 28–32.

Gartner, S., Kohler, M., & Riessman. (1971). Children teach children: Learning by teaching. New York: Harper and Row.

Gregory, A., Walker, I., McLaughlin, K., & Peets, A. D. (2011). Both preparing to teach and teaching positively impact learning outcomes for peer teachers. Medical Teacher, 33, 417–422.

Harris, C., Pashler, H., & Kang, S. (2014). Learning on the hook: Effects of random questioning on retention of factual material. Manuscript in preparation.

Hunt, R. R., & Einstein, G. O. (1981). Relational and item-specific information in memory. Journal of Verbal Learning and Verbal Behavior, 20, 497–514.

Landauer, T. K., Foltz, P. W., & Laham, D. (1998). Introduction to latent semantic analysis. Discourse Processes, 25, 259–284.

Lundeberg, M. A., & Fox, P. W. (1991). Do laboratory findings on test-expectancy generalize to classroom outcomes? Review of Educational Research, 61, 94–106.

Maxwell, S. E., & Delaney, H. D. (2004). Designing experiments and analyzing data: A model comparison perspective (2nd ed.). Mahwah, New Jersey: Lawrence Erlbaum Associates.

McKeachie, W. J., Pintrich, P. R., Lin, Y. G., & Smith, D. (1986). Teaching and learning in the college classroom: A review of the research literature. Ann Arbor, MI: The Regents of the University of Michigan.

Motley, M. T. (1988). Taking the terror out of talk: Thinking in terms of communication rather than performance helps us calm our biggest fear. Psychology Today, 22, 46–49.

Olejnik, S., & Algina, J. (2000). Measures of effect size for comparative studies: Applications, interpretations, and limitations. Contemporary Educational Psychology, 25, 241–286.

Pressley, M., McDaniel, M. A., Turnure, J. E., Wood, E., & Ahmad, M. (1987). Generation and precision of elaboration: Effects on intentional and incidental learning. Journal of Experimental Psychology: Learning, Memory, and Cognition, 13, 291–300.

Rawson, K. A., & Kintsch, W. (2005). Rereading effects depend on time of test. Journal of Educational Psychology, 97(1), 70–80.

Renkl, A. (1995). Learning for later teaching: An exploration of meditational links between teaching expectancy and learning results. Learning and Instruction, 5, 21–36.

Richmond, V. P., & McCroskey, J. C. (1995). Communication: Apprehension, avoidance, and effectiveness (4th ed.). Scottsdale, AZ: Gorsuch Scarisbrick.

Roediger, H. L., III, & Karpicke, J. D. (2006). The power of testing memory: Basic research and implications for educational practice. Perspectives on Psychological Science, 1, 181–210.

Roediger, H. L., III, & Pyc, M. A. (2012). Inexpensive techniques to improve education: Applying cognitive psychology to enhance educational practice. Journal of Applied Research in Memory and Cognition, 1, 242–248.

Roenker, D. L., Thompson, C. P., & Brown, S. C. (1971). Comparison of measures for the estimation of clustering in free recall. Psychological Bulletin, 76(1), 45–48.

Rohrbeck, C. A., Ginsburg-Block, M. D., Fantuzzo, J. W., & Miller, T. R. (2003). Peer-assisted learning interventions with elementary school students: A meta-analytic review. Journal of Educational Psychology, 95(2), 240–257.

Roscoe, R. D., & Chi, M. T. H. (2007). Tutor learning: The role of explaining and responding to questions. Instructional Science, 36, 321–350.

Rosenzweig, M. R., Breedlove, S. M., & Leiman, A. L. (2002). Biological psychology: An introduction to behavioral, cognitive, and clinical neuroscience. Sunderland, MA: Sinauer Associates, Inc.

Ross, S. M., & DiVesta, F. J. (1976). Oral summary as a review strategy for enhancing recall of textual material. Journal of Educational Psychology, 68, 689–695.

Ruscio, A. M., Brown, T. A., Chiu, W. T., Sareen, J., Stein, M. B., & Kessler, R. C. (2008). Social fears and social phobia in the United States: Results from the national comorbidity survey replication. Psychological Medicine, 38(1), 15–28.

Szpunar, K. K., McDermott, K. B., & Roediger, H. L., III. (2007). Expectation of a final cumulative test enhances long-term retention. Memory & Cognition, 35(5), 1007–1013.

Topping, K. J. (1996). The effectiveness of peer tutoring in further and higher education: A typology and review of the literature. Higher Education, 32(3), 321–345.

Tulving, E., & Pearlstone, Z. (1966). Availability versus accessibility of information in memory for words. Journal of Verbal Learning and Verbal Behavior, 5, 381–391.

Yerkes, R. M., & Dodson, J. D. (1908). The relation of strength of stimulus to rapidity of habit-formation. Journal of Comparative Neurology and Psychology, 18, 459–482.

Zajonc, R. B. (1960). The process of cognitive tuning in communication. Journal of Abnormal and Social Psychology, 61(2), 159–167.
Acknowledgments
This research was supported by a Collaborative Activity grant from the James S. McDonnell Foundation. We thank Fredrik Jönsson, Veit Kubik, Victor Sungkhasettee, Katherine Rawson, and three anonymous reviewers for helpful comments on earlier versions of the manuscript. Thanks to members of the Bjork Learning and Forgetting Lab for discussion about this project and to Genna Angello, Lauren Camarillo, and John Walker for scoring the recall data. Finally, thanks to Jason R. Finley for guidance on how to calculate ω 2 partial .
About this article
Cite this article
Nestojko, J.F., Bui, D.C., Kornell, N. et al. Expecting to teach enhances learning and organization of knowledge in free recall of text passages. Mem Cogn 42, 1038–1048 (2014). https://doi.org/10.3758/s13421-014-0416-z
Keywords
Memory

Recall

Text processing