Failures of cognitive control or attention? The case of stop-signal deficits in schizophrenia
Abstract
We used Bayesian cognitive modelling to identify the underlying causes of apparent inhibitory deficits in the stop-signal paradigm. The analysis was applied to stop-signal data reported by Badcock et al. (Psychological Medicine 32: 87-297, 2002) and Hughes et al. (Biological Psychology 89: 220-231, 2012), where schizophrenia patients and control participants made rapid choice responses, but on some trials were signalled to stop their ongoing response. Previous research has assumed an inhibitory deficit in schizophrenia, because estimates of the mean time taken to react to the stop signal are longer in patients than controls. We showed that these longer estimates are partly due to failing to react to the stop signal ("trigger failures") and partly due to a slower initiation of inhibition, implicating a failure of attention rather than a deficit in the inhibitory process itself. Correlations between the probability of trigger failures and event-related potentials reported by Hughes et al. are interpreted as supporting the attentional account of inhibitory deficits. Our results, and those of Matzke et al. (2016), who report that controls also display a substantial although lower trigger-failure rate, indicate that attentional factors need to be taken into account when interpreting results from the stop-signal paradigm.
Keywords
Stop-signal paradigm 
Inhibition deficits 
Attention deficits 
Trigger failure 
Schizophrenia 
The capacity to inhibit action as required by changes in the environment or internal states is essential for ensuring coherent action and enables contextually relevant and goal-directed behaviour. Response inhibition is typically assessed using the stop-signal task (Fig. 
1
), where action execution in response to a choice "go" stimulus is supposed to be inhibited on a small proportion of trials in response to a subsequent stop signal (Verbruggen & Logan,
2008
). Although the duration of go response processes can be measured directly using go reaction time (RT) on trials without stop signal, the duration of the stop process is not directly observable, and so has to be inferred.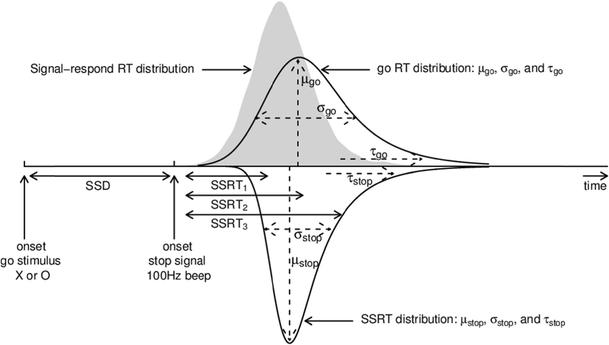 Stop-signal performance has been modelled as a race between independent go and stop processes that are triggered by go and stop signals, respectively. On stop-success trials, the stop process accumulates activation sufficiently quickly to achieve threshold and inhibit responding before the go process can reach its threshold; hence the stop process wins the race. On stop-failure trials, the go process reaches threshold first and wins the race. The outcome of the race is determined by the speeds of the go and stop processes and by the delay between the go and stop signal (stop-signal delay [SSD]; Logan & Cowan, 1984). A summary measure of inhibitory ability in the form of the mean time for the stop process to reach threshold (i.e., stop-signal RT or SSRT) can be estimated nonparametrically by assuming that go RT distributions for trials with and without stop signal are the same (e.g., Band et al., 2003).
Stop-signal tasks have been used extensively in studies of schizophrenia patients and their relatives (Badcock et al., 2002; Ross et al., 2008). General slowing in mean RT for simple manual choice tasks is a pervasive symptom of schizophrenia (Heathcote et al., 2015; Kieffaber et al., 2006; Schatz 1998), and prolonged SSRTs are commonly reported (Bellgrove et al., 2006; Enticott et al., 2008; Hughes et al., 2012; Thakkar et al., 2011, 2015). Prolonged SSRT in patients has been regarded as indicative of impaired inhibitory processing (Lipszyc et al., 2010).
However, successful stopping requires not only short SSRTs but also the capacity to trigger inhibitory processes. Trigger failures pose long-known challenges to the interpretation of stop-signal data, because apparent group differences in inhibition performance may result from differences in SSRT, but they might just as well reflect differences in the probability of triggering the stop process (Logan, 1994). At least one study has proposed that the major deficit in schizophrenia may lie in trigger failures. Badcock et al.'s (2002) proposal was based on a nonparametric measure derived from inhibition functions–plots of the probability of stop failures for a range of SSDs. However, Band et al. (2003) showed that even appropriately transformed inhibition functions are unable to discriminate between trigger failures and differences in go RT and SSRT variabilty.
Recently, Matzke et al. (2016) developed a parametric (model-based) Bayesian approach that addresses this problem. They showed that ignoring trigger failures leads to dramatic overestimation of SSRTs and that trigger failures occurred on approximately 10% of trials for both Badcock et al.'s (2002) and Hughes et al.'s (2012) healthy controls. As a result, a recent methodological review of the stop-signal paradigm (Matzke, Verbruggen, & Logan, in press) stressed the importance of accounting for failures to trigger the stop process.
Here we apply Matzke et al.'s (2016) Bayesian approach to data reported for schizophrenia patients in Badcock et al. (2002) and Hughes et al. (2012) to determine to what degree increased trigger failures can explain deficits in patients' stop-signal performance. As trigger failures indicate an attentional deficit (e.g., a failure in encoding the stop signal) rather than an inhibitory deficit, our analysis could potentially change the traditional interpretation of prolonged SSRTs in patients from a dysfunction of cognitive control (Barch, 2005) to a dysfunction of attention (Braff, 1993). This interpretation also would serve to validate and generalize Matzke et al.'s argument that attentional factors need to be taken into account in broader applications of the stop-signal paradigm.
Notes
Acknowledgements
DM is supported by a Veni grant (451-15-010) from the Netherlands Organization of Scientific Research. MH receives salary from the Australian National Imaging Facility. JCB receives salary support from the Cooperative Research Centre-Mental Health. AH was supported by an Australian Research Council Professorial Fellowship.
Copyright information
© The Author(s) 2017
Open Access This article is distributed under the terms of the Creative Commons Attribution 4.0 International License (http://creativecommons.org/licenses/by/4.0/), which permits unrestricted use, distribution, and reproduction in any medium, provided you give appropriate credit to the original author(s) and the source, provide a link to the Creative Commons license, and indicate if changes were made.