Compensation for visually specified coarticulation in liquid–stop contexts
Abstract
The question of whether speech perceivers use visual coarticulatory information in speech perception remains unanswered, despite numerous past studies. Across different coarticulatory contexts, studies have both detected (e.g., Mitterer in Perception & Psychophysics, 68, 1227–1240, 2006) and failed to detect (e.g., Vroomen & de Gelder in Language and Cognitive Processes, 16, 661–672. doi: 10.1080/01690960143000092, 2001) visual effects. In this study, we focused on a liquid–stop coarticulatory context and attempted to resolve the contradictory findings of Fowler, Brown, and Mann (Journal of Experimental Psychology: Human Perception and Performance, 26, 877–888. doi: 10.1037/0096-1523.26.3.877, 2000) and Holt, Stephens, and Lotto (Perception & Psychophysics, 67, 1102–1112. doi: 10.3758/BF03193635, 2005). We used the original stimuli of Fowler et al. with modifications to the experimental paradigm to examine whether visual compensation can occur when acoustic coarticulatory information is absent (rather than merely ambiguous). We found that perceivers' categorizations of the target changed when coarticulatory information was presented visually using a silent precursor, suggesting that visually presented coarticulatory information can induce compensation. However, we failed to detect this effect when the same visual information was accompanied by an ambiguous auditory precursor, suggesting that these effects are weaker and less robust than auditory compensation. We discussed why this might be the case and examined implications for accounts of coarticulatory compensation.
Keywords
Coarticulation 
Speech perception 
Audiovisual speech 
After decades of research, the question of how listeners demonstrate stable perception despite variability in the acoustic signal remains unanswered. One source of variability is coarticulation: the temporal overlap of the gestures of segments that leads to context dependence in the production of a given segment. How listeners compensate for coarticulatory variability and what properties of neighboring segments they use are important questions for accounts of speech perception. A well-studied case of compensation for coarticulation was first reported by Mann (1980). She demonstrated that listeners classifying a [da]–[ga] continuum reported more "g" responses after the liquid [al] than after [aɹ], indicating that listeners' perception of the target stop changed with its coarticulatory context.
The question of what properties of the preceding segment induce this shift has been a subject of considerable debate (Fowler 2006; Lotto & Holt, 2006). Two competing explanations, reflecting differing theoretical perspectives, have been offered. From an ecological gestural perspective, listeners perceive speech by perceiving the gestures of speech production: the causal source of the proximal acoustic signal (Fowler, 1986). In the present example, the coarticulatory variability in the acoustic signal arises from the overlap of the constriction gestures for the stops with those for the liquids. The compensatory perceptual shifts result from listeners perceiving the same intermediate continuum members differently, depending on the gestural properties of the context. That is, after [al], listeners hear the intermediate acoustics as being caused by a constriction gesture for [ga] that has been pulled forward, and after [aɹ], as a constriction for [da] that has been pulled back.
A substantially different explanation has been proposed from a general auditory perspective (Diehl, Lotto, & Holt, 2004). Per this account, speech perception is based on the recognition of acoustic patterns, and these patterns may be altered by interactions of the acoustic signals within the auditory system. In the present example, the segments [al] and [da] both have relatively high third formant (F3) frequencies, as compared to [aɹ] and [ga], respectively. When these liquid–stop disyllables are processed by the auditory system, they induce spectral contrast such that an intermediate F3 is interpreted to be relatively lower (i.e., more "ga-like") when it follows the high F3 in [al] than when it follows the low F3 in [aɹ]. Importantly, from this perspective, listeners' compensatory shifts arise solely from the acoustic relationships of the precursor and the target. The demonstration that nonspeech tone analogues, with frequencies matched to F3 offsets of precursors, induce these boundary shifts despite lacking gestural information is cited as support for this perspective (Lotto & Kluender, 1998). For a detailed account of this debate, we refer the reader to the relevant studies (Holt, Stephens, & Lotto, 2005; Lotto & Holt, 2006; Stephens & Holt, 2003; Viswanathan, Fowler, & Magnuson, 2009; Viswanathan, Magnuson, & Fowler, 2010, 2013, 2014).
In this article, we focus on a question of interest to both perspectives: Do listeners compensate for visually provided information regarding coarticulation in a liquid–stop context? The gestural account predicts that coarticulatory information, irrespective of its modality, would induce perceptual compensation. A general auditory account requires a mechanism other than spectral contrast to explain the effects of visual coarticulatory information. Different studies have yielded inconsistent findings. Fowler, Brown, and Mann (2000, Exp. 3b) presented participants with hyperarticulated video segments of [alda] or [aɹda]. For each trial, these were both dubbed with an acoustic precursor syllable that was judged to be ambiguous between [al] and [aɹ], and one member of the target [da]–[ga] continuum. Fowler et al. found that participants reliably used visual information about the precursor and demonstrated similar shifts (to those induced by the acoustic precursors [al] and [aɹ]) in the identification of the target continuum. Holt, Stephens, and Lotto (2005) were able to replicate Fowler et al.'s finding with the original stimuli (Exp. 2), but they failed to detect visually induced perceptual boundary shifts with their own stimuli (Exp. 1). On the basis of two additional experiments that manipulated Fowler et al.'s stimuli, they argued that the Fowler et al. results were caused by differences in the visual characteristics of [da] between the [alda] and [aɹda] videos. That is, because differing visual features for each precursor accompanied the target syllables, it was impossible to assume that these features were perceptually attributed to the precursor syllable rather than to the target syllable. If visual features concurrent with the target syllable were perceptually attributed to the target syllable, then the effect of visual information would be analogous to a McGurk effect (McGurk & MacDonald, 1976). In response, Fowler (2006) acknowledged that the videos of the target syllables were different, but she argued that the visual difference (specifically, lip rounding after [aɹ] but not after [al]) could not possibly be interpreted as providing information about the target syllable, since neither [d] nor [g] is characterized by lip rounding. Instead, perceivers were attuned to the persistent effects of the lip rounding of the preceding [ɹ], even in the case that all information prior to the onset of the target syllable was deleted (as in Holt et al., 2005, Exp. 4). As such, the visual influence on perception of the target syllable could still represent compensation for coarticulation, because it was based on information specifying the preceding gesture. Lotto and Holt (2006) remained unconvinced that listeners compensate for subtle visual differences in this case (Exp. 4), but not in their original replication attempt, in which the precursor was actually present (Exp. 1).
These studies investigated whether visual information from the preceding liquid can influence the perception of the target stop, but they failed to provide a conclusive answer. Turning to other coarticulatory contexts does not clarify the picture. For instance, Vroomen and de Gelder (2001) examined this question in a fricative ([s]–[ʃ])–stop ([t]–[k]) context. They found that even though listeners demonstrated a reliable influence of visual fricative information on fricative categorization itself (a McGurk-like effect), they failed to detect shifts in the following stop. In contrast, Mitterer (2006, Exp. 3) examined native Dutch listeners' categorization of fricative–vowel sequences. He found that listeners' categorizations of a [s]–[ʃ] fricative continuum were altered by visual information about lip rounding of the following [i] or [y] vowel. Finally, Kang et al. (2016) reported that both English and French listeners demonstrated visual compensation for coarticulation for a [s]–[ʃ] fricative continuum when the fricatives were followed by vowels native to both groups ([i] and [u]). However, only the French listeners compensated for the coarticulatory influence of the French vowel [y], suggesting a language-specific locus of visual effects.
Such equivocal findings warrant further investigation. One possibility that Mitterer (
2006
) himself raised is that visual effects depend on the nature of the coarticulatory context being examined. This would entail multiple accounts of compensation (for different coarticulatory contexts) that would have to be mutually consistent within a broad theoretical framework. Alternatively, it is possible that a more parsimonious explanation could be arrived at with further investigation. In the present study, one researcher from each theoretical perspective collaborated to investigate these effects. We focused on the liquid–stop context described previously and examined whether visual coarticulatory effects could be detected even in the absence of the target visual information that researchers had previously argued was confounded with precursor visual information. More generally, we also examined why visual coarticulatory effects are less robust than their auditory counterparts. We used the original stimuli of Fowler et al. (
2000
) but a design similar to that of Holt et al. (
2005
), with no concurrent visual information during target presentation. A crucial difference from both prior studies is that we presented the visual precursors with no accompanying acoustic signal (Exp. 1a), as well as with an ambiguous auditory precursor (Exp. 1b). An additional important difference is that we prevented access to the target gestural information by occluding the speakers' oral gestures while retaining event continuity (see Fig. 
1
).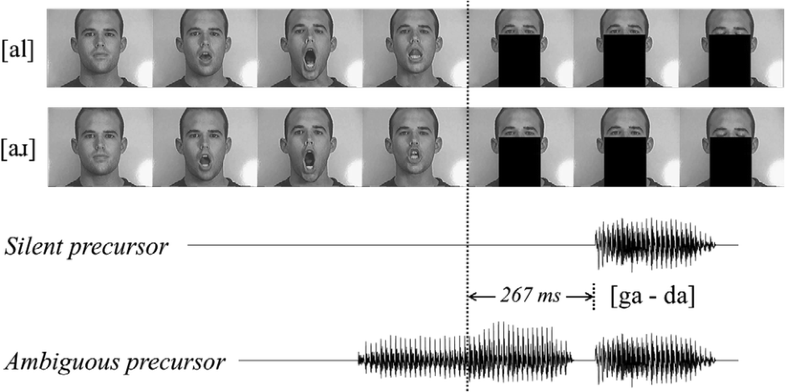 Notes
Author note
This research was supported by NIDCD Grant No. R15 DC011875-01 to N.V. and J.D.W.S. and NSF Grant No. BCS-1431105 to N.V. J.D.W.S. has also been supported by the Air Force Research Laboratory and OSD under Agreement No. FA8750-15-2-0116. The U.S. Government is authorized to reproduce and distribute reprints for governmental purposes, notwithstanding any copyright notation thereon. The views and conclusions contained herein are those of the authors and should not be interpreted as necessarily representing the official policies or endorsements, either expressed or implied, of the National Institutes of Health, Air Force Research Laboratory and OSD, or the U.S. Government.
Copyright information
© The Psychonomic Society, Inc. 2016