Tracking the will to attend: Cortical activity indexes self-generated, voluntary shifts of attention
Abstract
The neural substrates of volition have long tantalized philosophers and scientists. Over the past few decades, researchers have employed increasingly sophisticated technology to investigate this issue, but many studies have been limited considerably by their reliance on intrusive experimental procedures (e.g., abrupt instructional cues), measures of brain activity contaminated by overt behavior, or introspective self-report techniques of questionable validity. Here, we used multivoxel pattern time-course analysis of functional magnetic resonance imaging data to index voluntary, covert perceptual acts—shifts of visuospatial attention—in the absence of instructional cues, overt behavioral indices, and self-report. We found that these self-generated, voluntary attention shifts were time-locked to activity in the medial superior parietal lobule, supporting the hypothesis that this brain region is engaged in voluntary attentional reconfiguration. Self-generated attention shifts were also time-locked to activity in the basal ganglia, a novel finding that motivates further research into the role of the basal ganglia in acts of volition. Remarkably, prior to self-generated shifts of attention, we observed early and selective increases in the activation of medial frontal (dorsal anterior cingulate) and lateral prefrontal (right middle frontal gyrus) cortex—activity that likely reflects processing related to the intention or preparation to reorient attention. These findings, which extend recent evidence on freely chosen motor movements, suggest that dorsal anterior cingulate and lateral prefrontal cortices play key roles in both overt and covert acts of volition, and may constitute core components of a brain network underlying the will to attend.
Keywords
Neural attention mechanisms 
Cognitive neuroscience 
Imaging 
Humans have a highly developed ability to attend voluntarily to some stimuli while ignoring others—an ability that supports a spectrum of behavior, from searching for objects in a cluttered environment to multitasking and problem solving. Impaired performance arising from diminished attentional control is associated with aging, neurological diseases and disorders (e.g., attention deficit hyperactivity disorder), and substance abuse. Yet, fundamental questions about how the brain implements voluntary control of attention persist.
Functional magnetic resonance imaging (fMRI) studies have indicated that the medial superior parietal lobule (mSPL), a component of the dorsal attention network (Corbetta & Shulman, 2002), is activated during shifts of attention between spatial locations (Greenberg, Esterman, Wilson, Serences, & Yantis, 2010; Kelley, Serences, Giesbrecht, & Yantis, 2008; Vandenberghe, Gitelman, Parrish, & Mesulam, 2001; Yantis et al., 2002), features (Greenberg, Esterman, Wilson, Serences, & Yantis, 2010; Liu, Slotnick, Serences, & Yantis, 2003), objects (Serences, Schwarzbach, Courtney, Golay, & Yantis, 2004), sensory modalities (Shomstein & Yantis, 2004), task sets (Chiu & Yantis, 2009), and working memory representations (Tamber-Rosenau, Esterman, Chiu, & Yantis, 2011). However, in these and other studies (Hopfinger, Camblin, & Parks, 2010; Taylor, Rushworth, & Nobre, 2008), participants were presented with instructional cues indicating when to shift attention, or they were required to report when they had voluntarily shifted attention by making a motor response. These methods introduce at least two substantial challenges regarding analysis and interpretation: First, external cues and behavioral responses evoke their own patterns of neural activity that somehow must be dissociated from the activity associated with the intention or preparation to perform an action. Second, initiating ostensibly voluntary actions in response to external cues is not purely voluntary; rather, it is partly stimulus-driven. It is therefore unclear whether or under what circumstances the observed activity in mSPL reflects a purely voluntary orienting of attention, or instead involves the anticipation and subsequent processing of an external instruction (e.g., processes involved in cue interpretation and stimulus–response mapping).
Here we introduce a novel method to track attention in the absence of both external cues and overt behavior, allowing us to isolate the neural mechanisms engaged in self-generated, voluntary shifts of attention. Participants were instructed to fix their gaze on a central fixation stimulus while covertly attending alternately to one of two locations throughout a continuous multistream rapid serial visual presentation (RSVP) task (Fig. 
1
). In the "uncued" condition, participants were further instructed to shift attention voluntarily (without moving their eyes) roughly three or four times per minute; they were not required to execute these shifts at any particular times during the task, and no instructional cues were used to evoke attention shifts. Furthermore, participants did not indicate explicitly (e.g., by motor response or retrospective report; Hopfinger, Camblin, & Parks,
2010
; Lau, Rogers, & Passingham,
2006
; Libet, Gleason, Wright, & Pearl,
1983
) their intention or decision to shift attention, the time at which the shift occurred, or the location to which they shifted attention. Instead, we exploited the fact that attention to different spatial locations evokes systematically distinct patterns of brain activity in visual cortex. This activity was used to track the focus of attention over time.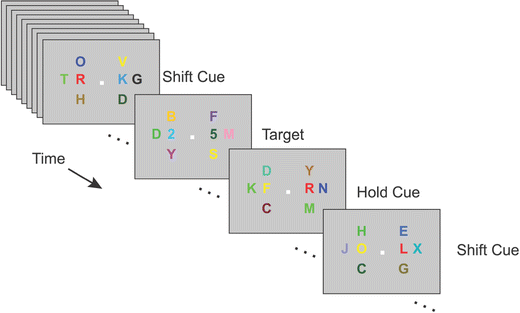 Specifically, we first trained a multivoxel pattern analysis (MVPA) classifier to distinguish the visual cortex activity associated with covert attention to left versus right locations by using the fMRI data from a separate "cued" condition, in which participants occasionally were cued to attend to the left or the right location, thus eliciting cued shifts of attention on a subset of trials (Fig. 1). In the cued condition, participants were instructed to shift attention only when the cues were presented. The classifier trained on data from the cued condition was then was applied to the fMRI data from the uncued condition, thereby tracking the focus of attention on a moment-by-moment basis. At each time point, the participant's attention was classified as being oriented to the left or to the right location. We then demarcated time points when the activation patterns indicated a transition from a leftward to a rightward focus of attention, or vice versa. These temporal markers of attention shifts were then employed in subsequent analyses to identify the neural mechanisms engaged for self-generated shifts of attention.
Furthermore, we analyzed the time course of activity in some brain regions that were engaged for both uncued and cued shifts of attention, to test whether there was an earlier increase in activity in these regions prior to self-generated shifts of attention—an increase that should reflect the preparation or intention (i.e., the will) to shift attention.
Notes
Author note
Y.-C.C. is now at the Center for Cognitive Neuroscience, Duke University; M.S.E. is now at the Research Service, VA Boston Healthcare System, and the Department of Psychiatry, Boston University School of Medicine; A.S.G. is now at the Department of Psychology, University of Wisconsin–Milwaukee. This work was supported by the National Institutes of Health (Grant Nos. T32EY07143 and T32AG027668 to L.G., F31-NS055664 to A.S.G, R01-MH082957 to S.M.C., and R01-DA013165 to S.Y.). The authors thank Emma Wampler, James Gao, and Heather Rosen for assistance, and Patryk Laurent for comments. In memoriam: This study is dedicated to the memory of Steven Yantis—mentor, colleague, and friend.
Copyright information
© The Psychonomic Society, Inc. 2016