Abstract
A prototype automatic (robot) system for the electric discharge machining (EDM) of a new generation of Russian polymer composites is described. The system permits more precise manufacturing, lowers production costs, and boosts the global competitiveness of Russian-made machines. Its effectiveness for the electric discharge machining of holes in polymer composite workpieces is demonstrated.
Access options
Buy single article
Instant access to the full article PDF.
USD 39.95
Price excludes VAT (USA)
Tax calculation will be finalised during checkout.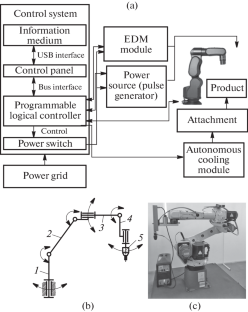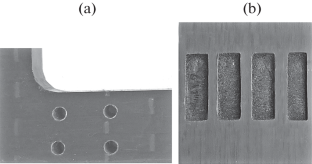 REFERENCES
Ablyaz, T.R., Muratov, K.R., Shlykov, E.S., et al., Electric-discharge machining of polymer composites, Russ. Eng. Res., 2019, vol. 39, no. 10, pp. 898–900.

Ablyaz, T.R., Shlykov, E.S., Muratov, K.R., et al., RF Patent 2730321, Byull. Izobret., 2020, no. 24.

Skhirtladze, A.G., Bochkarev, S.V., Lykov, A.N., and Boriskin, V.P., Avtomatizatsiya tekhnologicheskikh protsessov (Automation of Technological Processes), Staryi Oskol: TNT, 2013.

Khatib, O., Real-time obstacle avoidance for manipulators and mobile robots, Rob. Res., 1986, vol. 5, no. 1, pp. 90–93.

Rubagotti, M., Vedova, M., and Ferrara, A., Time-optimal sliding-mode control of a mobile robot in a dynamic environment, IET Control Theory Appl., 2011, pp. 2–19.

Vodovozov, V.M., Myadzel', V.N., and Rassudov, L.N., Roboty v sudokorpusnykh proizvodstvakh (Upravlenie, obuchenie, algoritmizatsiya) (Robots in Ship-Building Industries (Management, Training, Algorithmization)), Leningrad: Sudostroenie, 1986.
Funding
Financial support was provided by the Perm regional government (project S-26/644).
About this article
Cite this article
Ablyaz, T.R., Shlykov, E.S., Shiryaev, A.A. et al. Automated System for Electric Discharge Machining of Polymer Composites. Russ. Engin. Res. 42, 858–859 (2022). https://doi.org/10.3103/S1068798X22080056
Received:

Revised:

Accepted:

Published:

Issue Date:

DOI: https://doi.org/10.3103/S1068798X22080056
Keywords:
electric discharge machining (EDM)

polymer composites

automated systems

robot systems

perforation

hole production