Abstract
The paper presents the results of studies on the winter hardiness of raspberry cultivars and selected forms in field and laboratory conditions, which were conducted at the All-Russia Horticultural Institute for Breeding, Agrotechnology, and Nursery and its Kokino base station (Bryansk oblast). The objects of studies were 20 cultivars and ten selected forms of raspberry of various genetic and geographical origin. The main goal of the work was to study the resistance of raspberry cultivars and selected forms to temperature stressors of the winter period and to reveal the most winter-hardy genotypes. High winter hardiness was revealed for the Peresvet, Balzam, Beglyanka, and Rubin Bryansky cultivars and nine selected forms. The modeling of damaging winter factors revealed that the Gusar, Lazarevskaya, Volnitsa, and Meteor cultivars and selected forms 32-16-1, 1-15-1, 1-2-2, and 6-12-2 tolerated well a frost of –35°C in the middle of winter. Reliable resistance to a III winter hardiness component is featured by the Gusar, Meteor, and Volnitsa cultivars and selected forms 32-16-1, 1-4-2, 1-15-1, 1-2-2, and 2-12-1. Among the studied raspberry assortment, the genotypes with a high level of bud resistance to IV winter hardiness component were not revealed.
Access options
Buy single article
Instant access to the full article PDF.
US$ 39.95
Tax calculation will be finalised during checkout.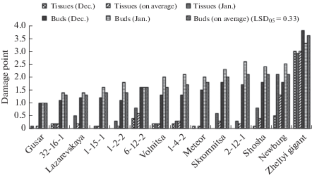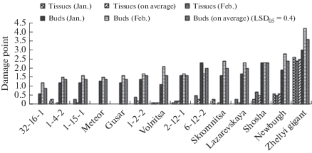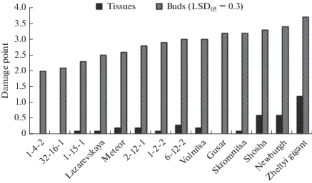 REFERENCES
1

Rezvyakova, E.S. and Goryushkina, E.S., Winter hardiness of the pear in the conditions of the Central Black Earth Region, Nauchn. Zh. Molodykh Uch., 2018, no. 2, pp. 30–32.

2

Dai Hanping, Liu Siwen, and Xiao Du, Botanical traits and cold hardiness of interspecific hybrids between European and Chinese raspberries, Acta Hortic., 2016, vol. 1133, pp. 61–66.

3

Kichina, V.V., Selektsiya plodovykh i yagodnykh kul'tur na vysokii uroven' zimostoikosti (Breeding of Fruit and Berry Crops for High Levels of Winter Hardiness), Moscow, 1999.

4

Ozherel'eva, Z.E., Rezvyakova, S.V., and Trunova, V.A., Studying winter hardiness of fruit crops, in Sostoyanie i perspektivy selektsii i sortorazvedeniya plodovykh kul'tur (The Current State and Prospects of Breeding and Cultivation of Fruit Crops), Orel: VNIISPK, 2005, pp. 249–253.

5

Marchenko, L.A. and Pshikhacheva, Z.U., Breeding of strawberries for productivity and winter hardiness in the Non-Chernozem zone, Plodovod. Yagodovod. Ross., 2011, vol. 28, no. 2, pp. 60–70.

6

Echedi, I.I., The effect of changing climate on winter hardiness in garden plants, Plodovod. Yagodovod. Ross., 2006, vol. 17, pp. 139–150.

7

Kichina, V.V., Printsipy uluchsheniya sadovykh rastenii (Principles of Improving Garden Plants), Moscow: VSTISP Rossel'khozakademii, 2011.

8

Zhidekhina, T.V., Winter hardiness of raspberry buds during the forced rest period in the Black Earth Region, in Selektsiya, semenovodstvo i tekhnologiya plodovo-yagodnykh kul'tur i kartofelya (Breeding, Seed Production, and Technology of Fruit Crops and Potatoes), Chelyabinsk, 2016, pp. 122–127.

9

Black, B.L., Lindstrom, T., Hunter, B., Olsen, S., Heflebower, R., Alston, D.G., and Maughan, T., Adaptability of floricane-fruiting raspberry cultivars to a high-elevation arid climate, J. Am. Pomol. Soc., 2015, vol. 69, pp. 74–83.

10

Evdokimenko, S.N., Podgaetskii, M.A., Danilova, A.A., and Mironova, N.V., Frost resistance of raspberry stalks during the thaw, Plodovod. Yagodovod. Ross., 2017, vol. 49, pp. 100–104.

11

Bogomolova, N.I. and Ozherel'eva, Z.E., Adaptive potential of red raspberries to damaging factors of the winter period in field and controlled conditions of central Russia, Sovrem. Sadovod., 2016, no. 4, pp. 40–52.

12

Kazakov, I.V., Gryuner, L.A., and Kichina, V.V., Raspberries, blackberries, and their hybrids, in Programma i metodika sortoizucheniya plodovykh, yagodnykh i orekhoplodnykh kul'tur (The Program and Methodology of Variety Studies of Fruit, Berry, and Nut-Bearing Crops), Sedov, E.N, Ed., Orel: VNIISPK, 1999, pp. 374–395.

13

Tyurina, M.M., et al., Opredelenie ustoichivosti plodovykh i yagodnykh kul'tur k stressoram kholodnogo vremeni goda v polevykh i kontroliruemykh usloviyakh (Determination of Resistance in Fruit and Berry Crops to Cold Season Stressors in Field and Controlled Conditions), Moscow, 2002.

14

Tyurina, M.M. and Kulikov, I.M., Methodology for assessing winter hardiness of fruit and berry plants under controlled conditions, Plodovod. Yagodovod. Ross., 2006, vol. 16, pp. 11–17.

15

Rezvyakova, S.V., Ecological substantiation of the choice of artificial freezing regimes of fruit crops under the conditions of the Central Chernozem Region, Vestn. Orlov. Gos. Agrarn. Univ., 2011, vol. 30, no. 3, pp. 26–28.
Ethics declarations
The authors declare that they have no conflict of interest. This article does not contain any studies involving animals or human participants performed by any of the authors.
Additional information
Translated by L. A. Solovyova
About this article
Cite this article
Evdokimenko, S.N., Sazonov, F.F., Danilova, A.A. et al. Resistance of Raspberry Cultivars to Temperature Stress Factors during the Winter Period. Russ. Agricult. Sci. 45, 529–533 (2019). https://doi.org/10.3103/S1068367419060077
Received:

Revised:

Accepted:

Published:

Issue Date:
Keywords:
raspberry

cultivar

winter hardiness

damage

components of winter hardiness

freezing