Abstract
This paper presents the results of measurements of the non-steady-state photo-emf in a monoclinic Ga2O3 crystal at a laser wavelength of 457 nm. The crystal has insulating properties and shows high transparency for visible light, which does not prevent the formation of the dynamic space-charge grating and non-steady-state photo-emf signal recording in external (null, dc, and ac) electric fields. The measured signal amplitude is analyzed as a function of the phase modulation frequency, spatial frequency of the interference pattern, and the electric field. The crystal photoconductivity, spectral sensitivity, and diffusion length of photoexcited carriers are determined for the chosen wavelength.
Access options
Buy single article
Instant access to the full article PDF.
USD 39.95
Price excludes VAT (USA)
Tax calculation will be finalised during checkout.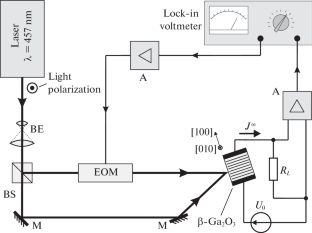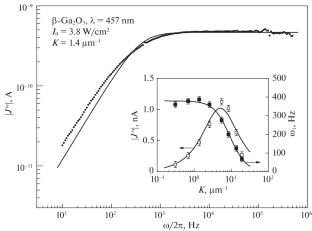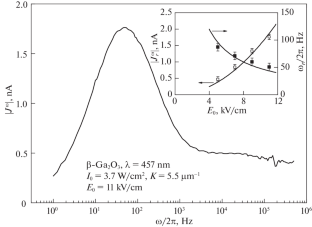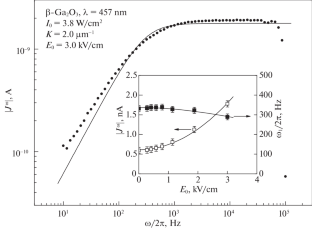 REFERENCES
Pearton, S.J., Yang, J., Cary IV, P.H., Ren, F., Kim, J., Tadjer, M.J., and Mastro, M.A., A review of Ga2O3 materials, processing, and devices, Appl. Phys. Rev., 2018, vol. 5, p. 011301. https://doi.org/10.1063/1.5006941

Stepanov, S.I., Nikolaev, V.I., Bougrov, V.E., and Romanov, A.E., Gallium OXIDE: Properties and applications – a review, Rev. Adv. Mater. Sci., 2016, vol. 44, pp. 63–86.

Feng, P., Zhang, J.Y., Li, Q.H., and Wang, T.H., Individual β-Ga2O3 nanowires as solar-blind photodetectors, Appl. Phys. Lett., 2006, vol. 88, p. 153107. https://doi.org/10.1063/1.2193463

Oshima, T., Okuno, T., Arai, N., Suzuki, N., Ohira, S., and Fujita, S., Vertical solar-blind deep-ultraviolet Schottky photodetectors based on β-Ga2O3 substrates, Appl. Phys. Express, 2008, vol. 1, no. 1, p. 011202. https://doi.org/10.1143/APEX.1.011202

Petrov, M.P., Stepanov, S.I., and Khomenko, A.V., Photorefractive Crystals in Coherent Optical Systems, Springer Series in Optical Sciences, vol. 59, Berlin: Springer, 1991. https://doi.org/10.1007/978-3-540-47056-4

Stepanov, S., Photo-electromotive-force effect in semiconductors, Handbook of Advanced Electronic and Photonic Materials and Devices, Academic Press, 2001, vol. 2, pp. 205–272.

Sokolov, I.A. and Bryushinin, M.A., Optically Induced Space-Charge Gratings in Wide-Bandgap Semiconductors: Techniques and Applications, Nova Science, 2017, pp. 1–229.

Bryushinin, M.A., Sokolov, I.A., Pisarev, R.V., and Balbashov, A.M., Space-and-time current spectroscopy of a β-Ga2O3 crystal, Opt. Express, 2015, vol. 23, no. 25, p. 32736. https://doi.org/10.1364/OE.23.032736

Bryushinin, M.A., Kulikov, V.V., Petrov, A.A., Sokolov, I.A., Romashko, R.V., and Kulchin, Y.N., Non-steady-state photo-EMF in β-Ga2O3 crystals at λ = 457 nm, Opt. Express, 2020, vol. 28, no. 26, p. 39067. https://doi.org/10.1364/OE.413482
Funding
The study was supported by the Russian Science Foundation (project no. 19-12-00323).
Ethics declarations
The authors declare that they have no conflicts of interest.
Additional information
Translated by A. Kazantsev
About this article
Cite this article
Bryushinin, M.A., Sokolov, I.A., Zavestovskaya, I.N. et al. Three Non-Steady-State Photo-EMF Excitation Modes in a Gallium Oxide Crystal. Bull. Lebedev Phys. Inst. 49, 67–73 (2022). https://doi.org/10.3103/S1068335622030022
Received:

Revised:

Accepted:

Published:

Issue Date:

DOI: https://doi.org/10.3103/S1068335622030022
Keywords:
non-steady-state photo-emf

adaptive photodetector