Abstract
A glow in the night sky is registered at 43° north latitude during global magnetospheric disturbances. The glow is preceded by seismic activity generating an underground negative charge over the Earth's surface with a positive current of 20–25 nA/m2.
Access options
Buy single article
Instant access to the full article PDF.
USD 39.95
Price excludes VAT (USA)
Tax calculation will be finalised during checkout.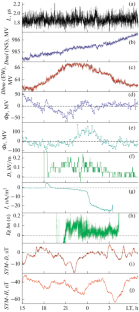 REFERENCES
Chilingarian, A., Hovsepyan, G., Elbekian, A., et al., Phys. Rev. Res., 2019, vol. 1, 033167.

Khaerdinov, N.S. and Lidvansky, A.S., J. Phys.: Conf. Ser., 2013, vol. 409, 012230.

Khaerdinov, M.N., Khaerdinov, N.S., and Lidvansky, A.S., Bull. Russ. Acad. Sci.: Phys., 2017, vol. 81, no. 2, p. 226.

http://www.izmiran.ru/ionosphere/weather/cat.

Sobisevich, A.L., Gridnev, D.G., Sobisevich, L.E., et al., Prirodnye protsessy, geodinamika, seismotektonika i sovremennyi vulkanizm Severnogo Kavkaza (Natural Processes, Geodynamics, Seismotectonics, and Modern Volcanism of the North Caucasus), Nal'chik: Kabardino-Balkar. Gos. Univ., 2008.

Freund, F., J. Asian Earth Sci., 2011, vol. 41, nos. 4–5, p. 383.

International Service of Geomagnetic Indices. http://isgi.unistra.fr/indices_asy.php.
Ethics declarations
The authors declare that they have no conflicts of interest.
About this article
Cite this article
Khaerdinov, N.S., Dzhappuev, D.D., Kanonidi, K.K. et al. Disturbance of a Glow in the Night Sky in Clear Weather at Middle Latitudes. Bull. Russ. Acad. Sci. Phys. 85, 1317–1319 (2021). https://doi.org/10.3103/S1062873821110149
Received:

Revised:

Accepted:

Published:

Issue Date:

DOI: https://doi.org/10.3103/S1062873821110149