Abstract
Thermodynamic potentials are used to describe a shift in the characteristic temperature of the magnetostructural phase transition in samples thinned to micrometer and nanometer dimensions. Allowing for the value of the metal surface tension, it is shown that reducing the sample thickness to 50 nm can raise the characteristic temperature by 18 K.
Access options
Buy single article
Instant access to the full article PDF.
US$ 39.95
Tax calculation will be finalised during checkout.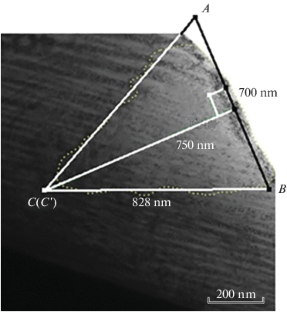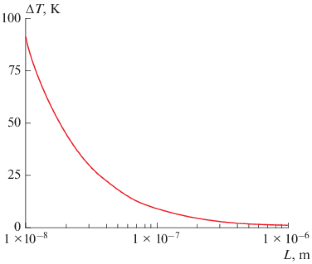 REFERENCES
1

Mamonova, M.V., Prudnikov, V.V., and Prudnikova, I.A., Fizika poverkhnosti. Teoreticheskie modeli i eksperimental'nye metody (Surface Physics: Theoretical Models and Experimental Methods), Moscow: Fizmatlit, 2011.

2

Mashirov, A.V., Irzhak, A.V., Tabachkova, N.Y., et al., IEEE Magn. Lett., 2019, vol. 10, 6107404.

3

Li, H.X., Mao, S.C., Zang, K.T., et al., J. Alloys Compd., 2014, vol. 588, p. 337.

4

Glezer, A.M., Blinova, E.N., Pozdnyakov, V.A., and Shelyakov, A.V., J. Nanopart. Res., 2003, vol. 5, p. 551.

5

Zhang, Z., Ding, X., Deng, J., et al., J. Phys. Chem. C, 2013, vol. 117, p. 7895.

6

Semenchenko, V.K., Poverkhnostnye yavleniya v metallakh i splavakh (Surface Phenomena in Metals and Alloys), Moscow: Gos. Izd. Tekhn.-Teor. Lit., 1957.

7

Cai, M., Langford, S.C., Dickinson, J.T., et al., J. Nucl. Mater., 2007, vol. 361, nos. 2–3, p. 306.

8

Belov, K.P., Magnitnye prevrashcheniya (Magnetic Transformations), Moscow: Fizmatlit, 1959.

9

Bazarov, I.P., Termodinamika (Thermodynamics), Moscow: Vysshaya Shkola, 1991.

10

Vonsovskii, S.V., Magnetizm. Magnitnye svoistva dia-, para-, ferro-, antiferro- i ferrimagnetikov (Magnetism: Magnetic Properties of Dia-, Para-, Ferro-, Antiferro-, and Ferrimagnets), Moscow: Nauka, 1971.

11

Landau, L.D. and Lifshits, E.M., Statisticheskaya fizika (Statistical Physics), Moscow: Fizmatlit, 2005, part 1.

12

Fabbrici, S., Albertini, F., Paoluzi, A., et al., Appl. Phys. Lett., 2009, vol. 95, 022508.

13

Gan'shina, E., Novikov, A., Chernenko, V., et al., Solid State Phenom., 2015, vol. 233, p. 225.

14

Shevyrtalov, S., Miki, H., Ohtsuka, M., et al., J. Alloys Compd., 2018, vol. 741, p. 1098.
Funding
This work was performed as part of the Program of Enhancing the Competitive Ability 5-100 of Immanuel Kant Baltic Federal University. Its theoretical part was supported by the Russian Foundation for Basic Research and the Moscow City Government, project no. 19-37-70012.
Additional information
Translated by O. Polyakov
About this article
Cite this article
Mashirov, A.V., Kamantsev, A.P., Kuznetsov, D.D. et al. Surface Energy upon the Martensitic Phase Transition in Microsized Samples of Ni–Mn–Ga–Cu Heusler Alloy. Bull. Russ. Acad. Sci. Phys. 85, 751–754 (2021). https://doi.org/10.3103/S1062873821070145
Received:

Revised:

Accepted:

Published:

Issue Date:
Keywords:
thermodynamic potentials

magnetostructural phase transition

characteristic temperature shift

metal surface tension

sample thickness

Heusler alloy