Abstract
A means of solid-phase deposition is presented for producing carbide coatings on metal surfaces using thermally expanded graphite. Foils of niobium, Nb–2% Zr alloy, and alloys of titanium with Cr, Mo, and Al are the objects of deposition. Coatings form as a result of the solid-phase diffusion of carbon into metal foils when multiple sandwiches composed of metal foils alternating with thermally expanded graphite ribbons are heated and held under pressure. Microstructures of the cross-sections of ribbons with carbide coatings are investigated. Results are presented from high-temperature tests of the bending strength of layered composites made of niobium foils and titanium alloy foils with carbide coatings.
Access options
Buy single article
Instant access to the full article PDF.
USD 39.95
Price includes VAT (USA)
Tax calculation will be finalised during checkout.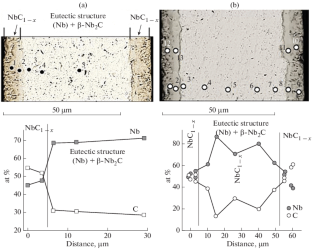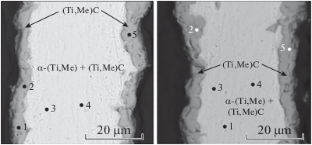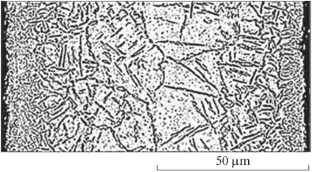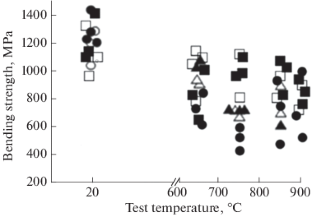 REFERENCES
1

Kosolapova, T.Ya., Karbidy (Carbides), Moscow: Metallurgiya, 1968.

2

Storms, E.K., The Refractory Carbides, New York: Academic, 1967.

3

Toth, L.E., Transition Metal Carbides and Nitrides, New York: Academic, 1971.

4

Kiparisov, C.C., Levinskii, Yu.V., and Petrov, A.P., Karbid titana. Poluchenie, svoistva, primenenie (Titanium Carbide: Obtaining, Properties, Application), Moscow: Metallurgiya, 1987.

5

Jackson, M.R., Bewley, B.P., Rowe, R.G., et al., J. Met., 1996, vol. 48, no. 1, p. 39.

6

Bewley, B.P., Jackson, M.R., and Subramanian, P.R., J. Met., 1999, vol. 51, no. 4, p. 32.

7

Bewley, B.P., Jackson, M.R., Zhao, J.C., and Subramanian, P.R., Metall. Mater. Trans. A, 2003, vol. 34, no. 10, p. 2043.

8

Svetlov, I.L., Abuzin, Yu.A., Babich, B.N., et al., Zh. Funkts. Mater., 2007, vol. 1, no. 2, p. 48.

9

Kolobov, Yu.R., Kablov, E.N., Kozlov, E.V., et al., Struktura i svoistva intermetallidnykh materialov s nanofaznym uprochneniem (Structure and Properties of Intermetallic Materials with Nanophase Hardening), Moscow: Mosc. Inst. Stali Splavov, 2008.

10

Korzhov, V.P. and Karpov, M.I., Materialovedenie, 2009, no. 11, p. 39.

11

Karpov, M.I., Vnukov, V.I., Korzhov, V.P., et al., Deform. Razrushenie Mater., 2012, no. 12, p. 2.

12

Cook, J. and Gordon, J.E., Proc. R. Soc. London, Ser. A, 1964, vol. 282, no. 8, p. 508.

13

Anishchenkov, V.M. and Mileiko, S.T., Dokl. Akad. Nauk SSSR, 1978, vol. 241, no. 5, p. 1068.

14

Kolchin, A.A., Kiiko, V.M., Sarkissyan, N.S., and Mileiko, S.T., Compos. Sci. Technol., 2001, vol. 61, no. 7, p. 1079.
Additional information
Translated by I. Obrezanova
About this article
Cite this article
Korzhov, V.P. Carbide Coatings on Metal Ribbons. Bull. Russ. Acad. Sci. Phys. 85, 798–802 (2021). https://doi.org/10.3103/S106287382107011X
Received:

Revised:

Accepted:

Published:

Issue Date: