Abstract
Multineutron coupled systems (quasi-nuclei) have yet to be found, despite numerous targeted searches. However, a number of theoretical studies show that the existence of multineutron systems is possible. A new direct approach to detecting multineutron systems is proposed using kinematic features of elastic scattering. The critical angles of multineutrons with respect to the closest lightest nuclei are calculated, demonstrating the clear kinematic difference between dineutrons (2n), trineutrons (3n), and tetraneutrons (4n).
Access options
Buy single article
Instant access to the full article PDF.
USD 39.95
Price includes VAT (USA)
Tax calculation will be finalised during checkout.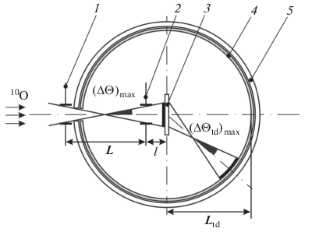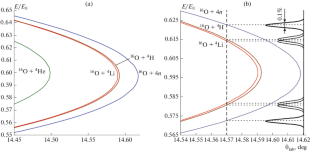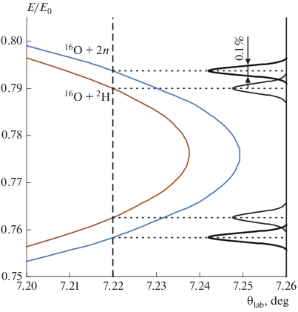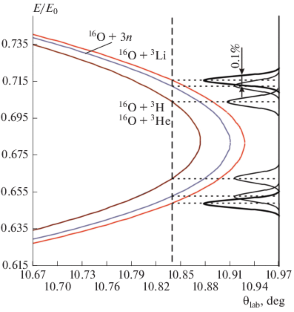 REFERENCES
1

Kezerashvili, R.Ya., in Proc. 6th ICFN6: Fission and Properties of Neutron-Rich Nuclei, Sanibel Island, 2017, p. 403.

2

Yang, Z.H., Marqués, F.M., Achouri, N.L., et al., in Proc. XXII Int. Conf. on Few-Body Problems in Physics (FB22), Caen, 2018, p. 5.

3

Schiffer, J.P. and Vandenbosch, R., Phys. Lett., 1963, vol. 5, p. 292.

4

Marques, F.M., Labiche, M., Orr, N.A., et al., Phys. Rev. C: Nucl. Phys., 2002, vol. 65, 044006.

5

Timofeyuk, N.K., J. Phys. G: Nucl. Part. Phys., 2003, vol. 29, L9.

6

Bertulani, C.A. and Zelevinsky, V., J. Phys. G: Nucl. Part. Phys., 2003, vol. 29, p. 2431.

7

Pieper, S.C., Phys. Rev. Lett., 2003, vol. 90, 252501.

8

Dyachkov, V.V., Zaripova, Yu.A., Yushkov, A.V., et al., Bull. Russ. Acad. Sci.: Phys., 2017, vol. 81, p. 1174.

9

Zaripova, Y.A., Dyachkov, V.V., Yushkov, A.V., et al., Int. J. Mod. Phys. E, 2018, vol. 27, 1850017.
Funding
This work was supported by state grants for fundamental research, project no. IRN AP05131884.
Additional information
Translated by I. Obrezanova
About this article
Cite this article
Yushkov, A.V., Dyachkov, V.V. & Zaripova, Y.A. A New Approach to the Experimental Detection and Study of Multineutrons. Bull. Russ. Acad. Sci. Phys. 84, 1183–1186 (2020). https://doi.org/10.3103/S1062873820100305
Received:

Revised:

Accepted:

Published:

Issue Date: