Abstract
A way of obtaining physical numerical values in tabular mode from raster images of curves is described. The software module for graphic data digitizing is included in the EXFOR-Editor software package developed at the Center of Nuclear Physics Data, All-Russian Research Institute of Experimental Physics. The capabilities of the EXFOR-Editor software for processing numerical tabular data and monitoring their reliability are demonstrated.
Access options
Buy single article
Instant access to the full article PDF.
USD 39.95
Price includes VAT (USA)
Tax calculation will be finalised during checkout.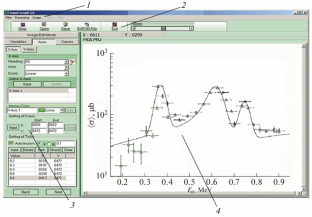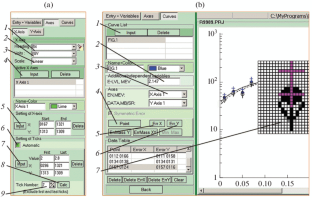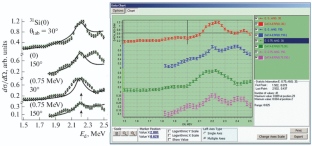 REFERENCES
1

Otuka, N., Dupont, E., Semkova, V., et al., Nucl. Data Sheets, 2014, vol. 120, p. 272.

2

EXFOR Library Statistics. https://www-nds.iaea.org/exfor/x4stat/exfor_stat.htm.

3

Zerkin, V.V. and Pritychenko, B., Nucl. Instrum. Methods Phys. Res.,Sect. A, 2018, vol. 888, p. 31.

4

Pikulina, G.N. and Taova, S.M., Vopr. At. Nauki Tekh., Ser.: Fiz. Yad. Reakt., 2018, no. 4, p. 158.

5

Pikulina, G.N., Taova, S.M., and Dunaeva, S.A., Vestn. Mosk. Inzh. Fiz. Inst., 2013, vol. 2, p. 125.

6

Pikulina, G.N. and Taova, S.M., Phys. At. Nucl., 2018, vol. 81, p. 1450.

7

Schwerer, O., EXFOR: Exchange Formats Manual, Vienne: IAEA, 2015.
Additional information
Translated by N. Semenova
About this article
Cite this article
Pikulina, G.N., Taova, S.M. Processing Numerical Data on Nuclear Reactions for the EXFOR International Library of Experimental Nuclear Data. Bull. Russ. Acad. Sci. Phys. 84, 1286–1289 (2020). https://doi.org/10.3103/S1062873820100196
Received:

Revised:

Accepted:

Published:

Issue Date: