Abstract
Results are presented from calculating the neutron radiation of spent nuclear fuel (SNF) from stationary campaigns of VVER-1000 and VVER-1200 reactors due to spontaneous fission and (α, n) reactions. An analytical dependence is obtained for the average number of neutrons produced in spent nuclear fuel per α-particle on the particle's energy. The neutron radiation of VVER-1200 spent nuclear fuel is several times higher than that of a VVER-1000 reactor, due primarily to the increased number of 244Cm isotopes produced in high-burnup fuel.
Access options
Buy single article
Instant access to the full article PDF.
USD 39.95
Price includes VAT (USA)
Tax calculation will be finalised during checkout.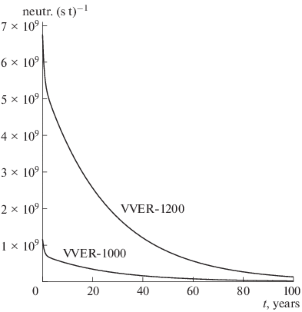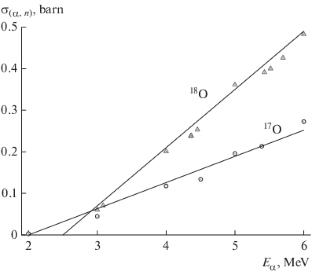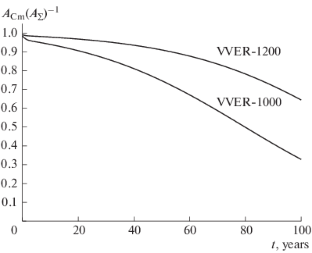 REFERENCES
1

Kazim, M., Moniz, E.J., Forsberg, C.W., et al., The Future of Nuclear Power Cycle, Cambridge: MIT, 2011.

2

Otuka, N., Dupont, E., Semkova, V., et al., Nucl. Data Sheets, 2014, vol. 120, p. 272.

3

Oku, T., Iijima, Sh., Naito, Y., et al., Data book for calculating neutron yields from (α, n) reaction and spontaneous fission, report no. JAERI-1324, 1992.

4

Nuclear Energy Agency, report JEFF-3.3. www.oecd-nea.org/dbdata/jeff/jeff33/index.html.

5

Piatrouski, A., Rudak, E., Korbut, T., and Kravchenko, M., J. Phys.: Conf. Ser., 2018, vol. 1133.

6

Petrovskii, A.M., Rudak, E.A., and Korbut, T.N., Bull. Russ. Acad. Sci.: Phys., 2018, vol. 82, p. 1335.

7

Petrovskii, A.M., Rudak, E.A., and Korbut, T.N., Yad. Fiz. Inzh., 2017, vol. 8, p. 118.

8

Rochman, D., Koning, A.J., Sublet, J.Ch., et al., in Proc. of the Int. Conf. on Nuclear Data for Science and Technology, Bruges, 2016.

9

Isotopes of Oxygen. https://periodictable.com/Isotopes/008.17/index.wt.html.

10

Bethe, H. and Ashkin, J., in Experimental Nuclear Physics, New York: Wiley, 1953, p. 253.

11

Interaction of heavy charged particles with matter. http://nuclphys.sinp.msu.ru/partmat/pm01.htm.

12

Nikjoo, H., Uehara, Sh., and Emfietzoglou, D., Interaction of Radiation with Matter, Boca Raton: CRC, 2012.
About this article
Cite this article
Petrovskiy, A.M., Korbut, T.N., Rudak, E.A. et al. Calculating the Neutron Radiation in the Spent Nuclear Fuel of VVER-1200 Reactors. Bull. Russ. Acad. Sci. Phys. 84, 1295–1299 (2020). https://doi.org/10.3103/S1062873820100184
Received:

Revised:

Accepted:

Published:

Issue Date: