Abstract
Results are presented from calculating the activities of fission products and actinides for the mean fuel burnup of the Belarusian Nuclear Power Plant (Belarusian NPP) (55.6 MW d t–1 U). Rates of the loss of total activity are obtained for the spent nuclear fuel (referred to below as SNF) depending on the period of storage. Calculation studies of the radiotoxicity characteristics of spent WWER-1200 nuclear fuel allows the listing of radionuclides that are potential radiation hazard at different stages of SNF management at the Belarusian NPP. The results are important when making decisions on the environmentally acceptable option for spent nuclear fuel management presented in the Belarusian NPP's Strategy of SNF Management.
Access options
Buy single article
Instant access to the full article PDF.
USD 39.95
Price includes VAT (USA)
Tax calculation will be finalised during checkout.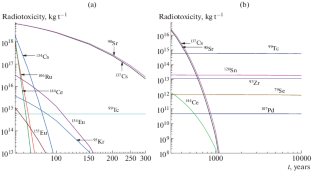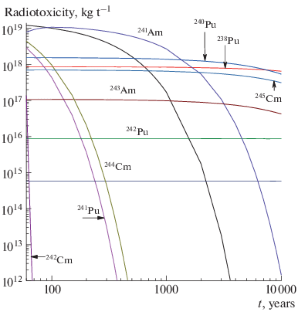 REFERENCES
1

Law of the Republic of Belarus on State Ecological Expertise. https://kodeksy-by.com/zakon_rb_o_gosudarstvennoj_ekologicheskoj_ekspertize.htm.

2

Status and trends in spent fuel and radioactive waste management. IAEA Nuclear Energy Series no. NW-T-1.14, Vienna, 2018.

3

Ekologicheskii doklad po strategicheskoi ekologicheskoi otsenke proekta Strategii obrashcheniya s otrabotavshim yadernym toplivom Belorusskoi atomnoi elektrostantsii (Environmental Report on Strategic Environmental Assessment of the Project on Strategy for the Management of Spent Nuclear Fuel of the Belarusian Nuclear Power Plant), Minsk, 2018.

4

Venttsel', E.S., Issledovanie operatsii (Operations Research), Moscow: Nauka, 1972.

5

Gorbacheva, N.V., in Dokl. 6-i Mezhd. nauch.-tekhn. konf. "Obespechenie bezopasnosti AES s VVER" (Proc. 6th Int. Sci. Tech. Conf. on Ensuring the Safety of Nuclear Power Plants with VVER), Moscow, 2009, p. 020.

6

Radiation and thermophysical characteristics of spent nuclear fuel from pressurized water-cooled power reactors and high-power channel reactors RB-093-14, Yad. Radiats. Bezop., 2014, no. 4(74), p. 49.

7

Leppaenen, J., Serpent, continuous-energy Monte Carlo reactor physics burnup calculation code, VTT Technical Research Center of Finland, 2013.

8

Petrovskii, A.M., Rudak, E.A., Korbut, T.N., and Kravchenko, M.O., J. Phys.: Conf. Ser., 2018, vol. 1133, 012009.

9

A basic toxicity classification of radionuclides, Technical Reports Series no. 15, Vienna: IAEA, 1963, p. 39.

10

Korchova, J.A., Harbachova, N.V., and Kuzmina, N.D., J. Phys.: Conf. Ser., 2018, vol. 1133, 012025.

11

Radiation exposure assessment criteria: Hygienic standard, Natl. Register of Legal Acts of the Republic of Belarus, 8/26850, 2013.
Additional information
Translated by I. Obrezanova
About this article
Cite this article
Korchova, J.A., Harbachova, N.V., Kuzmina, N.D. et al. Computational Studies of the Radiotoxicity of Irradiated WWER-1200 Fuel and Its Loss of Activity during the Long-Term Treatment of Spent Nuclear Fuel from the Belarusian NPP. Bull. Russ. Acad. Sci. Phys. 84, 1300–1303 (2020). https://doi.org/10.3103/S1062873820100159
Received:

Revised:

Accepted:

Published:

Issue Date: