Abstract
The results of the high-temperature hydrogenation of phenol and the phenolic fraction of coal tar from the AO Shubarkol Komir by-product coke plant in the presence of MoO3 with the use of coke oven gas components as hydrogenating and alkylating agents are reported. When the fraction was hydrogenated in the СО–Н2О system, phenol was alkylated with methanol formed as a result of water gas reaction along with the reduction of phenols to aromatic hydrocarbons. The interaction of phenol with the СО–Н2О and СО–Н2 systems under similar conditions led to the formation of phenol reduction (benzene, toluene, and xylenes) and alkylation (cresols and xylenols) products.
Access options
Buy single article
Instant access to the full article PDF.
US$ 39.95
Tax calculation will be finalised during checkout.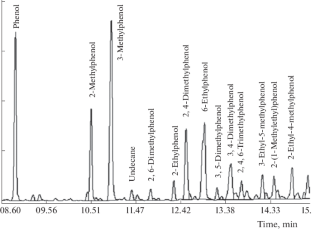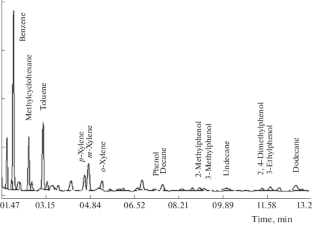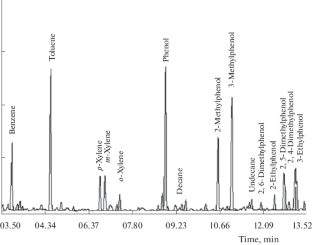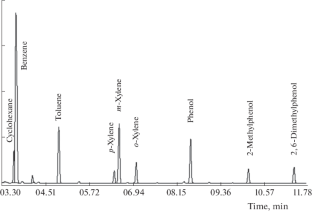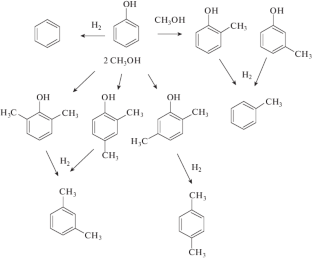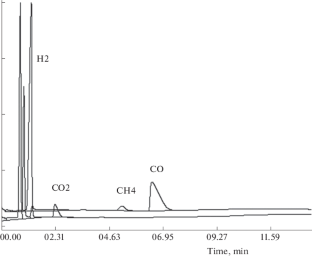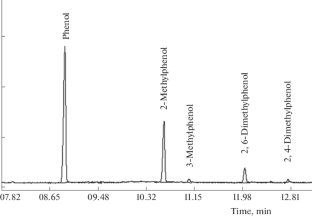 REFERENCES
1

Grinberg, A.M., Obesfenolivanie stochnykh vod koksokhimicheskikh zavodov (Dephenolation of Wastewater from Coke Plants), Moscow: Metallurgiya, 1968.

2

Efros, L.S., Khimiya i tekhnologiya promezhutochnykh produktov (Chemistry and Technology of Intermediate Products), Leningrad: Khimiya, 1979.

3

Kairbekov, Zh.K., Maloletnev, A.S., Gyul'maliev, A.M., Smagulova, N.T., and Myltykbaeva, Zh.K., Solid Fuel Chem., 2014, vol. 48, no. 4, p. 234. https://doi.org/10.3103/S0361521914040065

4

Kairbekov, Zh.K., Maloletnev, A.S., Smagulova, N.T., and Sabitova, A.N., Solid Fuel Chem., 2018, vol. 52, no. 5, p. 320. https://doi.org/10.3103/S0361521918030047

5

Shuikin, N.I. and Erivanskaya, L.A., Usp. Khim., 1960, vol. 29, no. 5, p. 648.

6

Dirikhs, A. and Kubichka, R., Fenoly i osnovaniya iz uglei (Phenols and Bases from Coals), Moscow: Gostoptekhizdat, 1958.

7

Ershov, V.V., Nikiforov, G.A., and Volod'kin, A.A., Prostranstvenno-zatrudnennye fenoly (Spatially Hindered Phenols), Moscow: Khimiya, 1972.

8

Meiramov, M.G., Baikenov, M.I., and Ermagambe-tov, B.T., Izv. Akad. Nauk Resp. Kazakhstan, Ser. Khim., 1991, no. 2, p. 89.

9

Ipatieff, V., Orloff, N., and Rasuvaeff, G., Bull. Soc. Chim., 1925, vol. 37, p. 1576.

10

Ipatieff, V., Orloff, N., and Petroff, A., Ber., 1927, vol. 60, p 1006.

11

Lapidus, A.L., Eliseev, O.L., and Kryuchkov, M.V., Solid Fuel Chem., 2011, vol. 45, no. 5, p. 313. https://doi.org/10.3103/S0361521911050041
Additional information
Translated by V. Makhlyarchuk
About this article
Cite this article
Meiramov, M.G. High-Temperature Hydrogenation of the Phenolic Fraction of Coal Tar from the AO Shubarkol Komir with Free and Bound Hydrogen in the Presence of MoO3 . Solid Fuel Chem. 55, 47–53 (2021). https://doi.org/10.3103/S0361521921010079
Received:

Revised:

Accepted:

Published:

Issue Date:
Keywords:
phenolic fraction

phenol

hydrogenation

alkylation

catalyst