Abstract
Here we report on a single-step, eco-friendly, and facile approach to combustion-assisted reprocessing of oily copper waste into copper powder without preliminary cleaning. Complete reduction of copper from oily copper waste in the combustion wave was reached in the presence of ammonium nitrate and without introducing any reducing agent. The optimal conditions for obtaining >99 % copper powder were reached for green [Cu2O + m(oil)] + xNt mixtures with m = 7–11 wt % and x = 0.35–0.55, were m stands in wt % and x in mole fractions, both in relation to 1 g-mol of Cu2O. In scale-up experiments (up to 10 kg of green mixture), the copper powder with oxygen content below 0.5 wt % and free carbon content below 0.25 wt % was successfully produced. Our approach was also successfully applied to combustion-assisted reduction of copper oxide oily waste mixed with nickel oxide to yield composite powders and Cu–Ni alloys.
This is a preview of subscription content, log in to check access.
Access options
Buy single article
Instant unlimited access to the full article PDF.
US$ 39.95
Price includes VAT for USA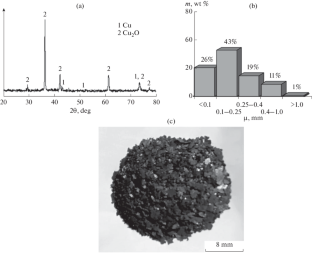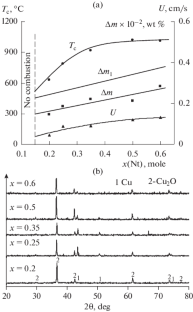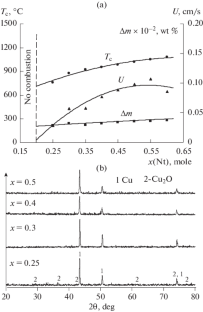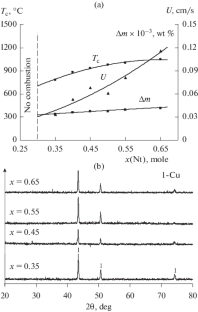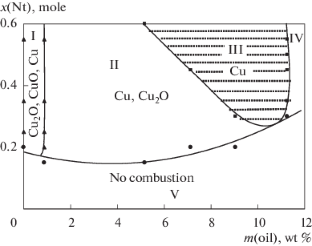 REFERENCES
1

Slade, M.E., An Econometric Model of the US Copper and Aluminum Industries: How Cost Changes Affect Substitution and Recycling, London: Routledge, 2018, chs. 3–4. https://doi.org/10.4324/9781351140362

2

Agrawal, A., Kumari, S., and Sahu, K.K., Iron and copper recovery/removal from industrial wastes: A review, Ind. Eng. Chem. Res., 2009, vol. 48, no. 13, pp. 6145–6161. https://doi.org/10.1021/ie900135u

3

Sheih, Sh.-W. and Tsai, M.-Sh., Hot water separation process for copper and insulating material recovery from electric cable waste, Waste Manage. Res., 2000, vol. 18, no. 5, pp. 478–484. https://doi.org/10.1034/j.1399-3070.2000.00150.x

4

Lebukhova, N.V. and Karpovich, N.F., Carbothermic reduction of copper, nickel, and cobalt oxides and molybdates, Inorg. Mater., 2008, vol. 44, no. 8, pp. 890–893. https://doi.org/10.1134/S0020168508080207

5

L'vov, B.V., Mechanism of carbothermal reduction of iron, cobalt, nickel, and copper oxides, Thermochim. Acta, 2000, vol. 360, no. 2, pp. 109–120. https://doi.org/10.1016/S0040-6031(00)00540-2

6

Handbook of Non-Ferrous Metal Powders: Technologies and Applications, Neikov, O.D., Naboychenko, S.S., and Dowson, G., Eds., Amsterdam: Elsevier, 2009, ch. 16.

7

Merzhanov, A.G., History and recent developments in SHS, Ceram. Int., 1995, vol. 21, no. 5, pp. 371–379. https://doi.org/10.1016/0272-8842(95)96211-7

8

Merzhanov, A.G., The chemistry of self-propagating high-temperature synthesis, J. Mater. Chem., 2004, vol. 14, pp. 1779–1786. https://doi.org/10.1039/B401358C

9

Yamukyan, M.H., Manukyan, Kh.V., and Kharatyan, S.L., Copper oxide reduction by combined reducers under the combustion mode, Chem. Eng. J., 2008, vol. 137, no. 3, pp. 636–642. https://doi.org/10.1016/j.cej.2007.05.033

10

Kharatyan, S.L., Manukyan, Kh.V., and Yamukyan, M.H., Reduction of copper oxide in combustion mode by means of C–H–O–N combined reducers, Abstr. VII Int. Symp. on SHS, Krakow, 2003, p. 60.

11

Concise Encyclopedia of Self-Propagating High-Temperature Synthesis, Borovinskaya, I.P., Gromov, A.A., Levashov, E.A., Maksimov, Y.M., Mukasyan, A.S., and Rogachev A.S., Eds., Amsterdam: Elsevier, 2017, pp. 196–197.

12

Merzhanov, A.G., Thermally coupled SHS reactions, Int. J. Self-Propag. High-Temp. Synth., 2011, vol. 20, no.1, pp. 61–63. https://doi.org/10.3103/S1061386211010109

13

Kharatyan, S.L. and Merzhanov, A.G., Coupled SHS reactions as a useful tool for synthesis of materials: An overview, Int. J. Self-Propag. High-Temp. Synth., 2012, vol. 21, no. 1, pp. 59–73. https://doi.org/10.3103/S1061386212010074

14

Kharatyan, S.L., Metal powders by SHS: Application of organic compounds as effective reducers, Abstr. X Int. Symp. on SHS, Tsakhkadzor (Armenia), 2009, pp. 62–63.

15

Mahmoudi, H.A., Abovyan, L.S., and Kharatyan, S.L., SHS processing of copper waste into copper powder, Chem. J. Armenia, 2017, vol. 70, no. 4, pp. 477–486. http://chemistry.asj-oa.am/7829/

16

Yamukyan, M.H., Manukyan, Kh.V., and Kharatyan, S.L., Obtaining nickel powder by reduction of basic nickel carbonate under the combustion mode, Chem. J. Armenia, 2008, vol. 61, no. 2, pp. 159–166. http://chemistry. asj-oa.am/783/
About this article
Cite this article
Mahmoudi, H.A., Abovyan, L.S., Aydinyan, S.V. et al. SHS Reprocessing of Copper Oxide Waste into Copper Powder. Int. J Self-Propag. High-Temp. Synth. 28, 233–238 (2019) doi:10.3103/S1061386219040095
Received:

Revised:

Accepted:

Published:

Issue Date:
Keywords:
SHS

copper oily waste

copper oxides

ammonium nitrate