Abstract
Laboratory coking test is very often used for prediction of produced coke quality. The second route for results utilisation is differentiation of products and determination of its yield. There were not carried out many tests to check if mass balance sums to one. In addition to this there were not performed test to control elements balance if there were made further ultimate analysis of products.
In order to control mass and elements balance there were carried out laboratory coking tests of several coals with ultimate analysis of coals, coke and by-products. There were found good correlations between some products and volatile matter in origin coal. It confirms that for them there is rational for its prediction from quality parameters of coal.
This is a preview of subscription content, log in to check access.
Access options
Buy single article
Instant access to the full article PDF.
US$ 39.95
Price includes VAT for USA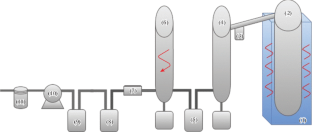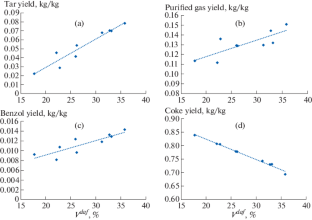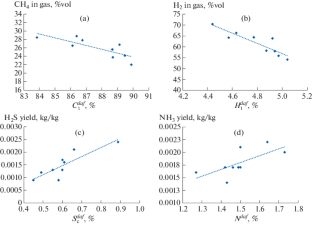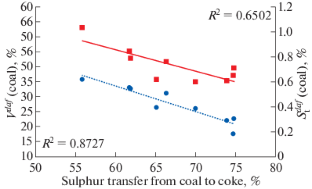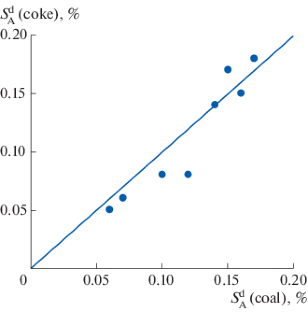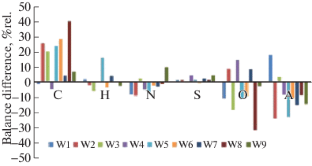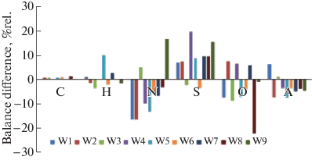 REFERENCES
1

Loison, R., Foch, P., and Boyer, A., Coke, Quality and Production, London: Butterworth-Heinemann, 1989.

2

Stanger, R., Xie, W., Wall, T., Lucas, J., and Mahoney, M., Dynamic elemental thermal analysis: A technique for continuous measurement of carbon, hydrogen, oxygen chemistry of tar species evolved during coal pyrolysis, Fuel, 2013, vol. 103, pp. 764–772.

3

Feng, S., Li, P., Liu, Z., Zhang, Y., and Li, Z., Experimental study on pyrolysis characteristic of coking coal from Ningdong coalfield, J. Energy Inst., 2017. https://doi.org/10.1016/j.joei.2016.12.001

4

Seiji, N. and Tomoyuki, N., The yield of coke oven gas from hard and semi-soft coking coals, Int. J. Coal Geol., 2016, vol. 168, pp. 179–185.

5

Stanger, R., Xie, W., Wall, T., Lucas, J., and Mahoney, M., Dynamic measurement of coal thermal properties and elemental composition of volatile matter during coal pyrolysis, J. Mater. Res. Technol., 2014, vol. 3, pp. 2–8.

6

Havelcová, M., Bičáková, O., Sýkorová, I., Weishauptová, Z., and Melegy, A., Characterization of products from pyrolysis of coal with the addition of polyethylene terephthalate, Fuel Process. Technol., 2016, vol. 154, pp. 123–131.

7

Koksownictwo, Katowice: Wyd. Śląsk, 1986.

8

Atsonios, K., Panopoulos, K.D., Bridgwater, A.V., and Kakaras, E., Biomass fast pyrolysis energy balance of a 1 kg/h test rig, Int. J. Thermodyn., 2015, vol. 18, no. 4, pp. 267–275.

9

Nomura, S. and Nakagawa, T., The yield of coke oven gas from hard and semi-soft coking coals, Int. J. Coal Geol., 2016, vol. 168, pp. 179–185.

10

Conesa, J.A., Moltó, J., Ariza, J., Ariza, M., and García-Barneto, A., Study of the thermal decomposition of petrochemical sludge in a pilot plant reactor, J. Anal. Appl. Pyrolysis, 2014, vol. 107, pp. 101–106.

11

Niksa, S., Flashchain theory for rapid coal devolatilization kinetics. 8. Modeling the release of sulfur species from various coals, Energy Fuels, 2017, vol. 31, p. 4925.

12

García-Labiano, F., Hampartsoumian, E., and Williams, A., Determination of sulfur release and its kinetics in rapid pyrolysis of coal, Fuel, 1995, vol. 74, no. 7, p. 1072.

13

Karcz, A., Koksownictwo, Part 1: Skrypty Uczelniane, Kraków: AGH, 1991, no. 1266.

14

Grebenyuk, A.F., Zbykovskii, E.I., and Zbykovskii, A.I., Methods of predicting the yield of the coking products, Koks Khim., 2004, no. 11, pp. 20–24.

15

Rubchevskii, V.N., Chernyshov, Yu.A., Ovchinnikova, S.A., Kompaniets, A.I., Drozdnik, I.D., Miroshnichenko, D.V., Golovko, M.B., and Pribavkina, E.B., Predicting the yield of coke and coking byproducts, Coke Chem., 2009, vol. 52, pp. 137–142.

16

Sobolewski, A. and Sciazko, M., Prognozowanie Jakości Koksu, Zabrze: Inst. Chem. Process. Coal, 2015.
Funding
The results presented in this paper were obtained during the research project entitled "Development and improvement of testing methods in Cokemaking Technology Laboratory," project no. IChPW no. 11.17.024 financed by the Ministry of Science and Higher Education.
About this article
Cite this article
Mertas Ph.D., B. Mass and Elements Balance of Polish and Czech Hard Coal Pyrolysis Process. Solid Fuel Chem. 53, 418–425 (2019). https://doi.org/10.3103/S0361521919070048
Received:

Revised:

Accepted:

Published:

Issue Date:
Keywords:
coal

pyrolysis

composition

process balance