Abstract
The objective of this work was to identify the diversity and abundance of predatory arthropods in three host plants over soybean and corn off-season. During the off-season harvest, from 2014 to 2018, Eustachys retusa, Andropogon bicornis and Saccharum angustifolium (Poales: Poaceae) plants were sampled in the area surrounding a soybean-corn succession system in the municipality of Cruz Alta, RS, Brazil. The number obtained for arthropods was sorted into species and number of individuals per species of host plant and clump diameter, used for statistical and SAD analysis. Over the five evaluation years, six species of predatory arthropods were identified, four coccinellids, one Carabidae and one spider (Lycosidae). The air temperature as well as the plant species and the clump diameter interfere in the population density of the sampled predatory arthropods. The analysis SAD showed prevalence for the Lycosa erythrognatha (Araneae: Lycosidae), followed by Harmonia axyridis (Coleoptera: Coccinelidae) for the host plants evaluated in the experiment. In conclusion, plants of E. retusa, A. bicornis and S. angustifolium shelter predatory arthropods in surrounding areas by soybean-corn succession system. The population density of these predatory arthropods is influenced by clump diameter of plants and air temperature during off-season.
This is a preview of subscription content, log in to check access.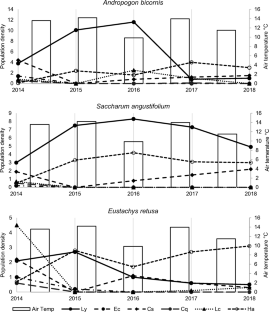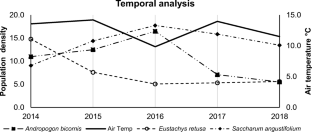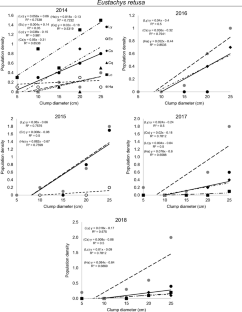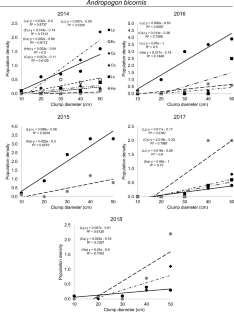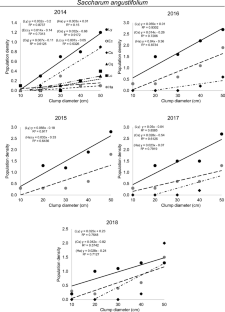 References
Altieri MA, Silva NE, Nicholls CI (2003) O papel da biodiversidade no manejo de pragas. Holos, Ribeirão Preto

Barratt BIP, Moran VC, Bigler F, Van Lenteren JC (2018) The status of biological control and recommendations for improving uptake for the future. BioControl  63:155–167. https://doi.org/10.1007/s10526-017-9831-y

Bianchi FM, Marsaro Junior AL, Grazia J, Pereira PRVS, Panizzi AR (2019) Diversity of stink bugs (Pentatomidae) associated with canola: looking for potential pests. Neotrop Entomol 48:219–224. https://doi.org/10.1007/s13744-018-0642-3

Boldrini I (2009) A flora dos Campos do Rio Grande do Sul. In: Pillar VP, Müller SC, Castilhos ZMS, Jacques AVA (eds) Campos Sulinos - conservação e uso sustentável da biodiversidade. MMA, Brasília, pp 63–77

Brasil (2018) Companhia Nacional de Abastecimento. Soja, safra 2017/2018. Brasília. DF: Conab. Disponível em: https://www.conab.gov.br/info-agro/safras. Accessed 16 Sept 2018

Bortolotto OC, de Oliveira Menezes Jr A, Thibes Hoshino A (2016) Abundância de inimigos naturais de pulgões do trigo em diferentes distâncias da borda da mata. Pesq Agropec Bras 51:187–191. https://doi.org/10.1590/S0100-204X2016000200011

Chiesa ACM, Sismeiro MNS, Pasini A, Roggia S (2016) Seed treatment for management of the green-belly stink bug in the crop succession of soybean and corn. Pesq Agropec Bras 51:301–308. https://doi.org/10.1590/S0100-204X2016000400002

Cividanes FJ, Barbosa JC (2001) Efeitos do plantio direto e da consorciação soja-milho sobre inimigos naturais e pragas. Pesq Agropec Bras 36:235–241

Demite PR, Feres RJF, Lofego AC (2015) Influence of agricultural environment on the plant mite community in forest fragments. Braz J Biol 75:396–404. https://doi.org/10.1590/1519-6984.14913

Dong Z, Xingyuan M, Shuang L, Zhiyong Z (2019) Food web structure of parasitoids in greenhouses is affected by surrounding landscape at different spatial scales. Sci Rep 9:8442. https://doi.org/10.1038/s41598-019-44857-1

Duarte ME, Navia D, Santos LR, Rideiqui PJS, Silva ES (2015) Mites associated with sugarcane crop and with native trees from adjacent Atlantic forest fragment in Brazil. Exp Appl Acarol 66:529–540. https://doi.org/10.1007/s10493-015-9922-3

Engel E, Pasini MPB, Hörz DC, Dalla Nora SL (2017) Populações de percevejos barriga-verde [Dichelops furcatus (Hemiptera: pentatomidae)] em diferentes diâmetros de plantas silvestres durante entressafra de soja e milho. Rev Cienc Agrar  60:206–209. https://doi.org/10.4322/rca.10563

Engel E, Pasini MPB, Hörz DC (2018) Densidade populacional de pentatomídeos influenciada pela estrutura morfológica de diferentes plantas no município de Cruz Alta RS. Rev Cienc Agrar 61. https://doi.org/10.22491/rca.2018.2815

Hammer Ø, Harper DAT, Ryan PD (2001) PAST: Palaeontological statistics software package for education and data analysis. Palaeontol Electron 4:1–9

Howe GA, Jander G (2008) Plant immunity to insect herbivores. Annu Rev Plant Biol 59(1):41–66

Klein JT, Redaelli LR, Barcellos A (2012) Occurrence of diapause and the role of Andropogon bicornis (Poaceae) tussocks on the seasonal abundance and mortality of Tibraca limbativentris (Hemiptera: Pentatomidae). Fla Entomol 95:813-818. https://doi.org/10.1653/024.095.0401

Koch RL, Venette RC, Hutchinson WD (2006) Invasions by Harmonia axyridis (Pallas) (Coleoptera. Coccinellidae) in the Western hemisphere: implications for South America. Neotrop Entomol 35:421–434

Kuinchtner A, Buriol GA (2016) Clima do Estado do Rio Grande do Sul segundo a classificação climática de Köppen e Thornthwaite. Disc Sci 2:171–182

Little CM, Chapman TW, Hillier NK (2019) Considerations for insect learning in integrated pest management. J Insect Sci 19(4):1–14. https://doi.org/10.1093/jisesa/iez064

Magurran AE (2004) Measuring biological diversity. Blackwell Science Ltd, Oxford

Medeiros L, Megier GA (2009) Ocorrência e desempenho de Euschistus heros (F.) (Heteroptera: Pentatomidae) em plantas hospedeiras alternativas no Rio Grande do Sul. Neotrop Entomol 38:459–463

Meiners T (2015) Chemical ecology and evolution of plant–insect interactions: a multitrophic perspective. Curr Opin Insect Sci 8:22–28. https://doi.org/10.1016/j.cois.2015.02.003

Morrison WR III, Bryant AN, Poling B, Quinn NF, Leskey TC (2017) Predation of Halyomorpha halys (Hemiptera: Pentatomidae) from web-building spiders associated with anthropogenic dwellings. J Insect Behav 30:70–85. https://doi.org/10.1007/s10905-017-9599-z

Nicholls CI, Parrella M, Altieri MA (2001) The effects of a vegetational corridor on the abundance and dispersal of insect biodiversity within a northern California organic vineyard. Landsc Ecol 16:133–146

Oliveira RAG, Rando JSS (2017) Diversidade de insetos em plantas hospedeiras próximas às áreas de cultivo de milho e algodão. Rev Agric Neotrop 4(3):35–40

Pasini MPB, Lúcio AD, Ribeiro ALP (2015) Populations of phytophagous bugs influenced by crop background and wild plants. Rev Cienc Agrar 58:410–417

Pasini MPB, Lúcio ADC, Cargnelutti Filho A, Ribeiro ALP, Zamberlan JF, Lopes SJ (2018) Population density of Tibraca limbativentris on flood irrigated rice and alternative host plants. Pesq Agropec Bras 53:265–278. https://doi.org/10.1590/S0100-204X2018000300001

Price PW, Bouton CE, Gross P, McPheron BA, Thompson JN, Weis AE (1980) Interactions among three trophic levels: influence of plants on interactions between insect herbivores and natural enemies. Annu Rev Ecol Syst 11:41–65

Ragsdale DW, Voegtlin DJ, O'Neil RJ (2004) Soybean aphid biology in North America. Ann Entomol Soc Am 97:204–208

Rodrigues WC (2004) Fatores que influenciam no desenvolvimento dos insetos. Info Insetos 1:14–17

Roza-Gomes MF, Salvadori JR, Schons J (2008) Danos de Rophalosiphum padi (L.) (Hemiptera: Aphididae) no trigo em função da duração e da densidade da infestação. Neotrop Entomol 37(5):577–581

Santos MV, Ferreira EA, Fonseca DM, Ferreira LR, Santos LDT, Silva DV (2015) Levantamento fitossociológico e produção de forragem em pasto de capim-gordura. Rev Ceres 62:561–567

Smaniotto LF, Panizzi AR (2015) Interactions of selected species of stink bugs (Hemiptera: Heteroptera: Pentatomidae) from leguminous crops with plants in the Neotropics. Fla Entomol 98:7–17. https://doi.org/10.1653/024.098.0103

Souza ALT (2011) Influência da estrutura do habitat na abundância e diversidade de aranhas. In: Gonzaga MO, Santos AJ, Japyassú HF (eds) Ecologia e comportamento de aranhas. Editora Interciência, Rio de Janeiro, pp 26–43

Triplehorn CA, Johnson NF (2011) Estudo dos insetos: tradução da 7ª edição de Borror and Delong's introduction to the study of insects. Cengage Learning, São Paulo

Wandscheer ACD, Rizzardi MA (2013) Interference of soybean and corn with Chloris distichophylla. Ciên Agrotec 37:306–312
Ethics declarations
Conflict of interest
The authors declare that they have no conflict of interest.
Additional information
Publisher's note
Springer Nature remains neutral with regard to jurisdictional claims in published maps and institutional affiliations.
About this article
Cite this article
Engel, E., Pasini, M.P.B., Hörz, D.C. et al. Predatory arthropods on alternative host plants in area surrounding by soybean-corn succession system. Biologia (2020). https://doi.org/10.2478/s11756-019-00410-z
Received:

Accepted:

Published:
Keywords
Biological control

Integrated Pest management

Population flow

Population dynamics