Abstract
Alizarin Red S marking and detection was tested on asp (Leuciscus aspius Linnaeus, 1758) in an experimental pool followed by a mark-recapture experiment in the field. Placing the asp in a 0.15 g L−1 solution for one hour produced marks that were detectable for at least one year. In order to detect the fluorescent marks, novel equipment was developed comprising a battery-powered laser source (<100 mW laser pointer, wavelength 532 nm) and protective filtration goggles (filtering wavelength 190–540 nm). The detection equipment and procedure proved satisfactory for marking large numbers of fish and for detection in the field. It allowed repeat observations of the same fish and examination of fin rays (eventually fin clips), which are usually too large to examine under a standard microscope. This method is highly recommended for future studies.
This is a preview of subscription content, log in to check access.
Access options
Buy single article
Instant access to the full article PDF.
US$ 39.95
Price includes VAT for USA
Subscribe to journal
Immediate online access to all issues from 2019. Subscription will auto renew annually.
US$ 199
This is the net price. Taxes to be calculated in checkout.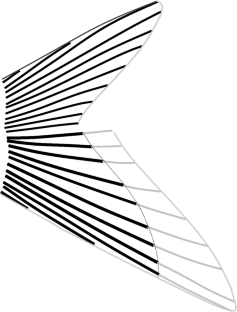 References
Bangs BL, Falcy MR, Scheerer PD, Clements S (2013) Comparison of three methods for marking a small floodplain minnow. Anim Biotechnol 1:18. https://doi.org/10.1186/2050-3385-1-18

Bashey F (2004) A comparison of the suitability of alizarin red s and calcein for inducing a nonlethally detectable mark in juvenile guppies. Trans Am Fish Soc 133:1516–1523. https://doi.org/10.1577/T03-073.1

Bien HS, Stawitz J, Wunderlich K (2000) Anthraquinone dyes and intermediates. In: Gogin L, Zhizhina E (eds) Ullmann's encyclopedia of industrial chemistry. Wiley-VCH, Weinheim. https://doi.org/10.1002/14356007.a02_355

Blabolil P, Ricard D, Peterka J, Říha M, Jůza T, Vašek M, Prchalová M, Čech M, Muška M, Seďa J, Mrkvička T, Boukal DS, Kubečka J (2016) Predicting asp and pikeperch recruitment in a riverine reservoir. Fish Res 173:45–52. https://doi.org/10.1016/j.fishres.2015.08.003

Blabolil P, Frouzová J, Matěna J, Peterka J (2018) Immersion mass marking of pikeperch (Sander lucioperca) larvae in oxytetracycline hydrochloride and its detection using fluorescence microscopy. Biologia 73:531–535. https://doi.org/10.2478/s11756-018-0057-y

Eckmann R (2003) Alizarin marking of whitefish, Coregonus lavaretus otoliths during egg incubation. Fish Manag Ecol 10:233–239. https://doi.org/10.1046/j.1365-2400.2003.00345.x

Fielder DG (2002) Methodology for immersion marking walleye fry and fingerlings in oxytetracycline hydrochloride and its detection with fluorescence microscopy. Fish Tech Rep 2002-01 Michigan Dept of Natural Resources, Fisheries Division

Ibáñez AL, Rodríguez-Canto A, Cortés-Martínez J, García-Calderón JL (2013) Evaluation of marking efficiency of different alizarin red S concentrations on body fish structures in Oreochromis niloticus (Perciformes: Cichlidae) juveniles. Rev Biol Trop 61:193–201

Leips J, Baril CT, Rood FH, Reznick DN, Bashey F (2001) The suitability of calcein to mark poeciliid fish and a new method of detection. Trans Am Fish Soc 130:501–207. https://doi.org/10.1577/1548-8659(2001)130<0501:TSOCTM>2.0.CO;2

Liu Q, Zhanga XM, Zhanga PD, Nwafili SA (2009) The use of alizarin red S and alizarin complexone for immersion marking Japanese flounder Paralichthys olivaceus (T.). Fish Res 98:67–74. https://doi.org/10.1016/j.fishres.2009.03.014

Lü HJ, Fu M, Xi D, Yao WZ, Su SQ, Wu ZL (2015a) Experimental evaluation of using calcein and alizarin red S for immersion marking of bighead carp Aristichthys nobilis (Richardson, 1845) to assess growth and identification of marks in otoliths, scales and fin rays. J Appl Ichthyol 31:665–674. https://doi.org/10.1111/jai.12778

Lü HJ, Chen H, Fu M, Peng X, Xi D, Zhang Z (2015b) Experimental evaluation of calcein and alizarin red S for immersion marking grass carp Ctenopharyngodon idellus. Fish Sci 81:653–662. https://doi.org/10.1007/s12562-015-0884-5

Lü HJ, Fu M, Dai S, Xi D, Zhang ZX (2016) Experimental evaluation of calcein and alizarin red S for immersion marking of silver carp Hypophthalmichthys molitrix (Valenciennes, 1844). J Appl Ichthyol 32:83–91. https://doi.org/10.1111/jai.12981

Martyniak A, Stańczak K, Kozłowski J, Mierzejewska K, Wziątek B, Lejk AM, Hliwa P (2013) Alizarin mark retention in the otoliths of whitefish (Coregonus lavaretus f. lavaretus L.) from Lake Łebsko, Poland. Advanc Limnol 64:83–89. https://doi.org/10.1127/1612-166X/2013/0064-0009

Mortensen A, Hansen OJ, Puvanendran V (2016) Evaluation of three external marking methods of farmed Atlantic salmon for the future use of differentiating it from wild Atlantic salmon. J Aquacult Res Develop 7:1–7. https://doi.org/10.4172/2155-9546.100051

Nielsen LA (1992) Methods of marking fish and shellfish, Special publication. American Fisheries Society. Bethesda, Maryland

Reed JR, Staples DF (2017) Evaluation of two different stocking rates of small walleye fingerlings in Minnesota Lakes. North Am J Fish Manag 37:1243–1248. https://doi.org/10.1080/02755947.2017.1365784

Rutherford ES, Iacono JD, Callaham G (2002) Evaluation of marking procedures to estimate natural reproduction of Chinook salmon in Lake Michigan. Great Lakes Fishery Cimmission, Project Completion Report

Skalski JR, Buchanan RA, Griswold J (2009) Review of marking methods and release-recapture designs for estimating the survival of very small fish: examples from the assessment of salmonid fry survival. Rev Fish Sci 17:391–401. https://doi.org/10.1080/10641260902752199

Skov C, Gronkjaer P, Nielse C (2001) Marking pike fry otoliths with alizarin complexone and strontium: an evaluation of methods. J Fish Biol 59:745–750. https://doi.org/10.1111/j.1095-8649.2001.tb02377.x

Skov C, Koed A, Baastrup-Spohr L, Arlinghaus R (2011) Dispersal, growth, and diet of stocked and wild northern pike fry in a shallow natural lake, with implications for the management of stocking programs. North Am J Fish Manag 31:1177–1186. https://doi.org/10.1080/02755947.2011.646452

Stanczak K, Krejszeff S, Debowska M, Mierzejewska K, Wozniak M, Hliwa P (2015) Mass marking of Leuciscus idus larvae using Artemia salina as a vector of fluorescent dyes. J Fish Biol 87:799–804. https://doi.org/10.1111/jfb.12753

Ward DL (2003) Effects of marking techniques and handling on swimming ability of bonytail chub. J Ariz Nev Acad Sci 36(1):34–36

Zorn TG (2015) Contribution of hatchery-reared walleyes to populations in northern Green Bay, Lake Michigan. N Am J Aquacult 77:409–422. https://doi.org/10.1080/15222055.2015.1044056
Acknowledgments
This study was supported through project QJ1620240 "Application of "top-down" biomanipulation to reduce eutrophication caused by agriculture in reservoirs". Thanks are given to Dr. Kevin Roche for language correction.
Ethics declarations
Ethical approval
All applicable international, national and institutional guidelines for the care and use of animals were followed.
Conflict of interest
The authors declare that no competing interests exist.
Additional information
Publisher's note
Springer Nature remains neutral with regard to jurisdictional claims in published maps and institutional affiliations.
About this article
Cite this article
Halačka, K., Mareš, J., Vetešník, L. et al. Application of the alizarin red S mass marking technique and its detection in stocked asp (Leuciscus aspius). Biologia 74, 1359–1362 (2019). https://doi.org/10.2478/s11756-019-00247-6
Received:

Accepted:

Published:

Issue Date:
Keywords
Aspius aspius

Fin rays

Fluorescence

Green laser

Non-invasive detection