Abstract
Purpose
The aim of this study was to evaluate the in vitro and in vivo efficacy of propolis against Ligictaluridus floridanus on Ictalurus punctatus gills.
Methods
This study used an ethanol extract of propolis at a concentration of 300 mg mL−1, with a total polyphenol concentration of 2.77 mg mL−1 as determined by chromatography. In vitro trial used propolis concentrations at 5, 30 as well as 60 mg L–1 and a 70% ethanol control group to treat naturally infected catfish. The in vivo experiment was 16 weeks in duration, consisting of seventy-two fish infected by cohabitation and subjected to one-hour baths every 72 h during the trial.
Results
In vitro studies showed that parasites exposed to 60 mg L−1 of propolis displayed a significant reduction (p < 0.05) in their survival time. In vivo studies confirmed the reduction of intensity and abundance of Ligictaluridus floridanus on the gills of channel catfish.
Conclusion
This study has provided the first challenge of propolis against L. floridanus on I. punctatus gills and shows that propolis has an anthelmintic effect.
Access options
Buy single article
Instant access to the full article PDF.
US$ 39.95
Tax calculation will be finalised during checkout.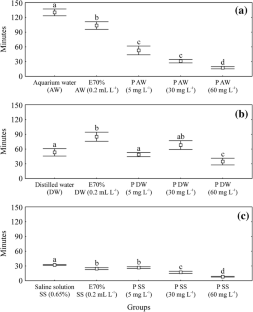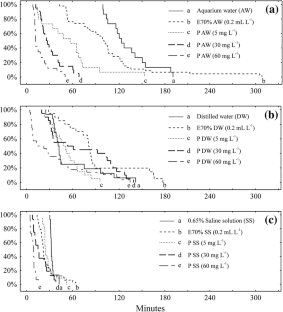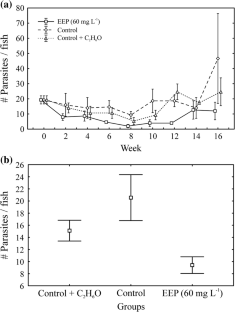 References
1.

Aga H, Shibuya T, Sugimoto T, Kurimoto M, Nakajima S (1994) Isolation and identification of antimicrobial compounds in Brazilian propolis. Biosci Biotechnol Biochem 58:945–946. https://doi.org/10.1271/bbb.58.945

2.

Alderman DJ, Michel C (1992) Chemotherapy in aquaculture: from theory to reality: symposium, Paris, 12–15 March 1991. Office International Des Epizooties, Paris

3.

Bankova VS, de Castro SL, Marcucci MC (2000) Propolis: recent advances in chemistry and plant origin. Apidologie 31:3–15. https://doi.org/10.1051/apido:2000102

4.

Benavides-González F, Gómez-Flores RA, Sánchez-Martínez JG, Rábago-Castro JL, Montelongo-Alfaro IO (2014) In vitro and in vivo antiparasitic efficacy of praziquantel against monogenean Ligictaluridus floridanus in channel catfish (Ictalurus punctatus). Thai J Vet Med 44:533–539

5.

Bonvehí JS, Coll FV (1994) The composition, active components and bacteriostatic activity of propolis in dietetics. J Am Oil Chem Soc 71:529–532. https://doi.org/10.1007/BF02540666

6.

Bush AO, Lafferty KD, Lotz JM, Shostak AW (1997) Parasitology meets ecology on its own terms: Margolis et al. revisited. J Parasitol. https://doi.org/10.7939/R3J38KV04

7.

Campbell RE, Lilley JH, Panyawachira V, Kanchanakhan S (2001) In vitro screening of novel treatments for Aphanomyces invadans. Aquac Res 32:223–233. https://doi.org/10.1046/j.1365-2109.2001.00551.x

8.

Del Rio-Zaragoza OB, Fajer-Ávila EJ, Almazán-Rueda P (2011) Influence of β-glucan on innate immunity and resistance of Lutjanus guttatus to an experimental infection of dactylogyrid monogeneans. Parasite Immunol 33:483–494. https://doi.org/10.1111/j.1365-3024.2011.01309.x

9.

Dotta G, Brum A, Jeronimo GT, Maraschin M, Martins ML (2015) Effect of dietary supplementation with propolis and Aloe barbadensis extracts on hematological parameters and parasitism in Nile tilapia. Rev Bras Parasitol Vet 24:66–71. https://doi.org/10.1590/S1984-29612015004

10.

Farnesi AP, Aquino-Ferreira R, De Jong D, Bastos JK, Soares AEE (2009) Effects of stingless bee and honey bee propolis on four species of bacteria. Genet Mol Res 8:635–640. https://www.ncbi.nlm.nih.gov/pubmed/19554760

11.

Freitas SF, Shinohara L, Sforcin JM, Guimarães S (2006) In vitro effects of propolis on Giardia duodenalis trophozoites. Phytomedicine 13:170–175. https://doi.org/10.1016/j.phymed.2004.07.008

12.

Hegazi AG, El Hady FKA, Shalaby HA (2007) An in vitro effect of propolis on adult worms of Fasciola gigantica. Vet Parasitol 144:279–286. https://doi.org/10.1016/j.vetpar.2006.10.006

13.

Hirazawa N, Ohtaka T, Hata K (2000) Challenge trials on the anthelmintic effect of drugs and natural agents against the monogenean Heterobothrium okamotoi in the tiger puffer Takifugu rubripes. Aquaculture 188:1–13. https://doi.org/10.1016/S0044-8486(00)00334-3

14.

Hoffman GL (1985) Worm parasites (helminths and leeches). In: Plumb JA (ed) Principal diseases of farm raised catfish. Southern cooperative series 225, Auburn, Alabama, pp 35–49

15.

Ji J, Lu C, Kang Y, Wang GX, Chen P (2012) Screening of 42 medicinal plants for in vivo anthelmintic activity against Dactylogyrus intermedius (Monogenea) in goldfish (Carassius auratus). Parasitol Res 111:97–104. https://doi.org/10.1007/s00436-011-2805-6

16.

Krol W, Scheller S, Shani J, Pietsz G, Czuba Z (1993) Synergistic effect of ethanolic extract of propolis and antibiotics on the growth of Staphylococcus aureus. Arzneimittelforschung 43:607–609. https://www.ncbi.nlm.nih.gov/pubmed/8329008

17.

Li F, He YM, Awale S, Kadota S, Tezuka Y (2011) Two new cytotoxic phenylallyl flavanones from Mexican propolis. Chem Pharm Bull 59:1194–1196. https://doi.org/10.1248/cpb.59.1194

18.

Lotti C, Fernandez MC, Piccinelli AL, Cuesta-Rubio O, Hernández IM, Rastrelli L (2010) Chemical constituents of red Mexican propolis. J Agric Food Chem 58:2209–2213. https://www.ncbi.nlm.nih.gov/pubmed/20121106

19.

Marcucci MC (1995) Propolis: chemical composition, biological properties and therapeutic activity. Apidologie 26:83–99. https://doi.org/10.1051/apido:19950202

20.

Mioso R, Marantea FJT, de Lagunab IHB, Bessonartc M (2014) Química de productos naturales aplicada a la acuicultura: Una revisión interdisciplinar. Quim Nova 37:513–520. https://doi.org/10.5935/0100-4042.20140084

21.

Mirzoeva OK, Grishanin RN, Calder PC (1997) Antimicrobial action of propolis and some of its components: the effects on growth, membrane potential and motility of bacteria. Microbiol Res 152:239–246. https://www.ncbi.nlm.nih.gov/pubmed/9352659

22.

Park YK, Ikegaki M, Abreu JDS, Alcici NMF (1998) Estudo da preparação dos extratos de própolis e suas aplicações. Ciênc Tecnol Aliment 18:313–318. https://doi.org/10.1590/S0101-20611998000300011

23.

Rábago-Castro JL, Sánchez-Martínez JG, Loredo-Osti J, Gomez-Flores R, Tamez-Guerra P, Ramírez-Pfeiffer C (2011) Temporal and spatial variations of ectoparasites on cage-reared channel catfish, Ictalurus punctatus in Tamaulipas, México. J World Aquacult Soc 42:406–411. https://doi.org/10.1111/j.1749-7345.2011.00480.x

24.

Rosas-Valdez R, de León GPP (2005) Biogeografía histórica de helmintos parásitos de ictalúridos en América del Norte: Una hipótesis preliminar utilizando el método panbiogeográfico. In: Llorente J, Morrone JJ (eds) Regionalización biogeográfica en Iberoamérica y tópicos afines: Primeras Jornadas Biogeográficas de la Red Iberoamericana de Biogeografía y Entomología Sistemática (RIBES XII. I-CYTED). Las Prensas de Ciencias, UNAM, Mexico, pp 217–226

25.

Ruiz-Uribe AJ, Martínez-Ávila GCG, Marroquín-Cardona AG (2016) Cuantificación de proteínas y polifenoles totales de propóleo comercial mexicano. Rev Cienc Pharm Biomed 1:8. https://rcfb.uanl.mx/index.php/rcfb/article/view/43

26.

Salem MM, Capers J, Rito S, Werbovetz KA (2011) Antiparasitic activity of C-Geranyl flavonoids from Mimulus bigelovii. Phytother Res 25:1246–1249. https://www.ncbi.nlm.nih.gov/pubmed/21796699

27.

Scazzocchio F, DAuria FD, Alessandrini D, Pantanella F (2006) Multifactorial aspects of antimicrobial activity of propolis. Microbiol Res 161:327–333. https://www.ncbi.nlm.nih.gov/pubmed/16427259

28.

Schelkle B, Doetjes R, Cable J (2011) The salt myth revealed: Treatment of gyrodactylid infections on ornamental guppies, Poecilia reticulata. Aquaculture 311:74–79. https://doi.org/10.1016/j.aquaculture.2010.11.036

29.

Silveira-Coffigny R (2006) Los productos fito-farmacéuticos en la acuicultura—the phytofarmaceuticals products in aquaculture. REDVET 7:1–10. https://www.redalyc.org/articulo.oa?id=63612750012

30.

Stratev D, Dinkov D, Vashin I (2012) Antibacterial effect of extracts from Bulgarian's "poplar" propolis and Smoke tree (Cotinus coggigria Scop.) against Aeromonas hydrophila (ATCC 7965). Rev Med Vet 163:443–447. https://www.revmedvet.com/2012/RMV163_443_447.pdf

31.

Tu X, Ling F, Huang A, Zhang Q, Wang G (2013) Anthelmintic efficacy of Santalum album (Santalaceae) against monogenean infections in goldfish. Parasitol Res 112:2839–2845. https://doi.org/10.1007/s00436-013-3455-7

32.

Tukmechi A, Ownagh A, Mohebbat A (2010) In vitro antibacterial activities of ethanol extract of Iranian propolis (EEIP) against fish pathogenic bacteria (Aeromonas hydrophila, Yersinia ruckeri and Streptococcus iniae). Braz J Microbiol 41:1086–1092. https://doi.org/10.1590/S1517-838220100004000030

33.

Wu ZF, Zhu B, Wang Y, Lu C, Wang GX (2011) In vivo evaluation of anthelmintic potential of medicinal plant extracts against Dactylogyrus intermedius (Monogenea) in goldfish (Carassius auratus). Parasitol Res 108:1557–1563. https://doi.org/10.1007/s00436-010-2211-5
Acknowledgements
Thanks are extended to the National Council of Science and Technology of Mexico (CONACYT) for the scholarship to J. A. de la Cruz-Cervantes.
Ethics declarations
Conflict of interest
The authors declare that they have no conflict of interest.
Ethical approval
All applicable international, national, and/or institutional guidelines for the care and use of animals were followed by the authors.
Additional information
Publisher's Note
Springer Nature remains neutral with regard to jurisdictional claims in published maps and institutional affiliations.
About this article
Cite this article
de la Cruz-Cervantes, J.A., Sánchez-Martínez, J.G., Ruíz-Uribe, A.J. et al. Effect of Propolis, a Honeybee Product, Against a Parasite (Ligictaluridus floridanus) from Catfish (Ictalurus punctatus) Gills. Acta Parasit. 65, 804–809 (2020). https://doi.org/10.2478/s11686-020-00218-x
Received:

Accepted:

Published:

Issue Date:
Keywords
Propolis

Anthelmintic

Catfish

Ectoparasite

Monogenean

Ligictaluridus floridanus