Abstract
Purpose
The aim was to characterize the infection by Trichostrongylus spp. in patients from Chile using a combination of molecular detection techniques and phylogenetic analysis relating the findings to clinical and epidemiological reports of the patients
Methods
Strongylid eggs were detected in seven patients by coproparasitological techniques. From each sample a fragment of the ITS-2 ribosomal gene was amplified by PCR, sequenced and analyzed by the Neighbor-Joining method.
Results
All the sequences and phylogenetic clusters corresponded to T. colubriformis. Two samples presented a single nucleotide polymorphism showing two possible haplotypes. Six patients presented gastrointestinal symptoms. All of them lived on farms and used sheep manure as fertilizer.
Conclusion
T. colubriformis was the strongylid involved in the infections of these Chilean patients associated with the presence of livestock and agricultural practices that favor infection by this type of nematode.
Access options
Buy single article
Instant access to the full article PDF.
US$ 39.95
Tax calculation will be finalised during checkout.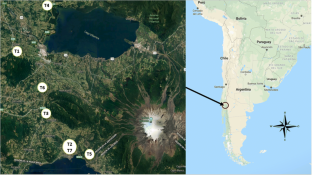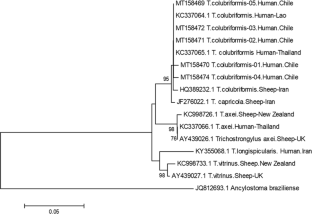 References
1.

Manfredi MT (2006) Biology of gastrointestinal nematodes of ruminants. Parassitologia 48:397–401

2.

Zajac AM (2006) Gastrointestinal nematodes of small ruminants: life cycle, anthelmintics, and diagnosis. Vet Clin North Am Food Anim Pract 22:529–541

3.

Ghadirian E, Arfaa A (1973) First report of human infection with Haemonchus contortus, Ostertagia ostertagi, and Marshallagia marshalli (Family Trichostrongylidae) in Iran. J Parasitol 59:1144–1145

4.

Ashrafi K, Sharifdini M, Heidari Z, Rahmati B, Kia E (2020) Zoonotic transmission of Teladorsagia circumcincta and Trichostrongylus species in Guilan province, northern Iran: molecular and morphological characterizations. BMC Infect Dis 20:28

5.

Lattès S, Ferté H, Delaunay P, Depaquit J, Vassallo M, Vittier M, Kokcha S, Coulibaly E, Marty P (2011) Trichostrongylus colubriformis nematode infections in humans, France. Emerg Infect Dis 17:1301–1302

6.

Sato M, Yoonuan T, Sanguankiat S, Nuamtanong S, Pongvongsa T, Phimmayoi I, Phanhanan V, Boupha B, Moji K, Waikagul J (2011) Human Trichostrongylus colubriformis infection in a rural village in Laos. Am J Trop Med Hyg 84:52–54

7.

Phosuk I, Intapan P, Sanpool O, Janwan P, Thanchomnang T, Sawanyawisuth K, Morakote N, Maleewong W (2013) Molecular evidence of Trichostrongylus colubriformis and Trichostrongylus axei infections in humans from Thailand and Lao PDR. Am J Trop Med Hyg 89:376–379

8.

Souza R, Souza J, Menezes J, Alcântara L, Matos-Soares N, Teixeira M (2013) Human infection by Trichostrongylus spp. in residents of urban areas of Salvador city, Bahia. Brazil Biomédica 33:439–445

9.

Watthanakulpanich D, Pongvongsa T, Sanguankiat S, Nuamtanong S, Maipanich W, Yoonuan T, Phuphisut O, Boupha B, Moji K, Sato M, Waikagul J (2013) Prevalence and clinical aspects of human Trichostrongylus colubriformis infection in Lao PDR. Acta Trop 126:37–42

10.

Gholami S, Babamahmoodi F, Abedian R, Sharif M, Shahbazi A, Pagheh A, Fakhar M (2015) Trichostrongylus colubriformis: possible most common cause of human infection in Mazandaran Province, North of Iran. Iran J Parasitol 10:110–115

11.

Sharifdini M, Derakhshani S, Alizadeh S, Ghanbarzadeh L, Mirjalali H, Mobedi I, Saraei M (2017) Molecular identification and phylogenetic analysis of human Trichostrongylus species from an endemic area of Iran. Acta Trop 176:293–299

12.

Barker I (1975) Intestinal pathology associated with Trichostrongylus colubriformis infection in sheep: histology. Parasitology 7:165–171

13.

Gasser R, Chilton N, Hoste H, Stevenson L (1994) Species identification of trichostrongyle nematodes by PCR-RFLP. Int J Parasitol 24:291–293

14.

Gasser R, Monti J (1997) Identification of parasitic nematodes by PCR-SSCP of ITS-2 rDNA. Mol Cell Probes 11:201–209

15.

Mizania A, Gilld P, Daryania A, Sarvia S, Amoueia A, Katrimie A, Soleymanib E, Mirshafieef S, Gholami S, Hosseinia S, Gholami S, Rahimig M, Hashemi-Sotehh M, Sharif M (2017) A multiplex restriction enzyme-PCR for unequivocal identification and differentiation of Trichostrongylus species in human samples. Acta Trop 173:180–184

16.

Torres P, Figueroa L, Navarrete N (1972) Trichostrongylosis en la provincia de Valdivia, Chile. Bol Chil Parasitol 27:52–55

17.

Hidalgo A, Melo A, Romero F, Hidalgo V, Villanueva J, Fonseca-Salamanca F (2018) DNA extraction in Echinococcus granulosus and Taenia spp. eggs in dogs stool samples applying thermal shock. Exp Parasitol 186:10–16

18.

Sambrook J, Fritsch E, Maniatis T (1989) Molecular Cloning. Book 3. Appendix B: Preparation of reagents and buffers used in molecular cloning. 2da ed. Cold Spring Harbor Laboratory.

19.

Chilton N (2004) The use of nuclear ribosomal DNA markers for the identification of bursate nematodes (order Strongylida) and for the diagnosis of infections. Anim Health Res Rev 5:173–187

20.

Ashrafi K, Tahbaz A, Sharifdini M, Mas-Coma S (2015) Familial Trichostrongylus infection misdiagnosed as acute fascioliasis. Emerg Infect Dis 21:1869–1870

21.

Ghanbarzadeh L, Saraei M, Kia E, Amini F, Sharifdini M (2019) Clinical and haematological characteristics of human trichostrongyliasis. J Helminthol 93:149–153

22.

Wall E, Bhatnagar N, Watson J, Doherty T (2011) An unusual case of hypereosinophilia and abdominal pain: an outbreak of Trichostrongylus imported from New Zealand. J Travel Med 18:59–60

23.

Strauch D (1991) Survival of pathogenic micro-organisms and parasites in excreta, manure and sewage sludge. Sci Tech Rev 10:813–846

24.

Bosco A, Rinaldi A, Maurelli M, Musella V, Coles G, Cringoli G (2014) The comparison of FLOTAC, FECPAK and McMaster techniques for nematode egg counts in cattle. Acta Parasitol 59:625–628

25.

Charitha V, Rayulu V, Kondaiah P, Srilatha Ch (2013) Comparative evaluation of flotation techniques for the detection of soil borne parasites. J Parasit Dis 37:260–263

26.

Savioli L, Albonico M (2004) Focus: Soil-transmitted helminthiasis. Nat Rev Microbiol 2:618–619
Acknowledgements
The authors thank Dr. Raúl Sánchez Gutiérrez (from Center of Translational Medicine Scientific and Technological Nucleus (CEMT-BIOREN), Universidad de La Frontera. Temuco, Chile) for the support granted to carry out this research
Funding
This study was supported by DIUFRO (Grant number: DI 160045) from Universidad de La Frontera, Temuco, Chile.
Ethics declarations
Conflict of Interest
The authors declare that they have no conflict of interest.
Ethical Approval
Approval was obtained from the ethics committee of the Universidad de La Frontera. The procedures used in this study adhere to the tenets of the Declaration of Helsinki.
Additional information
Publisher's Note
Springer Nature remains neutral with regard to jurisdictional claims in published maps and institutional affiliations.
About this article
Cite this article
Hidalgo, A., Gacitúa, P., Melo, A. et al. First Molecular Characterization of Trichostrongylus colubriformis Infection in Rural Patients from Chile. Acta Parasit. 65, 790–795 (2020). https://doi.org/10.2478/s11686-020-00206-1
Received:

Accepted:

Published:

Issue Date:
Keywords
Trichostrongylus colubriformis

PCR

Strongylid

Livestock

Manure