Abstract
Purpose
In the present work, a group of nine medicinal plants (Sonchus oleraceus, Echinops spinosissimus, Trichodesma africana, Pergularia tomentosa, Teucrium oliverianum, Blepharis ciliaris, Citrllus colocynthis, Cleome amblyocarpa and Aerva javanica) from eight different families were investigated for their in vitro anti-leishmanial activity against the promastigote and amastigote stages of Leishmania major. L. major is the causative agent of cutaneous leishmaniasis (CL) which is one of the major health problems in Saudi Arabia and neighboring countries such as Iraq and Iran. However, the commonly available commercial therapeutics still come with multiple unwanted side effects in addition to parasite resistance, so medicinal plants have attracted attention due to their affordability and beneficial effects.
Methods
The selected plants were collected from Al Qassim region in the middle of Saudi Arabia, and then extracts were prepared with methanol using overnight soaking for the whole plants. RPMI 1640 was used to culture L. major to obtain promastigotes and intramacrophage amastigotes, which were used later for evaluation of extract activity in vitro via spectrophotometric and microscopic techniques. The MTT assay was used for cytotoxic evaluation of plant extracts against macrophage cells. Data were expressed in mean ± SD. Linear regression was used for IC50 and CC50 calculation. T test was used for significant differences at P ≤ 0.05.
Results
All the plants revealed anti-leishmanial activity against the L. major amastigote stage with IC50 values less than 91 µg/mL. The three most potent were T. oliverianum, P. tomentosa and C. amblyocarpa with IC50 values of 7.8, 13.7 and 21.5 µg/mL, respectively. The L. major promastigote stage was more tolerant, so only T. oliverianum extract showed an IC50 less than 30 (26.6 µg/mL). P. tomentosa is the most toxic plant with CC50 3.1 µg/mL followed by T. africana CC50 9.5 µg/mL, the other plants possess CC50 over 40 µg/mL. The best SI values were obtained from the C. amblyocarpa and T. oliverianum extracts against the L. major amastigote stages with 5.7 and 5.3, respectively.
Conclusion
We can conclude that T. oliverianum, P. tomentosa and C. amblyocarpa are the best anti-leishmanial plants, so further phytochemical studies for isolation of active ingredients are highly recommended.
Access options
Buy single article
Instant access to the full article PDF.
US$ 39.95
Tax calculation will be finalised during checkout.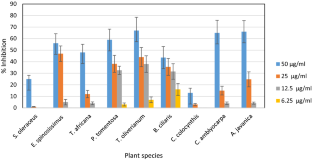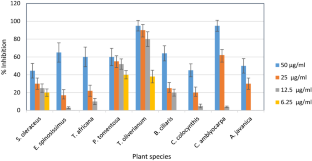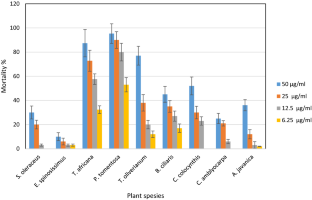 References
1.

Mondragon-Shem K, Al-Salem WS, Kelly-Hope L, Abdeladhim M, Al-Zahrani MH, Valenzuela JG, Acosta-Serrano A (2015) Severity of old world cutaneous leishmaniasis is influenced by previous exposure to sandfly bites in Saudi Arabia. PLoS Neglect Trop Dis 9(2):e0003449. https://doi.org/10.1371/journal.pntd.0003449

2.

Al-Tawfiq JA, AbuKhamsin A (2004) Cutaneous leishmaniasis: a 46-year study of the epidemiology and clinical features in Saudi Arabia (1956–2002). Int J Infect Dis 8:244–250. https://doi.org/10.1089/vbz.2017.2119

3.

El-Beshbishy HA, Al-Ali KH, El-Badry AA (2013) Molecular characterization of cutaneous leishmaniasis in Al-Madinah Al-Munawarah province, western Saudi Arabia. Int J Infec Dis 17(5):e334–338. https://doi.org/10.1016/j.ijid.2012.11.015

4.

Peters W, Al-Zahrani MA (1987) The leishmaniasis-a public health problem in Saudi Arabia. Saudi Med J 8(4):333–343

5.

Jumba BN, Anjili CO, Makwali J, Ingonga J, Nyamao R, Marango S, Choge JK, Khayeka-Wandabwa C (2015) Evaluation of leishmanicidal activity and cytotoxicity of Ricinus communis and Azadirachta indica extracts from western Kenya: in vitro and in vivo assays. BMC Res Notes 8:650. https://doi.org/10.1186/s13104-015-1605-y

6.

Desjeux P (2004) Leishmaniasis: current situation and new perspectives. Comp Immunol Microbial Infect Dis 27(5):305–318. https://doi.org/10.1016/j.cimid.2004.03.004

7.

Sundar S, More DK, Singh MK, Singh VP, Sharma S, Makharia A, Kumar PC, Murray HW (2000) Failure of pentavalent antimony in visceral leishmaniasis in India: report from the center of the Indian epidemic. Clin Infect Dis 31(4):1104–1107. https://doi.org/10.1086/318121

8.

Hepburn NC (2003) Cutaneous leishmaniasis: an overview. J Postgrad Med 49(1):50. https://doi.org/10.4103/0022-3859.928

9.

Polonio T, Efferth T (2008) Leishmaniasis: drug resistance and natural products. Int J Mol Med 22(3):277–286. https://doi.org/10.3892/ijmm_00000020

10.

Chan-Bacab MJ, Balanza E, Deharo E, Muñoz V, Garcı́a RD, Peña-Rodrı́guez LM (2003) Variation of leishmanicidal activity in four populations of Urechites andrieuxii. J Ethnopharmacol 86(2–3):243–247. https://doi.org/10.1016/S0378-8741(03)00011-4

11.

Abdel-Sattar E, Maes L, Salama MM (2010) In vitro activities of plant extracts from Saudi Arabia against malaria, leishmaniasis, sleeping sickness and Chagas disease. Phytotherapy Res 24(9):1322–1328. https://doi.org/10.1002/ptr.3108

12.

Al Nasr I, Jentzsch J, Winter I, Schobert R, Ersfeld K, Koko W, Mujawah A, Khan T, Biersack B (2019) Antiparasitic activities of new lawsone Mannich bases. Arch Pharm Chem Life Sci 352:1900128. https://doi.org/10.1002/ardp.201900128

13.

Ali NA, Al Sokari SS, Gushash A, Anwar S, Al-Karani K, Al-Khulaidi A (2017) Ethnopharmacological survey of medicinal plants in Albaha region. Saudi Arabia Pharmacog Res 9(4):401

14.

Al-Sokari SS, Ali NA, Monzote L, Al-Fatimi MA (2015) Evaluation of antileishmanial activity of Albaha medicinal plants against Leishmania amazonensis. BioMed Res Int. https://doi.org/10.1155/2015/938747

15.

Mothana RA, Al-Musayeib NM, Al-Ajmi MF, Cos P, Maes L (2014) Evaluation of the in vitro antiplasmodial, antileishmanial, and antitrypanosomal activity of medicinal plants used in Saudi and Yemeni traditional medicine. Evid Based Complement Altern Med. https://doi.org/10.1155/2014/905639

16.

Vandesmet VCS, Felipe CFB, Kerntopf MR, Rolón M, Vega C, Coronel C, Barbosa AGR, Coutinho HDM, Menezes IRA (2017) The use of herbs against neglected diseases: evaluation of in vitro leishmanicidal and trypanocidal activity of Stryphnodendron rotundifolium Mart. Saudi J Biol Sci 24(6):1136–1141. https://doi.org/10.1016/j.sjbs.2015.03.001

17.

Myler PJ, Fasel N (eds) (2008) Leishmania: after the genome. Horizon Scientific Press. https://doi.org/10.1186/1756-3305-1-11

18.

Prates FV, Dourado ME, Silva SC, Schriefer A, Guimarães LH, Brito MD, Almeida J, Carvalho EM, Machado PR (2017) Fluconazole in the treatment of cutaneous Leishmaniasis caused by Leishmania braziliensis: a randomized controlled trial. Clin Infect Dis 64(1):67–71. https://doi.org/10.1093/cid/ciw662

19.

Berman JD, Waddell D, Hanson BD (1985) Biochemical mechanisms of the antileishmanial activity of sodium stibogluconate. Antimicrob Agents Chemotherapy 27(6):916–920. https://doi.org/10.1128/AAC.27.6.916

20.

Kedzierski L, Curtis JM, Kaminska M, Jodynis-Liebert J, Murias M (2007) In vitro antileishmanial activity of resveratrol and its hydroxylated analogues against Leishmania major promastigotes and amastigotes. Parasitol Res 102(1):91–97. https://doi.org/10.1007/s00436-007-0729-y

21.

Kiderlen AF, Kayser O, Ferreira D, Kolodziej H (2001) Tannins and related compounds: killing of amastigotes of Leishmania donovani and release of nitric oxide and tumour necrosis factor a in macrophages in vitro. Zeitschrift für Naturforschung C 56(5–6):444–454

22.

Cunha-Júnior EF, Andrade-Neto VV, Lima ML, da Costa-Silva TA, Junior AJ, Abengózar MA, Barbas C, Rivas L, Almeida-Amaral EE, Tempone AG, Torres-Santos EC (2017) Cyclobenzaprine raises ROS levels in Leishmania infantum and reduces parasite burden in infected mice. PLOS Neglect Trop Dis 11(1):e0005281. https://doi.org/10.1371/journal.pntd.0005281

23.

Arzi A, Namjouyan F, Sarahroodi S, Khorasgani ZN, Macvandi E (2011) The study of antinociceptive effect of hydroalcoholic extract of Teucrium oliverianum (a plant used in southern Iranian traditional medicine) in rat by formalin test. Pak J Biol Sci 14(23):1066–1069

24.

Shahat AA, Alsaid MS, Khan JA, Higgins M, Dinkova-Kostova AT (2016) Chemical constituents and NAD (P) H: quinone oxidoreductase 1 (NQO1) inducer activity of Teucrium oliverianum Ging. ex Benth. Indian J Trad Knowl 15(2): 232–236. https://nopr.niscair.res.in/handle/123456789/33973. Accessed 9 Feb 2020

25.

Bortoleti BT, Gonçalves MD, Tomiotto-Pellissier F, Miranda-Sapla MM, Assolini JP, Carloto AC, de Carvalho PG, Cardoso IL, Simão AN, Arakawa NS, Costa IN (2018) Grandiflorenic acid promotes death of promastigotes via apoptosis-like mechanism and affects amastigotes by increasing total iron bound capacity. Phytomed 46:11–20. https://doi.org/10.1016/j.phymed.2018.06.010

26.

Mohamed M, Ahmed MM, Elwaleed EH, Walaa SE, Mahgoub SE (2017) In vitro antileishmanial activity of Helianthus annuus and Pulicaria crispa (Asteraceae). Nat Prod Chem Res 5:4. https://doi.org/10.4172/2329-6836.1000268

27.

Yu L, Hong-ying C, Hua-bei L, Qi Y (2012) Extraction and content determination of flavonoids in Sonchus oleraceus L. Med Plant 3(11):48

28.

Wu Y, Li S, Zhang Z, Sauriol F, Shi Q, Yang J (2017) New thiophene acetylene from Echinops spinosissimus subsp. spinosus. Chem Nat Compd 53(5):933–934

29.

Lahmar I, Belghith H, Ben Abdallah F, Belghith K (2017) Nutritional composition and phytochemical, antioxidative, and antifungal activities of Pergularia tomentosa L. BioMed Res Int. https://doi.org/10.1155/2017/6903817

30.

El-Shanawany MA, Sayed HM, Ibrahim SR, Fayed MA, Radwan MM, Ross SA (2013) A new isoflavone from Blepharis ciliaris of an Egyptian origin. Med Chem Res 22(5):2346–2350. https://doi.org/10.1007/s00044-012-0228-2

31.

Al-Snafi AE (2016) Chemical constituents and pharmacological effects of Cynodon dactylon—a review. IOSR J Pharm 6(7):17–31

32.

El-Askary H (2005) Terpenoids from Cleome droserifolia (Forssk.) Del. Molecules 10(8):971–977. https://doi.org/10.3390/10080971

33.

Samejo MQ, Memon S, Bhanger MI, Khan KM (2012) Chemical compositions of the essential oil of Aerva javanica leaves and stems. Pak J Anal Environ Chem 13(1): 48–52 https://pjaec.pk/index.php/pjaec/article/view/190. Accessed 9 Feb 2020
Acknowledgements
The authors gratefully acknowledge the College of Applied Health Sciences at Ar Rass, Qassim University, Saudi Arabia for their kind help and support.
Ethics declarations
Conflict of interest
The author declares that there is no conflict of interest in this study.
About this article
Cite this article
Al Nasr, I. In Vitro Anti-Leishmanial Assessment of Some Medicinal Plants Collected from Al Qassim, Saudi Arabia. Acta Parasit. 65, 696–703 (2020). https://doi.org/10.2478/s11686-020-00205-2
Received:

Accepted:

Published:

Issue Date:
Keywords
Leishmania major

In vitro

Medicinal plants

Saudi Arabia