Abstract
Purpose
Obeliscoides cuniculi is a common parasite in American lagomorphs, while it has never been reported in the European rabbit. The exotic parasite has been introduced in Italy by the eastern cottontail (Sylvilagus floridanus), an invasive alien lagomorph introduced to Europe for hunting purpose. Considering that S. floridanus shares the same areas with the European rabbit, the aim of this work is to document the first report of this parasite in an autochtonous lagomorph.
Methods
O.cuniculi, isolated from one adult European rabbit found dead, was identified considering the morphological features and reproductive organs of the adult stage (length and thickness of the body, spicules structure and size).
Results
The present study represents the first record of the gastric nematode O. cuniculi (Trichostrongilidae) in a population of European rabbit (Oryctolagus cuniculus) in Italy.
Conclusion
Since Graphidium strigosum is the most common parasite infecting the European rabbit stomach, this study considers and discusses different scenarios about helminth co-infection effect. Further studies should be carried out to understand the long-term effect of this introduction on wild rabbit population.
Access options
Buy single article
Instant access to the full article PDF.
US$ 39.95
Tax calculation will be finalised during checkout.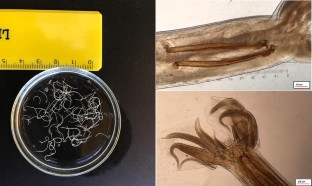 References
1.

Andrews CL, Davidson WR (1980) Endoparasites of selected populations of cottontail rabbits (Sylvilagus floridanus) in the Southeastern United States. J Wildlife Dis 16:395–401

2.

Broekhuizen S, Kemmers R (1976) The stomach worm, Graphidium strigosum (Dujardin) Raillet and Henry, in the European Hare, Lepus europaeus Pallas. In: Pielowski, Z., Pucek. Z. (Eds), Ecology and Management of European Hare Populations, the proceedings of an international symposium, Poznan, December 23–24, 1974. Polish Hunting Association, Warsaw, pp 157—171

3.

Cattadori IM, Boag B, Hudson PJ (2008) Parasite co-infection and interaction as drivers of host heterogeneity. Int J Parasitol 38(3–4):371–380

4.

Combes C (1991) Ethological aspects of parasite transmission. Am Nat 138(4):866–880

5.

Gibbs HC, Crenshaw WJ, Mowatt M (1977) Seasonal changes in stomach worms (Obeliscoides cuniculi) in snowshoe hares in Maine. J Wildlife Dis 13(3):327–332

6.

Graybill HW (1924) Obeliscoides, a new name for the nematode genus Obeliscus. Parasitology 16(3):317–317

7.

Hutchinson GW, Lee EH, Fernando MA (1972) Effects of variations in temperature on infective larvae and their relationship to inhibited development of Obeliscoides cuniculi in rabbit. Parasitology 65(2):333–342

8.

Jensen LJ, Fox JG, Murphy JC, Shalev M (1980) Natural infection of Obeliscoides cuniculi in a domestic rabbit. Lab Anim Sci 30:231–233

9.

Lymbery AJ, Morine M, Kanani HG, Beatty SJ, Morgan DL (2014) Co-invaders: the effects of alien parasites on native hosts. Int J Parasitol 3(2):171–177

10.

Lello J, Boag B, Hudson PJ (2005) The effect of single and concomitant pathogen infections on condition and fecundity of the wild rabbit (Oryctolagus cuniculus). Int J Parasitol 35(14):1509–1515

11.

MAFF (1986) Manual of Veterinary Parasitological Laboratory Techniques. Her Majesty's Stationary Office, London, UK, pp 20–27

12.

Maples WP, Jordan HE (1966) A new host record for Obeliscoides cuniculi (Graybill, 1923) Graybül, 1924. J Parasitol 52(1)

13.

Massoni J, Cassone J, Durette-Desset MC, Audebert F (2011) Development of Graphidium strigosum (Nematoda, Haemonchidae) in its natural host, the rabbit (Oryctolagus cuniculus) and comparison with several Haemonchidae parasites of ruminants. Parasitol Res 109(1):25–36

14.

Measures LN, Anderson RC (1983) Characteristics of natural infections of the stomach worm, Obeliscoides cuniculi (Graybill), in lagomorphs and woodchucks in Canada. J Wildlife Dis 19(3):219–224

15.

Poulin R, Morand S (2000) The diversity of parasites. Q Rev Biol 75(3):277–293

16.

Poulin R (2007) Evolutionary Ecology of Parasites, 2nd edn. Princeton University Press, Princeton, p 342

17.

Skrjabin KI, Shikhobalova NP, Schluz RS (1954) Essential of nematodology, v. 3. Trichostrongylids of animals and man, 684 pp

18.

Thomson JN (1994) The coevolutionary Process. University of Chicado Press, Chicago, p 352

19.

Tizzani P, Menzano A, Catalano S, Rossi L, Meneguz PG (2011) First report of Obeliscoides cuniculi in European brown hare (Lepus europaeus). Parasitol Res 109(3):963–966

20.

Tizzani P, Lavazza A, Capucci L, Meneguz PG (2002) Presence of infectious agents and parasites in wild population of Cottontail (Sylvilagus floridanus) and consideration on its role in the diffusion of pathogens infecting hares. In The European Association of Zoo-and Wildlife Veterinarians (EAZWV) 4th scientific meeting, joint with the annual meeting of the European Wildlife Disease Association (EWDA), pp. 245–248. European Association of Zoo-and Wildlife Veterinarians (EAZWV)

21.

Tizzani P, Catalano S, Rossi L, Duignan PJ, Meneguz PG (2014) Invasive species and their parasites: eastern cottontail rabbit Sylvilagus floridanus and Trichostrongylus affinis (Graybill, 1924) from Northwestern Italy. Parasitol Res 113(4):1301–1303

22.

Vidus-Rosin A, Meriggi A, Cardarelli E, Serrano-Perez S, Mariani MC, Corradelli C, Barba A (2011) Habitat overlap between sympatric European hares (Lepus europaeus) and Eastern cottontails (Sylvilagus floridanus) in northern Italy. Acta theriol 56(1):53–61
Funding
This research did not receive any specific grant from funding agencies in the public, commercial, or not-for-profit sectors.
Ethics declarations
Conflict of Interest
On behalf of all authors, the corresponding author states that there is no conflict of interest.
Ethical Approval
All applicable international, national, and/or institutional guidelines for the care and use of animals were followed.
Additional information
Publisher's Note
Springer Nature remains neutral with regard to jurisdictional claims in published maps and institutional affiliations.
About this article
Cite this article
Fanelli, A., Ghirardi, M., Meneguz, P.G. et al. First Report of Obeliscoides cuniculi in the European Rabbit (Oryctolagus cuniculus). Acta Parasit. 65, 787–789 (2020). https://doi.org/10.2478/s11686-020-00203-4
Received:

Accepted:

Published:

Issue Date:
Keywords
Obeliscoides cuniculi

Exotic parasite

Wild rabbit

Eastern cottontail