Abstract
Background
Leishmania braziliensis is prevalent in Latin American countries, including Brazil. It causes cutaneous and mucocutaneous leishmaniasis, leading to high morbidity, and has a low cure rate. Treatment is based on pentavalent antimonials; nonetheless, there are problems related to high toxicity, high cost, and parasitic resistance. Discovery of new leishmanicidal drugs without these limitations and that stimulate the cellular immune response is necessary.
Purpose
The present work evaluates whether Astronium fraxinifolium Schott exerts leishmanicidal activity against L. braziliensis by providing a classically polarized profile in infected macrophages.
Methods
For the evaluation of the A. fraxinifolium Schott leishmanicidal activity, amastigote cell death was demonstrated in infected RAW 267.4 macrophages treated with an ethanolic extract from the plant sapwood (EEAF). For the evaluation of the EEAF capacity in providing a classically polarized profile in infected macrophages, the following analyses were done: detection of LAMP-1 protein by the baculovirus technology, measurement of superoxide anion by the NBT testing, quantification of TNF-α, IL-12p40, IL-10, IL-4, and TGF-β by sandwich-type enzyme immune assays, and iNOS and COX-2 expression by RT-PCR technique.
Results
The EEAF significantly reduced amastigote counts inside the cells. Vacuoles were visualized in infected and treated cells before and after May–Grünwald–Giemsa staining. A strong LAMP-1 protein fluorescence revealed phagosome maturation in infected cells treated with the EEAF. No production of superoxide was visualized in infected cells treated with the plant material. Nonetheless, high levels of TNF-α, IL-12p40, and IL-10 were found in cell supernatants, but reduced levels of TGF-β and no IL-4 production. We identified augmented mRNA expression for COX-2, but no expression of iNOS mRNA.
Conclusion
Our results demonstrated that A. fraxinifolium induced a classically polarized profile in infected macrophages but also provided a less harmful environment by stimulating the production of certain anti-inflammatory mediators, such as IL-10.
Access options
Buy single article
Instant access to the full article PDF.
US$ 39.95
Tax calculation will be finalised during checkout.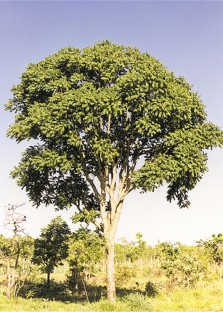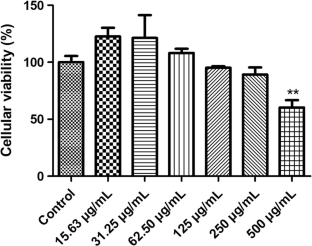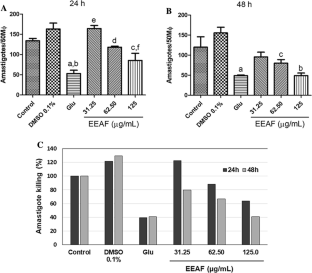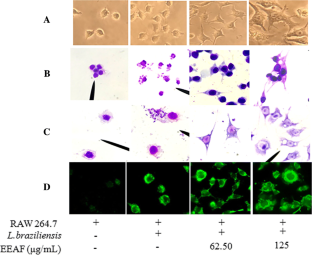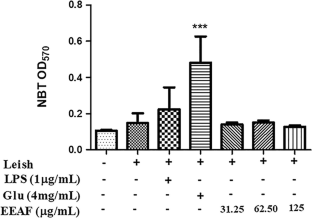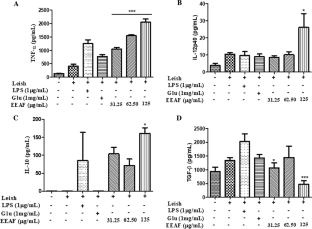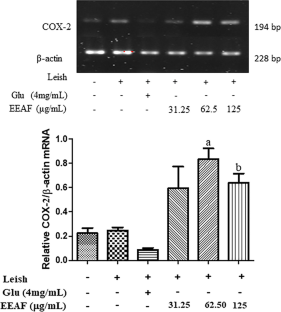 References
1.

Carvalho CES, Sobrinho-junior EPC, Brito LM, Nicolau LAD, Carvalho TP (2017) Anti-leishmania activity of essential oil of Myracrodruon urundeuva (Engl.) Fr. All.: composition, cytotoxity and possible mechanisms of action. Exp Parasitol 175:59–67. https://doi.org/10.1016/j.exppara.2017.02.012

2.

Pan American Health Organization/World Health Organization PAHO/WHO (2017) Plan of action to strengthen the surveillance and control of leishmaniasis in the Americas 2017–2022. http://iris.paho.org/xmlui/handle/123456789/34147

3.

Odonne G, Houël E, Bourdy G, Stien D (2017) Treating leishmaniasis in Amazonia: a review of ethnomedicinal concepts and pharmaco-chemical analysis of traditional treatments to inspire modern phytotherapies. J Ethnopharmacol 199:211–230. https://doi.org/10.1016/j.jep.2017.01.048

4.

Silva AAS, Morais SM, Falcão MJC, Vieira IGP, Ribeiro LM, Viana SM et al (2014) Activity of cycloartane-type triterpenes and sterols isolated from Musa paradisiaca fruit peel against Leishmania infantum chagasi. Phytomedicine 21(11):1419–1423. https://doi.org/10.1016/j.phymed.2014.05.005

5.

Brasil. Ministério da Saúde. Sala de apoio à gestão estratégica, SAGE. Leishmaniose Tegumentar. Indicadores de morbidade. 2018. http://sage.saude.gov.br/. Accessed 10 Dec 2019.

6.

Almeida OL, Santos JB (2011) Advances in the treatment of cutaneous leishmaniasis in the new world in the last ten years: a systematic literature review. An Bras Dermatol 86(3):497–506. https://doi.org/10.1590/S0365-05962011000300012

7.

Ponte-Sucre A, Gamarro F, Dujardin JC, Barrett MP, López-Vélez R, García-Hernández R et al (2017) Drug resistance and treatment failure in leishmaniasis: a 21st century challenge. PLoS Negl Trop Dis 11(12):e0006052. https://doi.org/10.1371/journal.pntd.0006052

8.

Mohammadzadeh M, Behnaz F, Golshan Z (2013) Efficacy of glucantime for treatment of cutaneous leishmaniasis in Central Iran. J Infect Public Health 6(2):120–124. https://doi.org/10.1016/j.jiph.2012.11.003

9.

Silva RE, Toledo Júnior A, Senna MC, Rabello A, Cota G (2016) Intralesional meglumine antimoniate for the treatment of localised cutaneous leishmaniasis: a retrospective review of a Brazilian referral centre. Mem. Inst. Oswaldo Cruz 111(8):512–516. https://doi.org/10.1590/0074-02760160183

10.

Pereira BAS (2013) Árvores do Bioma Cerrado. As Espécies. Família Anacardiaceae. Astronium fraxinifolium Schott. May 5, 2013. http://www.arvoresdobiomacerrado.com.br/site/2017/03/28/astronium-fraxinifolium-schott-ex-spreng/. Accessed 16 Dec 2019.

11.

de Lima SC, Teixeira MJ, Júnior JEJ, de Morais SM, Torres AF, Braga MA, et al (2014) In Vitro and In Vivo Leishmanicidal activity of Astronium fraxinifolium (Schott) and Plectranthus amboinicus (Lour.) Spreng against Leishmania (Viannia) braziliensis. BioMed Res Int 2014: 7. https://doi.org/10.1155/2014/848293

12.

Lorenzi H (1992) Árvores brasileiras: manual de identificação e cultivo de plantas arbóreas nativas do Brasil. Plantarum, Nova Odessa

13.

Braga MA, Rodrigues RO, Yaochite JNU, Sasahara GL, Viana AFSC et al (2019) Pro-inflammatory activity of Astronium fraxinifolium Schott on Lipopolysaccharide-stimulated RAW 264.7 cells. J Appl Pharm Sci 9(12):30–36. https://doi.org/10.7324/JAPS.2019.9120

14.

Souza AS, Giudice A, Pereira JM, Guimarães LH, de Jesus AR, de Moura TR et al (2010) Resistance of Leishmania (Viannia) braziliensis to nitric oxide: correlation with antimony therapy and TNF-alpha production. BMC Infect Dis 10:209. https://doi.org/10.1186/1471-2334-10-209

15.

Allahverdiyev AM, Bagirova M, Elcicek S, Koc RC, Oztel ON (2011) Effect of human urine on cell cycle and infectivity of Leismania species promastigotes in vitro. Am J Trop Med Hyg 85(4):639–643. https://doi.org/10.4269/ajtmh.2011.10-0207

16.

Rainard P (1986) A colorimetric microassay for opsonins by reduction of NBT in phagocytosing bovine polymorphs. J Immunol Methods 90(2):197–201. https://doi.org/10.1016/0022-1759(86)90076-1

17.

Montanari RM, Barbosa LC, Demuner AJ, Silva CJ, Andrade NJ, Ismail FM et al (2012) Exposure to anacardiaceae volatile oils and their constituents induces lipid peroxidation within food-borne bacteria cells. Molecules 17(8):9728–9740. https://doi.org/10.3390/molecules17089728

18.

Pinto JMA, Souza EA, Oliveira DF (2010) Use of plant extracts in the control of common bean anthracnose. Crop Protect 29(8):838–842. https://doi.org/10.1016/j.cropro.2010.03.006

19.

Cheuka PM, Mayoka G, Mutai P, Chibale K (2016) The role of natural products in drug discovery and development against neglected tropical diseases. Molecules 22(1):E58. https://doi.org/10.3390/molecules22010058

20.

Accioly MP, Bevilaqua CM, Rondon FC, de Morais SM, Machado LK, Almeida CA et al (2012) Leishmanicidal activity in vitro of Musa paradisiaca L. and Spondias mombin L. fractions. Vet Parasitol 187(1–2):79–84. https://doi.org/10.1016/j.vetpar.2011.12.029

21.

Kolodziej H, Kayser O, Kiderlen AF, Ito H, Hatano T, Yoshida T et al (2001) Antileishmanial activity of hydrolyzable tannins and their modulatory effects on nitric oxide and tumour necrosis factor-alpha release in macrophages in vitro. Planta Med 67(9):825–832. https://doi.org/10.1055/s-2001-18850

22.

Mead J, McNair N (2006) Antiparasitic activity of flavonoids and isoflavones against Cryptosporidium parvum and Encephalitozoon intestinalis. FEMS Microbiol Lett 259(1):153–157. https://doi.org/10.1111/j.1574-6968.2006.00263.x

23.

Wang X, Hu X, Yan H, Ma Z, Deng X (2016) Pro-inflammatory effects of a litchi protein extract in murine RAW 264.7 macrophages. Hortic Res 3:16017. https://doi.org/10.1038/hortres.2016.17

24.

Jandl K, Stacher E, Bálint Z, Sturm EM, Maric J, Peinhaupt M et al (2016) Activated prostaglandin D2 receptors on macrophages enhance neutrophil recruitment into the lung. J Allergy Clin Immunol 137(3):833–843. https://doi.org/10.1016/j.jaci.2015.11.012

25.

Bhattacharjee A, Majumder S, Das S, Ghosh S, Biswas S, Majumdar S (2016) Leishmania donovani-induced prostaglandin E2 generation is critically dependent on host toll-like receptor 2-cytosolic phospholipase A2 signaling. Infect Immun 84(10):2963–2973. https://doi.org/10.1128/IAI.00528-16

26.

Ahmad SF, Nadeem A, Ansari MA, Bakheet SA, Attia SM, Zoheir KM et al (2017) Imbalance between the anti- and pro-inflammatory milieu in blood leukocytes of autistic children. Mol Immunol 82:57–65. https://doi.org/10.1016/j.molimm.2016.12.019

27.

McGeachy MJ, Chen Y, Tato CM, Laurence A, Joyce-Shaikh B, Blumenschein WM et al (2009) The interleukin 23 receptor is essential for the terminal differentiation of interleukin 17-producing effector T helper cells in vivo. Nat Immunol 10(3):314–324. https://doi.org/10.1038/ni.1698

28.

Jawed JJ, Majumder S, Bandyopadhyay S, Biswas S, Parveen S, Majumdar S (2016) SLA-PGN-primed dendritic cell-based vaccination induces Th17-mediated protective immunity against experimental visceral leishmaniasis: a crucial role of PKCβ. Pathog Dis. 74(5):041. https://doi.org/10.1093/femspd/ftw041

29.

Novoa R, Bacellar O, Nascimento M, Cardoso TM, Ramasawmy R, Oliveira WN et al (2011) IL-17 and regulatory cytokines (IL-10 and IL-27) in L. braziliensis infection. Parasite Immunol 33(2):132–136. https://doi.org/10.1111/j.1365-3024.2010.01256.x

30.

Muppala S, Xiao R, Krukovets I, Verbovetsky D, Yendamuri R, Habib N et al (2017) Thrombospondin-4 mediates TGF-β-induced angiogenesis. Oncogene 36(36):5189–5198. https://doi.org/10.1038/onc.2017

31.

Morikawa M, Derynck R, Miyazono K (2016) TGF-β and the TGF-β family: context-dependent roles in cell and tissue physiology. Cold Spring Harb Perspect Biol 8(5):a021873. https://doi.org/10.1101/cshperspect.a021873

32.

Huynh KK, Eskelinen EL, Scott CC, Malevanets A, Saftig P, Grinstein S (2007) LAMP proteins are required for fusion of lysosomes with phagosomes. EMBO J 26(2):313–324. https://doi.org/10.1038/sj.emboj.7601511

33.

da Silva VT, Arango Duque G, Ory K, Gontijo CM, Soares RP, Descoteaux A (2019) Leishmania braziliensis: strain-specific modulation of phagosome maturation. Front Cell Infect Microbiol 9:319. https://doi.org/10.3389/fcimb.2019.00319

34.

Holm A, Tejle K, Magnusson KE, Descoteaux A, Rasmusson B (2001) Leishmania donovani lipophosphoglycan causes periphagosomal actin accumulation: correlation with impaired translocation of PKCalpha and defective phagosome maturation. Cell Microbiol 3(7):439–447. https://doi.org/10.1046/j.1462-5822.2001.00127.x

35.

Gaur U, Showalter M, Hickerson S, Dalvi R, Turco SJ, Wilson ME et al (2009) Leishmania donovani lacking the Golgi GDP-Man transporter LPG2 exhibit attenuated virulence in mammalian hosts. Exp Parasitol 122(3):182–191. https://doi.org/10.1016/j.exppara.2009.03.014

36.

Forestier CL, Gao Q, Boons GJ (2015) Leishmania lipophosphoglycan: how to establish structure-activity relationships for this highly complex and multifunctional glycoconjugate? Front Cell Infect Microbiol 4:193. https://doi.org/10.3389/fcimb.2014.00193

37.

Moreira VR, de Jesus LCL, Soares RP, Silva LDM, Pinto BAS, Melo MN et al (2017) Meglumine antimoniate (Glucantime) causes oxidative stress-derived DNA damage in BALB/c mice infected by Leishmania (Leishmania) infantum. Antimicrob Agents Chemother 61(6):e02360–e2416. https://doi.org/10.1128/AAC.02360-16

38.

Gupta G, Oghumu S, Satoskar AR (2013) Mechanisms of immune evasion in leishmaniasis. Adv Appl Microbiol 82:155–184. https://doi.org/10.1016/B978-0-12-407679-2.00005-3

39.

Wilkins-Rodríguez AA, Escalona-Montaño AR, Aguirre-García M, Becker I, Gutiérrez-Kobeh L (2010) Regulation of the expression of nitric oxide synthase by Leishmania mexicana amastigotes in murine dendritic cells. Exp Parasitol 126(3):426–434. https://doi.org/10.1016/j.exppara.2010.07.014
Ethics declarations
Conflict of interest
The authors declare that they have no conflicts of interest.
Electronic supplementary material
Below is the link to the electronic supplementary material.
About this article
Cite this article
Braga, M.A., de Oliveira Rodrigues, R., Yaochite, J.N.U. et al. Astronium fraxinifolium Schott Exerts Leishmanicidal Activity by Providing a Classically Polarized Profile in Infected Macrophages. Acta Parasit. 65, 686–695 (2020). https://doi.org/10.2478/s11686-020-00200-7
Received:

Accepted:

Published:

Issue Date:
Keywords
A. fraxinifolium Schott
Leishamnia (Viannia) braziliensis

Proinflammatory activity

RAW 264.7 cells

Cytokines

Lysosomal stain