Abstract
Objective
The aim of this study was to evaluate the epidemiology, clinical presentation and types of treatment of cutaneous leishmaniasis (CL) in the province of Ilam (Western Iran) in 5 years (from May 2013 to January 2018). This cross-sectional study involved patients diagnosed with CL who were referred to Mehran City Health center.
Methods
All patients were diagnosed by clinical and parasitological (Giemsa staining of lesion to observe the parasite) methods. Moreover, a structured questionnaire on demographic data including age, sex, occupation, number and site of the lesions, treatment regimen was administered to each case.
Results
In total, 2001 positive CL cases were observed in this study. The highest prevalence of CL was reported in the autumn season and mainly among male subjects residing in urban communities. The prevalence of CL varied with the age group: higher in the age group of 1–10 years than other groups. Besides, hands and faces were the most affected regions of the body. Most of the cases (47.35%) were managed by topical treatment (glucantime) and cryotherapy followed by systemic treatment (pentavalent antimony) 26.85%.
Conclusions
The prevalence of disease varied with age, increasing the prevalence rate in children due to their habitats, the highest prevalence in autumn due to climatic conditions. These findings help to better discuss the prevention and treatment of infections.
Access options
Buy single article
Instant access to the full article PDF.
US$ 39.95
Tax calculation will be finalised during checkout.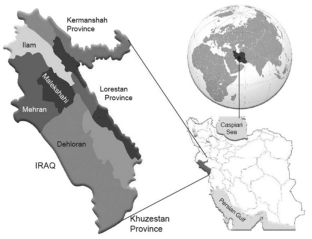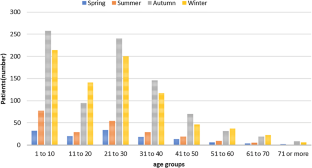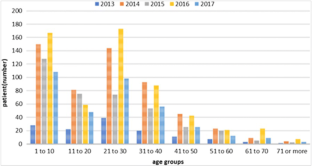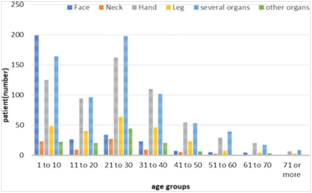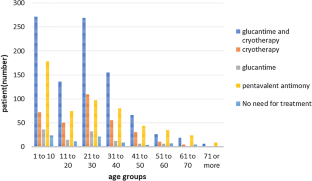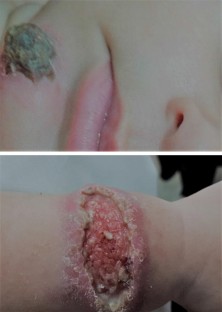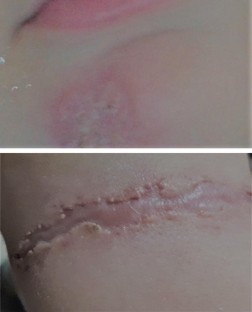 References
1.

Heidari-Kharaji M, Taheri T, Doroud D, Habibzadeh S, Badirzadeh A, Rafati S (2016) Enhanced paromomycin efficacy by solid lipid nanoparticle formulation against Leishmania in mice model. Parasite Immunol 38:599–608

2.

World Health Organization (2017) Leishmaniasis. World Health Organization, Geneva

3.

Najafzadeh N, Sedaghat MM, Sultan SS, Spotin A, Zamani A, Taslimian R et al (2014) The existence of only one haplotype of Leishmania major in the main and potential reservoir hosts of zoonotic cutaneous leishmaniasis using different molecular markers in a focal area in Iran. Rev Soc Bras Med Trop 47(5):599–606

4.

Eskandarian A, Jahani S, Hejazi H, Yousefi H, Raissi V (2017) Investigation of Toxoplasma gondii infection in Cutaneous Leishmaniasis patients of the Isfahan province. Int J Infect 4(2):40260 https://doi.org/10.5812/iji.40260

5.

Rassi Y, Gassemi MM, Javadian E, Rafizadeh S, Motazedian H, Vatadoost H (2007) Vectors and reservoirs of cutaneous leishmaniasis in Marvdasht district. Southern Islamic Republic of Iran. East Med Health J 13(3):686–693

6.

Rassi Y, Sofizadeh A, Abai MR, Oshaghi MA, Rafizadeh S, Mohebail M et al (2008) Molecular detection of leishmania major in the vectors and reservoir hosts of cutaneous leishmaniasis in Kalaleh District, Golestan Province, Iran. Iran J Arthropod-Borne Dis 2(2):21–27

7.

Rassi Y, Abai MR, Oshaghi MA, Rafizadeh S, Mohebali M, Yaghoobi-Ershadi MR et al (2011) Phlebotomus papatasi and Meriones libycus as the vector and reservoir host of cutaneous leishmaniasis in Qomrood District, Qom Province, central Iran. Asian Pac J Trop Med 4(2):97–100

8.

Rassi Y, Abai MR, Javadian E, Rafizadeh S, Imamian H, Mohebali M et al (2011) Molecular detection of Leishmania infection due to Leishmania major and L. turanica in the vectors and reservoir host in Iran. Vector borne Zoonotic Dis 11(2):145–150

9.

Alvar J, Vélez ID, Bern C, Herrero M, Desjeux P, Cano J et al (2012) Leishmaniasis worldwide and global estimates of its prevalence. PLoS ONE 7(5):e35671

10.

Kermanjani A, Akhlaghi L, Oormazdi H, Hadighi R (2017) Isolation and identification of cutaneous leishmaniasis species by PCR– RFLP in Ilam province, the west of Iran. J Parasit Dis 41(1):175–179

11.

Albakhit S, Khademvatan S, Doudi M, Foroutan-Rad M (2016) Antileishmanial activity of date (Phoenix dactylifera L) fruit and pit extracts in vitro. J Evid Based Complement Altern Med 21(4):98–102

12.

Foroutan-Rad M, Khademvatan S, Saki J, Hashemitabar M (2016) Holothuria leucospilota extract induces apoptosis in Leishmania major promastigotes. Iran J Parasitol 11(3):339–349

13.

Barberis F, Vélez ID (2014) Opciones Terapéuticas para el manejo de la Leishmaniais cutánea Americana. Rev Panam Infect 16:113–122

14.

Layegh P, Pezeshkpoor F, Soruri AH, Naviafar P, Moghiman T (2009) Efficacy of cryotherapy versus intralesional meglumine antimoniate (Glucantime) for treatment of cutaneous Leishmaniasis in children. Am J Trop Med Hyg 80(2):172–175

15.

Norouzinezhad F, Ghaffari F, Norouzinejad A, Kaveh F, Gouya MM (2016) Cutaneous leishmaniasis in Iran: results from an epidemiological study in urban and rural provinces. Asian Pac J Trop Biomed 6:614–619

16.

Khademvatan S et al (2017) Spatial distribution and epidemiological features of cutaneous leishmaniasis in southwest of Iran. Alex J Med 53(1):93–98

17.

Rassi Y, Saghafipour A, Abai MR, Oshaghi MA, Mohebali M, Mostafavi R (2013) Determination of Leishmania parasite species of cutaneous leishmaniasis using PCR method in central county, Qom Province. Zahedan J Res Med Sci 15:13–16

18.

Fakhar M, Mikaeili F, Hatam GR, Habibi P, Karamian M, Motazedian M et al (2010) A molecular epidemiology survey of cutaneous leishmaniasis in patient referring to parasitology lab at shiraz school of medicine and the importance of PCR assay. J Jahrom Univ Med Sci 8(1–6):2–6 (Persian)

19.

Mesgarian F, Rahbarian N, Mahmoudi Rad M, Hajaran H, Shahbaz F, Mesgarian Z et al (2010) Identification of Leishmania species isolated from human cutaneous Leishmaniasis in Gonbad-e-Qabus city using a PCR method during 2006–2007. Tehran Univ Med J 68(4):250–256 (Persian)

20.

Doroodgar A, Mahbobi S, Nemetian M, Sayyah M, Doroodgar M (2009) An epidemiological study of cutaneous leishmaniasis in Kashan (2007–2008). Koomesh 10(3):177–184 (Persian)

21.

Yaghoobi-Ershadi M, Marvi-Moghadam N, Jafari R, Akhavan A, Solimani H, Zahrai-Ramazani A et al (2015) Some epidemiological aspects of cutaneous leishmaniasis in a new focus, central Iran. Dermatol Res Pract 2015:286408

22.

Hamzavi Y, Khademi N (2015) Trend of cutaneous leishmaniasis in Kermanshah Province, west of Iran from 1990 to 2012. Iran J Parasitol 10:78–86

23.

Nilforoushzadeh MA, Shirani Bidabadi L, Hosseini SM, Fadaei Nobari R, Jaffary F (2014) Cutaneous leishmaniasis in Isfahan Province, Iran, during 2001–2011. J Skin Stem Cell 1(2):e23303

24.

Rafati N et al (2004) Epidemiological survey of cutaneous leishmaniasis in Damghan (1999–2005). Sci J Semnan Univ Med Sci 2(1):247–253

25.

Abbasi AE, Ghanbary MR, Kazem NK (2004) The epidemiology of cutaneous leishmaniasis in Gorgan (1998–2001). Ann Med Health Sci Res 2(1):275–278

26.

Maleki M, Yousefi M, Bazzaz SMM et al (2017) An overview of skin lesions adapted to Cutaneous Leishmaniasis in Persian Medicine. Electron Phys. 9(11):5854–5862 (Published 2017 Nov 25)

27.

Abdellatif M, El-Mabrouk K, Ewis A (2013) An Epidemiological Study of Cutaneous Leishmaniasis in Al-Jabal Al-Gharbi, Libya. Korean J Parasitol 51:75–84. https://doi.org/10.3347/kjp.2013.51.1.75

28.

Remadi L, Haouas N, Chaara D, Slama D, Chargui N, Dabghi R, Babba H (2016) Clinical presentation of cutaneous leishmaniasis caused by leishmania major. Dermatology 232(6):752–759

29.

Bousslimi N, Aoun K, Ben-Abda I, Ben-Alaya-Bouafif N, Raouane M, Bouratbine A (2010) Epidemiologic and clinical features of cutaneous leishmaniasis in southeastern Tunisia. Am J Trop Med Hyg 83(5):1034–1039

30.

Nazari N, Faraji R, Vejdani M, Mekaeili A, Hamzavi Y (2012) The prevalence of cutaneous leishmaniases in patients referred to Kermanshah hygienic centers. Zahedan J Res Med Sci 14(8):77–79

31.

Frézard F, Demicheli C, Ribeiro RR (2009) Pentavalent antimonials: new perspectives for old drugs. Molecules 14:2317–2336

32.

Masoud D, Delavari M, Moein D, Abbasi A, Taherian AA, Abbas D (2016) Tamoxifen induces apoptosis of Leishmania major promastigotes in vitro. Korean J Parasitol 54:9–14
Acknowledgements
Thanks to the health center staff and all those who participated in the project in the province of Ilam.
Ethics declarations
Conflicts of Interest Statement
The authors and coauthors declare that they have no conflict of interest that affects this study.
Ethical Approval
An approval was taken from the Ethical Committee, of Ilam University of Medical Sciences, Iran. Consent was taken from all the participants or their guardians before being enrolled in the study. All were informed of the purpose of the collection of samples, sharing in the study was selective.
About this article
Cite this article
Rezaee, N., Raissi, V., Rajaeipour, A. et al. Epidemiology, Associated Factors and Treatment Methods of Cutaneous Leishmaniasis Based on Previous Data from 2013 to 2018 in Ilam, Western Iran. Acta Parasit. 65, 760–767 (2020). https://doi.org/10.2478/s11686-020-00198-y
Received:

Accepted:

Published:

Issue Date:
Keywords
Cutaneous leishmaniasis

Epidemiology

Treatment

Iran